Santhosh Narayanan Responded To The Claim Of Arivu !!
Written by Dhiwaharan Published on Aug 01, 2022 | 23:03 PM IST | 164
Follow Us
Comments: 0
Music composer Santhosh Narayanan responded to the claim made by Independent rapper Arivu through his Instagram handle about "Enjoy Enjaami" being his song. Sana said that the song includes the collective creative work of himself Dhee and Arivu and credited director Mani kandan and his film "Kadaisi Vivisayi" for his contribution in creating a flow and script for the song lyrics and for inspiring Arivu with so many real life stories. Sana also said that Arivu was in USA while the event of Chess Olympiad event took place in Chenai without him and pointed out that his portion was retained in the performance.
Enjoy Enjaami song :
Singer and Independent rapper Arivu came up with an emotional post in his official Instagram handle after his song "Enjoya Enjaami" was performed at the 44th Chennai Chess Olympiad event without him. Singers Dhee and Kidakuzhi Mariyammal perfomed at the event in front of Prime minister Narendra Modi, Chief Minister MK Stalin and thousand plus players and chief guests from across the world. Arivu, in his post, said that the song belongs to him and said that anyone could snatch someone's work while asleep but not when awake.
View this post on Instagram
"I "Composed" ,"Written" ,"sung"& "Performed" Enjoy Enjaami. Nobody gave me a Tune, Melody or a Single word to write this one. Spent almost 6 months of sleepless and stressful nights and days for everything it is right now. No doubt it's a great team work. No doubt it calls everyone together . But it doesn't mean that's not the history of Valliammal or the landless Tea plantation slave ancestors of mine" Arivu said through his post.
"Every song of mine will be having the scarmark of this generational oppression. Like this Just One.." he added. "There are 10000 songs of folk in this land. The Songs that carry the breath of ancestors ,Their pain ,Their Life, Love, Their Resistance and all about their existence. It's all speaking to you in beautiful songs. Because we are a generation of blood and sweat turned into melodies of liberating arts. We carry the legacy through songs" he further said through his post.
"Anyone can snatch away your treasure when You're alseep. Never when you are awake. Jaibhim. Truth will always win in the end 🥇🙌🏻🙏🏻" the rapper added.
Check out his post below :
View this post on Instagram
Responding to this post, music composer Santhosh Narayanan came up with a press statement saying "Dhee, Arivu and myself came together with a lot of love for each other and for the love of independent art. We decided to not have any artist just perform(sing) on Enjoy Enjaami and agreed that each one would either co-compose tunes or write verses in the song. While Dhee and Arivu agreed to sing the song, both were involved in the creative process. Dhee co-composed the tunes of many of her lines, while Arivu agreed to write the lyrics. I composed the rest of the tune and also composed the tune of Arivu's portions" the music director said through his post.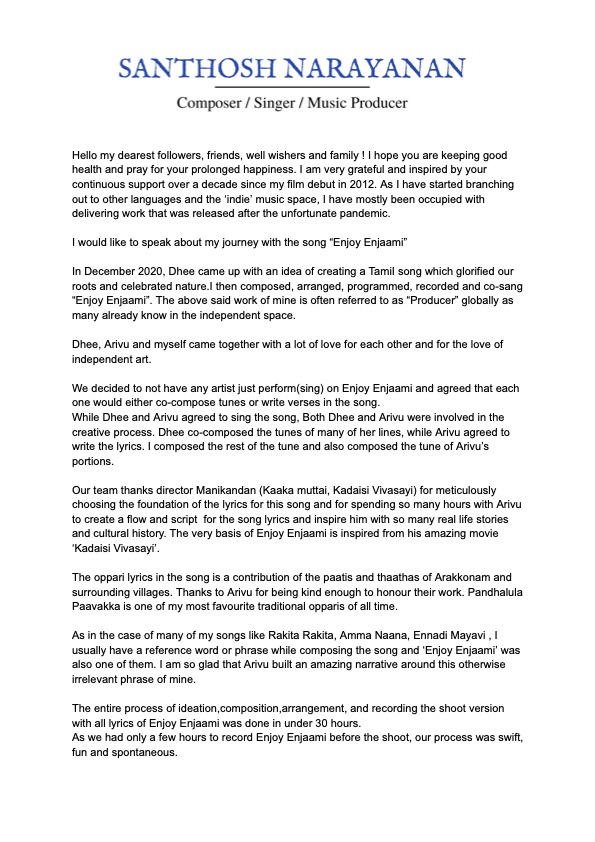 "Our team thanks director Manikandan (Kaaka mutta, Kadaisi vvasayi) tor meticulousily
choosing the toundation of the lyrics tor this Song and for spending so many hours with Arivu to create a flow and script tor the song lyrics and inspire him with so many real lite stones and cultural history. The very basis of Enjoy Enjaami is inspired from his amazing movie Kadaisi Vivasayi" he further said.
"I also want to be transparent about the fact that all the revenues and ownership of this song are shared equally among Dhee, Arivu and myself. I have also stood by the artists Ariu and Dhee and credited them without prejudice in all platorms under my control. My speech about Arivu in the Enjoy Enjaami audio launch is a testament to that" he added.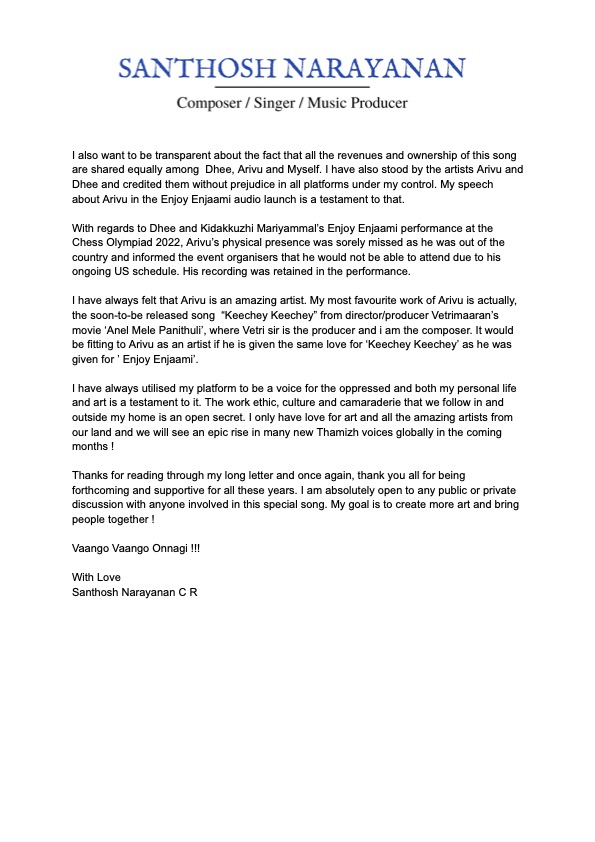 "With regards to Dhee and Kidakkuzhi Mariyammal, Enoy Enjaami performance at the
Chess Olympiad 2022, Arivu's physical presence was sorely missed as he was out of the country and informed the event organisers that he would not be able to attend due to his ongoing US schedule. His recording was retained in the performance" Sana said and made it clear that he is absolutely open to any public or private dicussion with anyone involved in the special song. "My goal is to create art and bring more people together" he concluded.
Here's his tweet :
— Santhosh Narayanan (@Music_Santhosh) August 1, 2022