"As a comedian, one needs to be reinventing jokes. What worked yesterday won't work today. This is the social media generation and audiences can easily get bored if the comedy gets repetitive. It's easier to be a hero than a comedian," Once said Santhanam when he is asked why turning into a hero when his comedy in Tamil films are working out too good.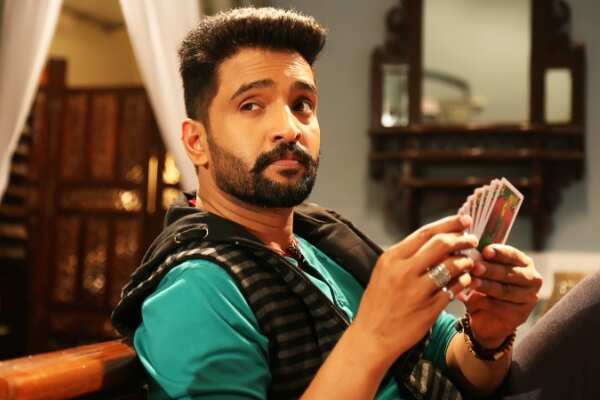 "I also wanted to experiment and experience what it's like to be a hero. When I signed my first film as a hero, I had a few films to bank on. I was prepared to go back to being a comedian if I failed as a hero. Luckily, it worked and everything fell in place," he added in that interview.
N. Santhanam is an Indian film actor and producer whose main works are in Tamil cinema. Beginning his career as a comedian on television, he rose to fame through his performances in Star Vijay's Lollu Sabha  enacting the lead role in spoofs of Tamil films.
[wp_ad_camp_1]
His consistently well-received performances and box office appeal in the early 2010s prompted the film industry to dub him as the "Comedy Superstar". In 2012, he began a film production company named Handmade Films and produced his first film, Kanna Laddu Thinna Aasaiya, which went on to become a commercially successful venture. Meanwhile in 2014, he starred in the leading role again in the action comedy Vallavanukku Pullum Aayutham.
Santhanam's third venture after "Vallavanuku Pullum Aayutham" and "Inimey Ippadithaan" as hero is "Dhilluku Dhuttu" which is directed by Rambala. The crew decided to do the sequel of the film where the shooting has finished in 40 days.
Speaking about the film, director Rambala said, "We wrapped the film in 40 days, and are almost done with the dubbing process and CG work. We're planning to release the first look of the film soon. Similar to the first part, this will also be about a ghost, but there's more to it than just that. The horror sequences will have different dimensions to them."
The film also stars Rajendran, Urvashi, Bipin, and Malayalam actor Shritha Sivadas in her Tamil debut. Singapore-based musician Shabeer has been roped in as the composer, while Deepak Kumar Pathy, who handled the cinematography for the first film, is also part of the sequel.
[wp_ad_camp_1]
The protagonist released the first look of the film in his official twitter account earlier today. He wrote "Here it is #DhillukuDhuddu2Firstlook & Teaser from Oct 29th"
Check out his first look here :
Here it is #DhillukuDhuddu2Firstlook & Teaser from Oct 29th 🙏😊 pic.twitter.com/NESI67JNut

— Santhanam (@iamsanthanam) October 24, 2018
For this tweet the actor received mixed response from the fans. While most of the fans trolled him for the first part itself being so worst, few of them wished him the best as well. Check out some of the selective comments here :
ராட்சசன், பரியேறும் பெருமாள், மேற்கு தொடர்ச்சி மலை, 96, வடசென்னை மாதிரி படங்கள் பண்ணலாமே. இந்த ரசனையுள்ள நேரத்தில் இது தேவையா?

— ↕தென்னாட்டான்↔ (@thennaattaan) October 24, 2018
Pondicherry SFC Team today Donated study fees for 5 month regarding First look release #DhillukuDhuddu2Firstlook congrats Team 👌😊 pic.twitter.com/JNoTjSqHkC

— Santhanam Fans 24×7 (@santhanam24_7) October 24, 2018
1st partea paaka mudila idhula 2nd part veraiya😑

— Hendry Chan (@Danger53967705) October 24, 2018
யோவ் இதெல்லாம் விட்டுட்டு பழைய படி காமெடி பண்ண வாய்யா.. காமெடி பண்றேன்னு கழுத்தறுக்குறானுங்க

— 🤞🏽 (@1nd1ly) October 24, 2018
1st part ah paka mudila🤦‍♂️idhula 2nd part ah 🤮velangirum

— Prakash S (@PrakashS_TweetZ) October 24, 2018
[wp_ad_camp_1]
Thalaiva Ni Comedyan irutha Appo Unnaku Mouse athikam But Heroo Aiita Lita Less aiichi Pathuko
Ithanal Thangal Sola varuvathu Ena Vendran
Back To Comedyan

— Mani Kavi (@MANI01613865) October 24, 2018
#Thillukkuthuttu Part one ne Nalla illa ithula rendu veraya

— Sivasurya (@Sivasur54094567) October 24, 2018
When you turned to act as a hero nobody likes you and film Dear .we want to see on screen as a comedian..

— Anbu Jalapathi (@anbaras28953437) October 24, 2018
nala iruntha manusan padam nadikurenu ipadi agitaru 😑😑😑

— Anoop Somu (@anoop_somu) October 24, 2018
Neenga pesaama comedy ey pannitu irunthu irukkalaam anna….Unga comedy ku sema scope irukku anna

— Shahibnms (@Shahibnms) October 24, 2018
பேசாம நீ காமெடியனாவே இருந்திருக்கலாம் தல!!!

— ♥ Hasan-Al-Basaree ♥ (@HasanBasree) October 24, 2018
தில்லுக்கு துட்டு 1 அதே பாக்க முடியல இதுல 2😂

— அகிலஉலக சூப்பர்ஸ்டார் Shiva ரசிகன் (@AUSshivafans) October 24, 2018
Sivaji ne America a poidu sivaji. Again comedian ah vaa sivaji. We missss u a lot 😢😢

— vasu buddy  (@vasubolshevik) October 24, 2018
RIP sequal 2

— susee ramesh (@SuseeRamesh) October 24, 2018
Thala Thirumbi Comedian Ah Vey Va Thala 🔥🔥🔥

— Ayan Naveen 🔥 (@AyanNaveen1) October 24, 2018
What do you think on the first look ?/ Comment below !!