Sanju Samson Got Extremely Upset Over His Own Team!!
Admin
Rajasthan Royals
Sanju Samson
CM / Updated: 2022-03-25
19:53 IST
By Dhiwaharan
Sanju Samson got upset over his own team's twitter handle as it made fun of him by morphing one of his pictures. Twitter handle of the team which is known for it's cheeky tweets trolling the players of their own team, other teams and fans, landed in soup as the Rajasthan Royals captain went on to express his dejection over their recent post. The post was deleted and sources say that the captain made complaint against the admin of the RR team to the senior management.
View this post on Instagram
It has been reported that the team management is set tk fire their social media manager after the complaint of skipper Sanju Samson. It all started after the twitter handle of Rajasthan Royals came up with a morphed image of Sanju Samson during the afternoon of Friday.
Here's the deleted tweet of Sanju Samson :
The pictures showed the cricketer in a very funny way which made the right hand destructive batsman upset. He who is known for his outspoken manner, immediately expressed his displeasure by making a complaint to the senior management. The cricketer also unfollowed the RR's official Twitter handle followed by the series of events.
Sanju Samson has complained about @rajasthanroyals's social media team to the senior management. RR admin set to be fired.

— Mufaddal Vohra (@mufaddal_vohra) March 25, 2022
Reacting to the post, Sanju said "It's ok for friends to do all this but teams should be professional" Sanju Samson wrote before unfollowing the account. The tweet was deleted by the twitter handle of the franchise immediately.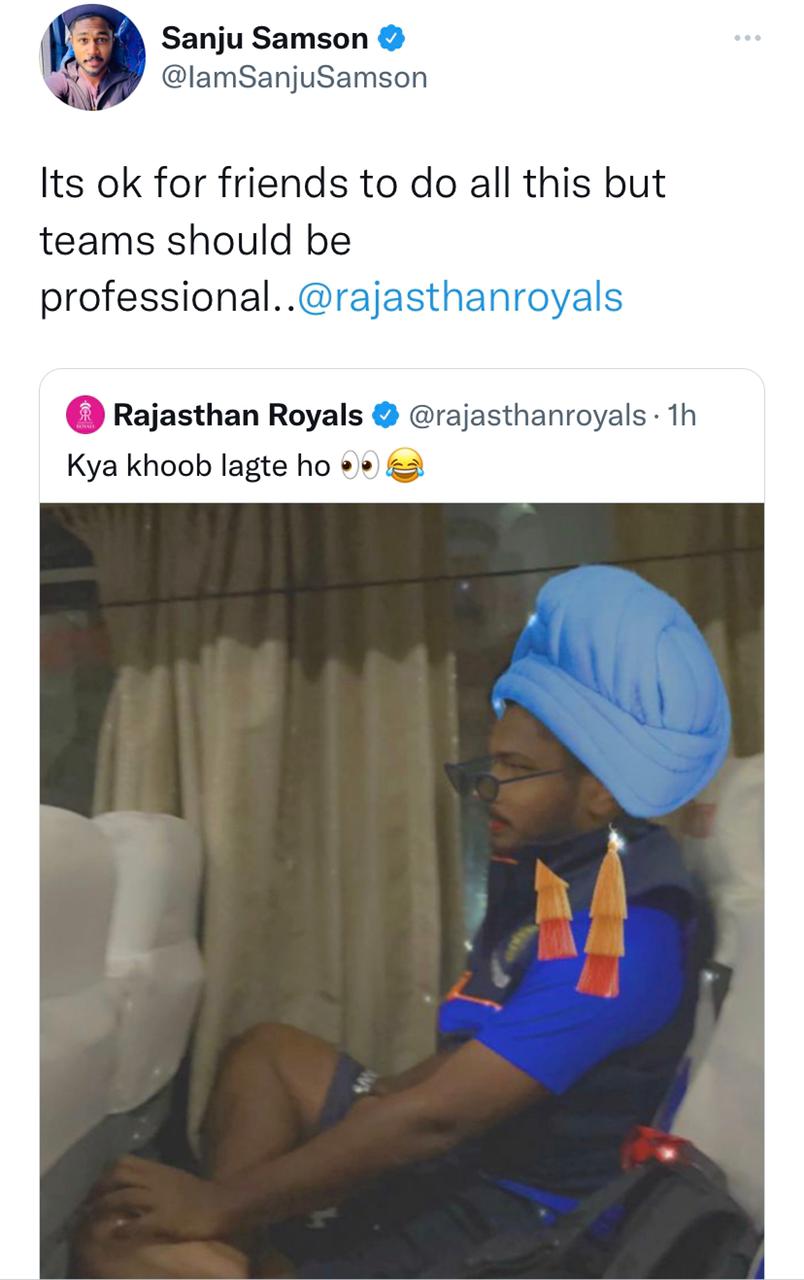 It is very well known that Rajasthan Royals have a cult fan following on social media due to their out-of-the-box tweets. But the blunder they committed by targeting their own captain caused a huge hullabaloo.
Its ok for friends to do all this but teams should be professional..@rajasthanroyals https://t.co/X2iPXl7oQu

— Sanju Samson (@IamSanjuSamson) March 25, 2022
Most recently, they announced that Yuzvendra Chahal has been appointment as the captain of Rajasthan Royals humorously. When Sanju played along by congratulating Chahal, Rajasthan Royals replied back saying "Jealous Jealous"
Meet RR new captain @yuzi_chahal 🎉 🎉 pic.twitter.com/ygpXQnK9Cv

— Rajasthan Royals (@rajasthanroyals) March 16, 2022
Jealous jealous 🤣🤣

— Rajasthan Royals (@rajasthanroyals) March 16, 2022