Samantha Is In The Receiving End For Endorsing Sadhguru!
Follow Us
Comments: 0
Samantha is in Journey to Inner Peace: Samantha's Transformation through Meditation and Silence at Isha Yoga Mayam
SAMATHA RUTH PRABHU
Life is a journey filled with ups and downs, challenges, and self-discovery. For renowned actress Samantha, this journey has led her to a profound realization—that something as simple as meditation and silence can be a powerful source of strength, calm, connection, and clarity. In this article, we will delve into Samantha's decision to take a one-year break from her busy career and her transformative experience at Isha Yoga Mayam, guided by the spiritual teacher Sadhguru.
SAMANTHA'S INSTAGRAM POST
Also read: Janhvi Kapoor Caught Photoshopping Her Physique!! Netizens Can't Keep Calm
In the fast-paced world of show business, where the spotlight never dims, Samantha found it challenging to escape the torrent of thoughts and emotions that besieged her mind. Constantly under the public eye, the pressure to perform, and the demands of a hectic schedule, she yearned for a respite from the chaos. The absence of silence and inner stillness left her feeling restless, anxious, and disconnected from her true self.
SAMANTHA'S INSTAGRAM POST
Acknowledging the need to regain her inner balance and reconnect with herself, Samantha made a brave decision—to take a break from her career for one year. This hiatus was not just a physical retreat but a journey inwards, a quest for tranquility, and an exploration of spiritual growth. It led her to the sacred grounds of Isha Yoga Mayam, nestled amidst the serene landscape of Coimbatore.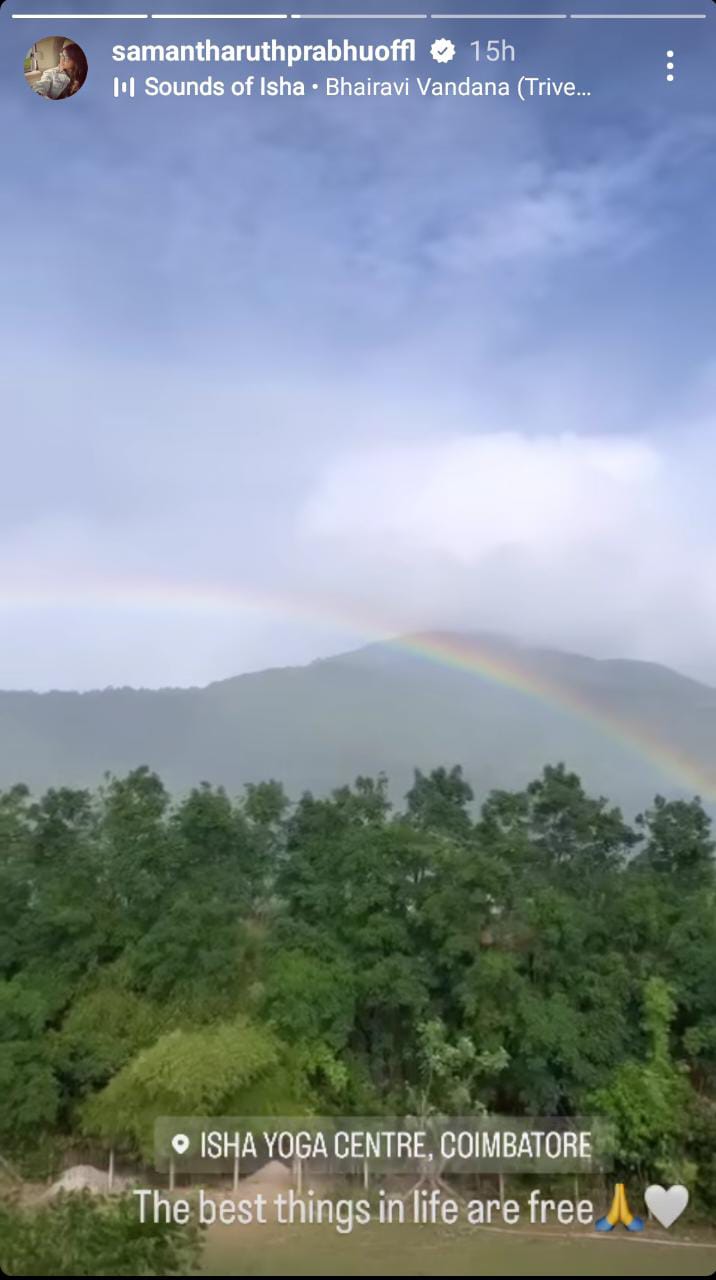 SAMATHA'S INSTAGRAM STORY 
Isha Yoga Mayam, founded by Sadhguru, is a place of spiritual retreat and self-discovery. It provides an ideal environment for seekers like Samantha to embark on their inner journey, away from the distractions of the external world. Surrounded by nature's beauty, the sanctity of the space, and the guidance of experienced mentors, Samantha immersed herself in the various yogic practices offered at the center.
SAMANTHA'S INSTAGRAM POST
Also read: Kalidas Jayaram Got Thrashed For Tagging His GF In This Story !!
At Isha Yoga Mayam, meditation became Samantha's most powerful tool for finding stillness and inner peace. Through the guidance of experienced meditators and the teachings of Sadhguru, she learned to focus her mind, detach from the constant stream of thoughts, and be fully present in the moment. Regular meditation sessions instilled a sense of calm and clarity, helping her confront her inner turmoil with grace.
SAMANTHA'S INSTAGRAM POST
Silence is often underestimated, but it holds immense transformative power. During her stay at Isha Yoga Mayam, Samantha embraced the practice of silence—Mauna—as a means of self-exploration and healing. By immersing herself in silence, she could observe her thoughts and emotions without judgment, leading to profound self-awareness and understanding.
Self-Reflection and Healing, In the peaceful embrace of Isha Yoga Mayam, Samantha engaged in deep self-reflection. She confronted past traumas, fears, and insecurities, allowing herself to heal from emotional wounds that had long been suppressed. Through self-inquiry and the teachings of Sadhguru, she found the courage to release these burdens and emerge stronger and more resilient.
Also read: Pooja Hegde Tried To Commit S*icide ?? Shocking Statement!
Surrounded by the beauty of nature, Samantha rekindled her connection with the natural world. Spending time in the midst of lush greenery, serene lakes, and abundant wildlife, she experienced a sense of unity with the environment and recognized her place in the larger tapestry of life. This profound connection with nature further nurtured her inner peace and brought a deeper appreciation for the interconnectedness of all living beings.
Samantha's journey to Isha Yoga Mayam has been a transformative one. Through the power of meditation, silence, and self-discovery, she has found the inner strength, calm, connection, and clarity that eluded her in the bustling world of show business. Her one-year retreat has not only rejuvenated her spirit but has also offered valuable life lessons that she will carry with her throughout her journey.
As she prepares to return to her career, Samantha's experiences at Isha Yoga Mayam and the teachings of Sadhguru will remain her guiding light—a reminder of the importance of finding stillness amidst life's chaos, and the profound impact of something so simple yet so powerful—meditation and silence.