Samantha Got Married Again ?? Screenshots Went Viral
Written by gokul krishnan Published on Jul 04, 2023 | 15:26 PM IST | 93
Follow Us
Comments: 0
Samantha Ruth Prabhu has delighted her fans by sharing a glimpse of her appearance on the sets of the film "Kushi." Taking to her Instagram story, she posted a picture showcasing her captivating look for the movie. one of the lead actors, recently unveiled a glimpse of her look in the film through her Instagram story, intensifying the buzz surrounding Kushi. With its talented cast, intriguing posters, and popular songs, this romantic comedy has the potential to revive the dwindling genre. In the recent story she shared, the actress was seen wearing bride attire which is most probably for her upcoming film "Kushi". It is notable that the actress appeared in marriage sequences it for a number of times which includes films "Theri", "Ye Maaya Chesave" etc. 
Samantha Ruth Prabhu and Vijay Deverakonda previously shared screen space in the 2018 film Mahanati, where their love story played a secondary role to the main plotline. Despite limited screen time, their on-screen chemistry was evident and left a lasting impression on the audience. The prospect of seeing these two talented actors portray a full-length love story in Kushi has heightened the anticipation among fans.
In recent times, the romantic comedy genre has seen a decline in satisfying offerings. With Kushi, there is hope for a resurgence in this beloved genre. Audiences are eager to witness a heartfelt and entertaining love story that can captivate them. Shiva Nirvana, the director of Kushi, has previously helmed successful films like Ninnu Kori, Majili, and Tuck Jagadish, making him well-equipped to deliver a memorable romantic comedy experience.
also read: Blue Sattai Maran Trolled Sivakarthikeyan On Seeing Him Getting Compared With Rajinikanth!!
Born on 28 April 1987 into a Telugu family, Samantha Ruth Prabhu hails from Chennai, Tamil Nadu. She is the youngest child of her parents, Joseph Prabhu and Ninette Prabhu, and has two elder brothers named Jonathan and David. Growing up in Chennai, Samantha developed fluency in the Tamil language, and despite her mixed background, she identifies herself as a Tamilian.
Samantha received her early education at Holy Angels Anglo Indian Higher Secondary School. Later, she pursued a degree in commerce from Stella Maris College in Chennai. During her college years, Samantha's interest in modeling grew, and she became actively involved in the field. Notably, she worked with Naidu Hall, a prominent brand, where her talent caught the attention of filmmaker Ravi Varman.
also read: Hyderabad : Girls Who Went For Jogging Rammed By Speeding Car!!
The posters of Kushi have provided a glimpse into the characters played by Vijay and Samantha, highlighting their diverse backgrounds. These posters have piqued the curiosity of the audience, as they portray the protagonists coming from contrasting worlds. The cinematography of Murali G is expected to enhance the visual appeal of the film, creating a captivating atmosphere for the unfolding love story.
Hesham Abdul Wahab, known for his work in the acclaimed film Hridayam, is composing the music for Kushi. The film's first single, "Na Roja Nuvve," has already become a hit with fans, setting high expectations for the rest of the soundtrack. Music plays a crucial role in romantic films, and with the talented composer on board, Kushi has the potential to deliver soulful melodies that will resonate with the audience.
Kushi is being produced by Mythri Movie Makers, a renowned production house known for backing successful films. With their track record of delivering quality movies, expectations are high for Kushi to meet or exceed the audience's anticipation. The film is scheduled for release on September 1, 2023, providing ample time for the team to perfect their vision and deliver a memorable cinematic experience.
Here is the screenshot: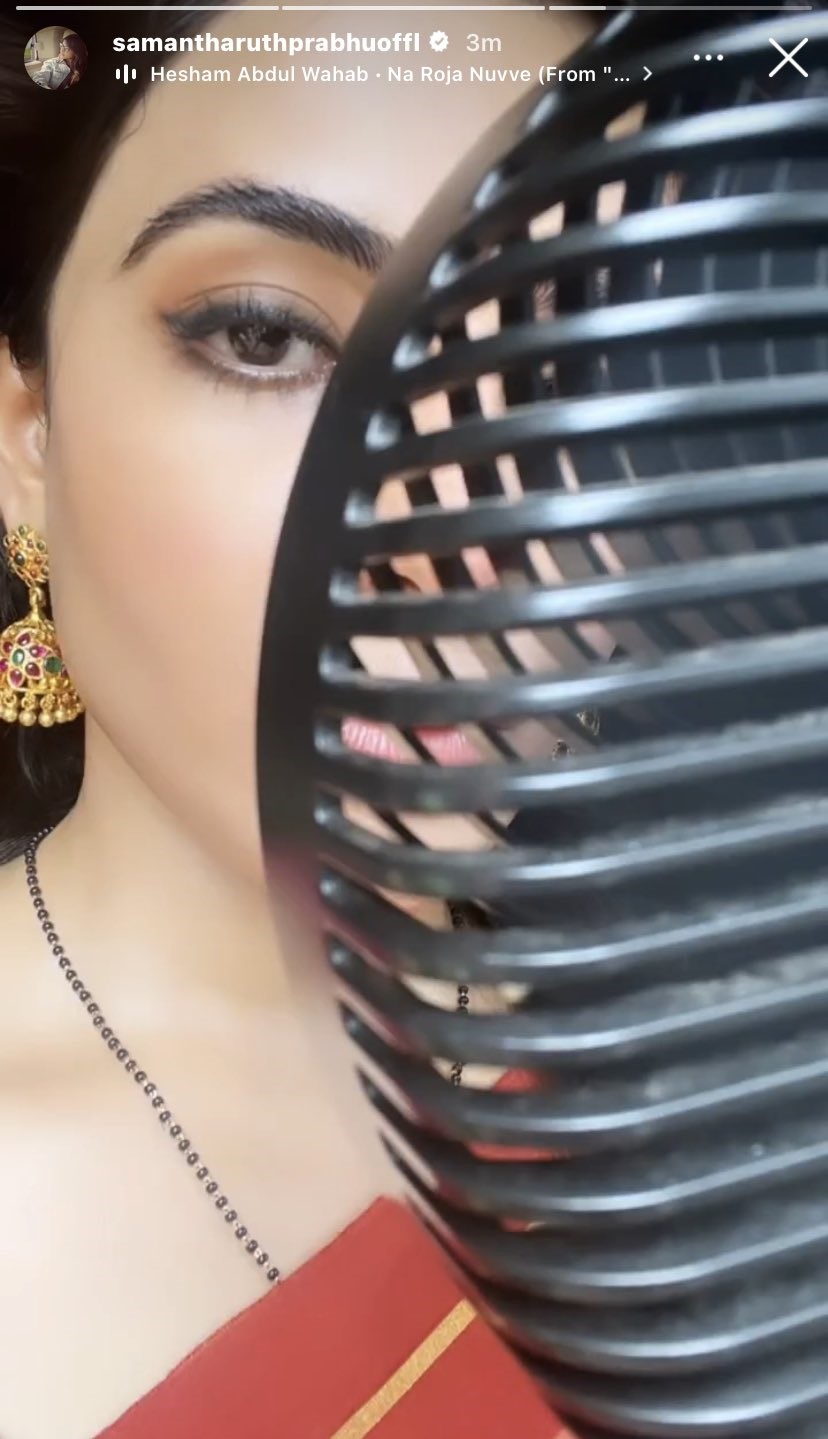 Kushi, directed by Shiva Nirvana and starring Samantha Ruth Prabhu and Vijay Deverakonda, has generated significant excitement among fans and the audience at large. With the promise of a captivating love story, engaging chemistry between the lead actors, and a talented production team, this romantic comedy has the potential to revive the diminishing genre. Fans eagerly await the release of Kushi, hoping it will be a remarkable addition to the realm of love stories, offering a delightful and entertaining cinematic experience.