Sakshi Asked "Sorry" After Coming Out Of BIGG BOSS HOUSE For Calling Public As "Dogs" !! Check These Reactions !!
Written by Dhiwaharan Published on Sep 09, 2019 | 13:27 PM IST | 71
Follow Us
Comments: 0
Every Bigg Boss contestant who gets eliminated from the show would have to face the reflection of their behaviour from the audience after their elimination. Especially when an eliminated contestant is active on social media, be it love or hatred, they have to face it in vast number comparing to the non-social media existing Bigg Boss contestants.
[wp_ad_camp_1]
Sakshi Agarwal, one of the youngest contestant in the third season for Bigg Boss show, is also one of the latest contestant to be evicted from the show. Her existence inside the house made much impact as she maintained a strong bond with the other contestants.
After getting evicted, Sakshi was given an opportunity to stay inside the house for one week as guest along with Abhirami and Mohan Vaithya. Sakshi wished Sherin, one of best friend, to win the title and encouraged her very much to be confident about winning it. During Sherin's verbal spat with Vanitha regarding Tharshan's issue, Sakshi tried to console the teary eyed Sherin. She asked her not to bother about anything apart from winning the title.
During the conversation, Sakshi made a statement mentioning public as "Dogs" and asked Sherin not to care for "Barking Dogs". This created huge outrage in social media where netizens started thrashing Sakshi. In the weekend episode, even Kamal Haasan addressed the issue and asked Sakshi to explain it. Sakshi said that she never intended to hurt people and always wanted to inspire them. She even said that she has language problem right from the start of the show.
#SakshiAgarwal u have no rights to tell the public/people a dog…
Who are you to say that…
If u doesn't know how to advice in a proper words, then don't do it..#BiggBossTamil3 @vijaytelevision #Biggboss3tamil pic.twitter.com/VikekzMUcy

— Renuga💙 (@renu_xoxo_) September 5, 2019
[wp_ad_camp_1]
Now after coming out of Bigg Boss house, She posted a message asking apologize to the public. "You are all like my family so if I made a mistake pls forgive me and keep supporting me" her post read.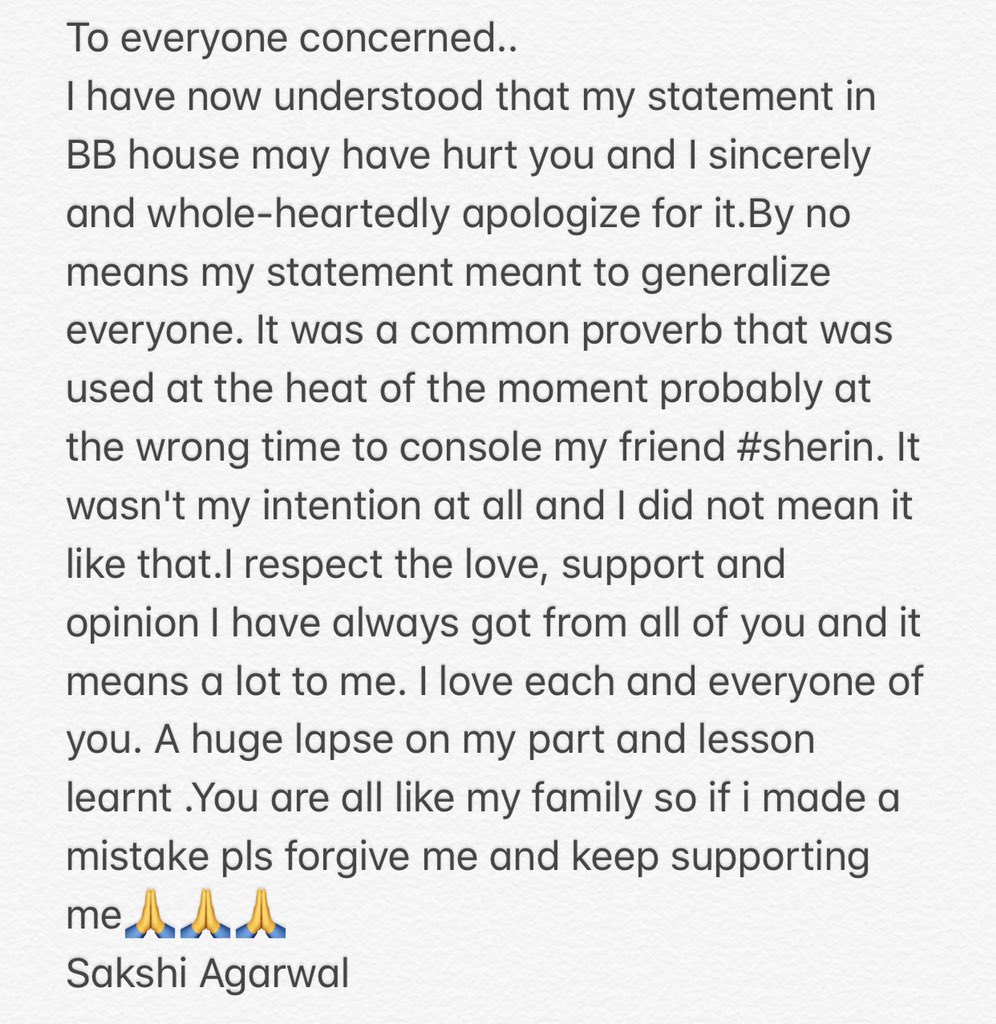 Check out her twitter post here :
#BiggbossTamil #BiggbossTamilS3#BiggbossTamil3 #VijayTelevision #hotstar #SakshiAgarwal #BiggBoss3 #BiggBoss #SakshiArmy #sakshi pic.twitter.com/QfjmmrhmK7

— Sakshi Agarwal (@ssakshiagarwal) September 8, 2019
Check out some of the reactions she received for this post :
Unnallam mannikkave mattom pacchonthi shakshi 👠👠👠👠👠👠👠

— @Ajay97 (@Ajay97336010) September 8, 2019
enna dhaan urundu perandaalum kollywood la chance kedaikaadhu

— MushiMushi مشتاق حسن (@MufasaHssn) September 8, 2019
So ipo kuda nenga sorry solala..yaraiyo tamizh la type pana soli potruka…🤦🤦language barrier…😂

Epdiyo..Nala iru..☺️

— Only for los_win (@only_los) September 8, 2019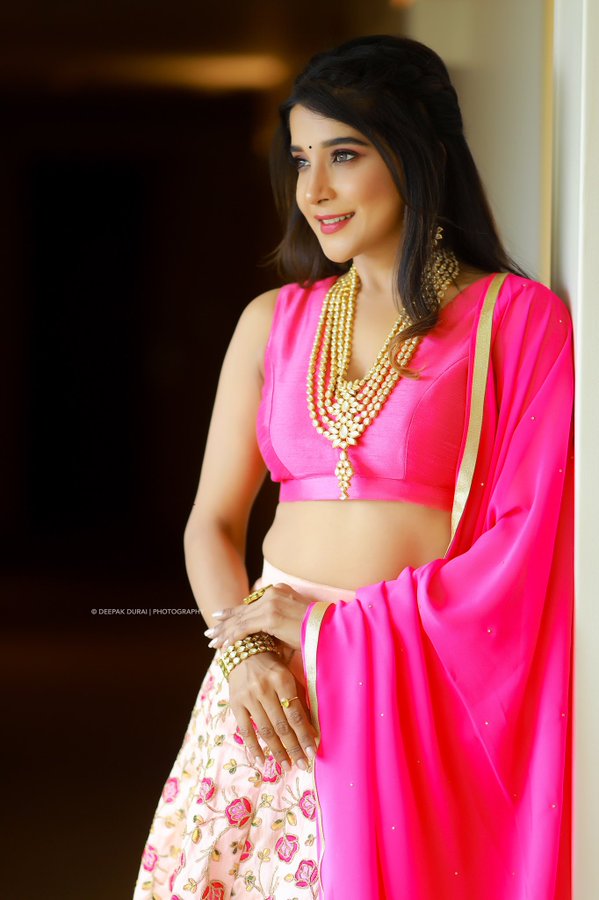 [wp_ad_camp_1]
மன்னிப்பு என்பது தாம் செய்த தவறுகளை உணர்ந்து சரி செய்து கொண்டு வாழ்பவர்களுக்கு மட்டுமே வழங்கப்படும்…… திரும்ப திரும்ப தவறு செய்பவர்களுக்கு மன்னிப்பு என்ற தகுதியான சொல்லுக்கு நீங்கள் தகுதியானவர்களா என்று உணருங்கள்…….👿👿😈

— vinoraj (@vinoraj93707650) September 8, 2019
நீ தவறுக்கு மேல் தவறு செய்கிறாய். உனக்கு திருப்பி தந்த சான்ஸ்யும் பழிவாங்கும் உணர்வுடன் போய் தவறவிட்டு விட்டாய்.😡

— Mariya Ravindran (@RavindranMariya) September 8, 2019
Aatharavu thaane thanthuta pochu😂 Appo apology ketkirathu aatharavuku thaan pola😆😆😜, not really realising the mistake ! Pls stop ur dramas !

— ivar1966 (@ivar6691) September 8, 2019
Lastu 6 lines unakum athuku samanthamae Ella 😫

— Lakshmipriya (@Lakshmi44886009) September 8, 2019
அது எப்படிம்மா அறியாமல் வந்தது. நீங்க சிறு குழந்தை இல்லையே. ஷெரினை சமாதானப்படுத்த மக்களை எப்படி படி நாய்கள்னு சொல்ல முடிஞ்சுது. மக்கள் இல்லையேல் நீங்கள் இல்லை. தவறாக பேசிவிட்டு மன்னிப்பு கேட்டால் சரியாகிவிடுமா. உங்களையோ உங்கள் குடும்பத்தாரையோ சொன்னால் ஏற்க உங்களால் முடியுமா

— Ramesh (@RaamsSiva) September 8, 2019
What do you think on this apologize of Sakshi ?? Comment your views below !!