JUST IN : Saina Nehwal Reacted To The Apology Of Actor Siddharth !!
CM / Updated: 2022-01-12
18:26 IST
By Dhiwaharan
Indian Badminton player Saina Nehwal reacted to the apology made by actor Siddharth on Monday for the reply tweet he posted for her tweet condemning the alleged "attack" on Prime minister Narendra Modi. Saina said that Siddharth should not target a woman like that and went on to add that she is not bothered about what he did. The athlete also said that she is happy in her space and ended the controversy by saying "God bless him".
View this post on Instagram
In his apology letter, Siddharth said that his joke didn't land and asked "Sorry" for that too by saying that a joke that needs to be explained is not a very good joke. "I want to apologise to you for my rude joke that i wrote as a response to a tweet of yours, a few days ago. I may disagree with you on many things but even my disappointment or anger when i read your tweet, cannot justify my tone and words. I know i have more grace in me than that" Siddharth said in his public note.
"As for the joke… If a joke needs to be explained, then it wasn't a very good joke to begin with. Sorry about a joke that didn't land. I, however must insist my word play and humour had none of the malicious intent that so many people from all quarters have attributed to it. I am a staunch feminist ally and I assure you there was no gender implied in my tweet and certainly no intent to attack you as a woman" the actor further said.
"I hope we can put this behind us and that you will accept my letter. You will always be my Champion. Honestly, Siddharth" he added.
Check out his post below :
Dear @NSaina pic.twitter.com/plkqxVKVxY

— Siddharth (@Actor_Siddharth) January 11, 2022
Now, the shuttler responded to Siddharth's apology by saying that the matter is about "women" and wondered why the actor changed his stance after making the comment. "e only said it and he is now apologising. I was Surprised to see myself trending on Twitter that day. I haven't spoken to him but I am happy that he apologised" Saina Nehwal said on the sidelines of the ongoing India Open, according to news agency PTI.
View this post on Instagram
"See, it is about women, he shouldn't target a woman like that but it's okay, I am not bothered about it. I am happy in my space and God bless him" Saina Nehwal said according to reports. It all started after Tamil nadu based Pan Indian Actor Siddharth posted a reply tweet to India's Badminton Champion Saina Nehwal who claimed that Prime minister Narendra Modi got attacked in Punjab through one of her tweets. Saina Nehwal said that no nation can claim itself to be safe if the security of its own Prime minister is compromised and condemned the "cowardly" "attack" on Prime minister Narendra Modi.
Replying to her tweet, Siddharth sarcastically thanked God and termed Saina Nehwal as a "protector" of the nation and called Saina as a "Subtle cock Champion" in his tweet. He also condemned globally acclaimed pop singer Rihanna who uploaded a tweet supporting Indian farmers earlier. "Subtle cock champion of the world… Thank God we have protectors of India. Shame on you #Rihanna" said Siddharth in his tweet while replying to Saina. However, the actor deleted his tweet now.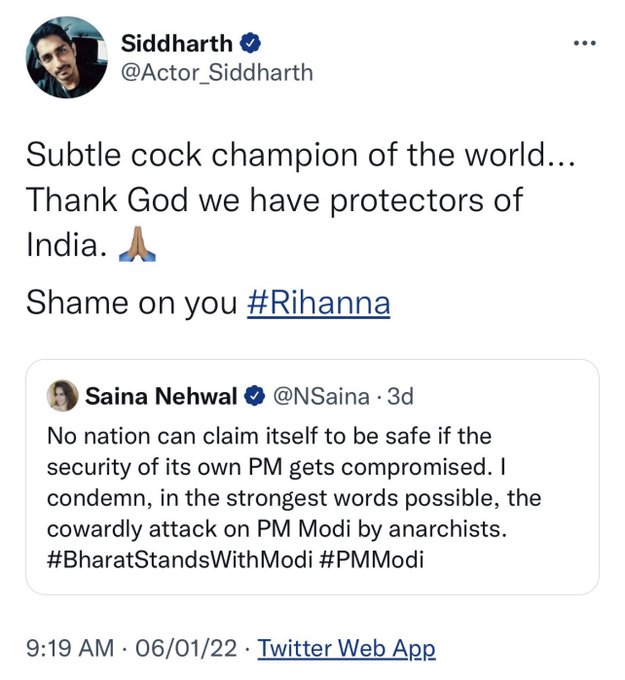 After the tweet created huge outrage among some of the influential personalities, Siddarth came up with an explanation writing "COCK & BULL. That's the reference. Reading otherwise is unfair and leading! Nothing disrespectful was intended, said or insinuated. Period". However, the outrage didn't stop as many other celebrities raised voice against the actor. Now, as he has apologised and Saina seems to have accepted it, we have to wait whether the issue escalates or gets faded.