"Sai Pallavi Is My Crush" – Young Hero's Open Statement
Follow Us
Comments: 0
Sai pallavi is my crush stated by Gulshan Devaiah, A Hopeful Desire to Collaborate
Gulshan Devaiah, a talented Bollywood actor, recently revealed his long-standing crush on actress Sai Pallavi. While he acknowledges his infatuation, Gulshan admits he lacks the courage to approach her. However, he eagerly hopes for the opportunity to work with her someday. Let's delve into his thoughts on Sai Pallavi and his optimistic outlook on their potential collaboration.
Gulshan Devaiah's Past Relationship, Gulshan Devaiah, who was previously married to Greek actress Kallirroi Tziafeta, reflects on their amicable separation in 2020. He appreciates the efforts they both made to maintain their friendship and the positive aspects of their relationship. Gulshan praises Kallirroi for being his best friend, someone he can confide in and share his personal experiences with, including going on dates. Their ability to navigate their separation with maturity and understanding serves as an example that Gulshan believes society can learn from.
Also read: Dheena of "KPY" Fame Getting Married Soon!!
Gulshan Devaiah's Crush on Sai Pallavi,Expressing his admiration for Sai Pallavi, Gulshan Devaiah openly admits to having a massive crush on the actress. He acknowledges that this infatuation has been persistent for quite some time. Although he possesses Sai Pallavi's phone number, Gulshan confesses that he lacks the strength and courage to approach her directly. However, he emphasizes that his admiration is solely based on her talent and skills as an actor and dancer. Gulshan considers Sai Pallavi to be a capable actress, acknowledging her remarkable performances.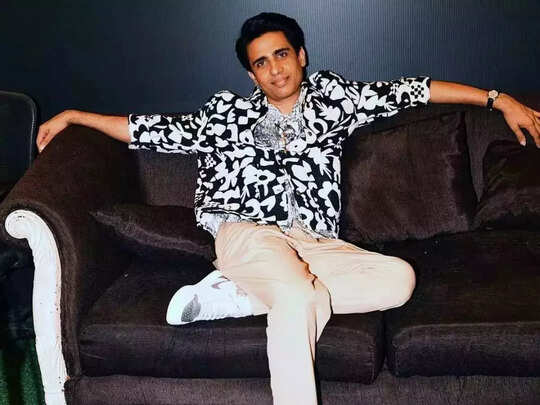 Hopeful Desire for Collaboration, Despite his unrequited crush, Gulshan Devaiah remains optimistic about the possibility of working with Sai Pallavi in the future. He expresses his desire to collaborate with her on a film, emphasizing that their potential professional collaboration would bring him immense joy. Gulshan believes that if fate allows, their paths will cross, presenting them with an opportunity to showcase their acting prowess together.
Also read: Hardik Pandya Got Roasted For His Reaction Before The 5th Ball !!
Gulshan Devaiah's Thoughts on Collaboration, Gulshan Devaiah maintains a pragmatic approach when it comes to working with Sai Pallavi or any other talented actor. He believes that if the opportunity arises to work with a skilled artist, it should be embraced. Gulshan expresses that there is nothing wrong with aspiring to collaborate with exceptional talents, as it allows actors to challenge and improve themselves. He emphasizes that while the outcome of his aspirations remains uncertain, the mere prospect of working with a gifted artist like Sai Pallavi would be a rewarding experience.
Also read: Ashish Vidyarthi Opened On Why He Got Married For The 2nd Time !! WATCH
Gulshan Devaiah's confession about his long-standing crush on Sai Pallavi showcases his admiration for her talent as an actor and dancer. Despite his reluctance to approach her directly, Gulshan eagerly awaits the chance to collaborate with her in the future. With his hopeful mindset and dedication to his craft, it is only a matter of time before their paths cross on the silver screen.
Sai Pallavi is an actress and dancer who has established her presence in Telugu, Tamil, and Malayalam films. Pallavi was born in Coimbatore, Tamil Nadu, India, to Senthamarai Kannan and Radha Kannan. She has a younger sister named Pooja kannan who is also an actor.
Pallavi grew up in Coimbatore and did her schooling at Avila Convent School. She completed her medical studies at the Tbilisi State Medical University in Georgia in 2016. Later, in 2020, she sat for the Foreign Medical Graduate Examination (FMGE) in Trichy
Pallavi made her official acting debut as the lead in premam a romantic comedy directed by Alphonse puthren, in which she essayed the role of a teacher. She was approached for the movie while she was still studying medicine, and she shot for the film during her vacation. The film was released without any teasers, trailers, or pre-release interviews. It went on to become a huge hit at the box office, garnering appreciation from critics and audiences alike, and shot her to instant fame.