Articles
S.Ve Shekar Said "Swiggy" Proves Saffron Increasing In Tamilnadu !! Tamil People Shown In No Mercy !!
BJP , the powerful national party has not attracted Tamilnadu people with their ideologies yet though Prime minister of the nation owns it. The Tamilnadu leaders of the national party are best examples for why people hate that party the most.
[wp_ad_camp_1]
For example S Ve Shekher shared a Facebook post written by Thirumalai Sa., which didn't name the journalist in the incident. However, the headline of the post, which read 'Madurai University, the Governor and a virgin girl's cheek' was S Ve Shekher's own.
Several members of the media fraternity as well as senior political representatives have slammed the sexist post on social media.
Without naming the woman journalist in the incident, the post read: "I feel pity while looking at that woman journalist. She claims she was disturbed because the governor touched her. But when you read her tweets, it is understood that her intention was to target the Governor and Modi. It is actually the governor who has to wash his hands with Phenoyl after touching her. These (TN media persons) are cheap and disgusting creatures. Most people who work in the media in TN are usually  Illiterate, cheap and don't have any general knowledge. This woman is not any different."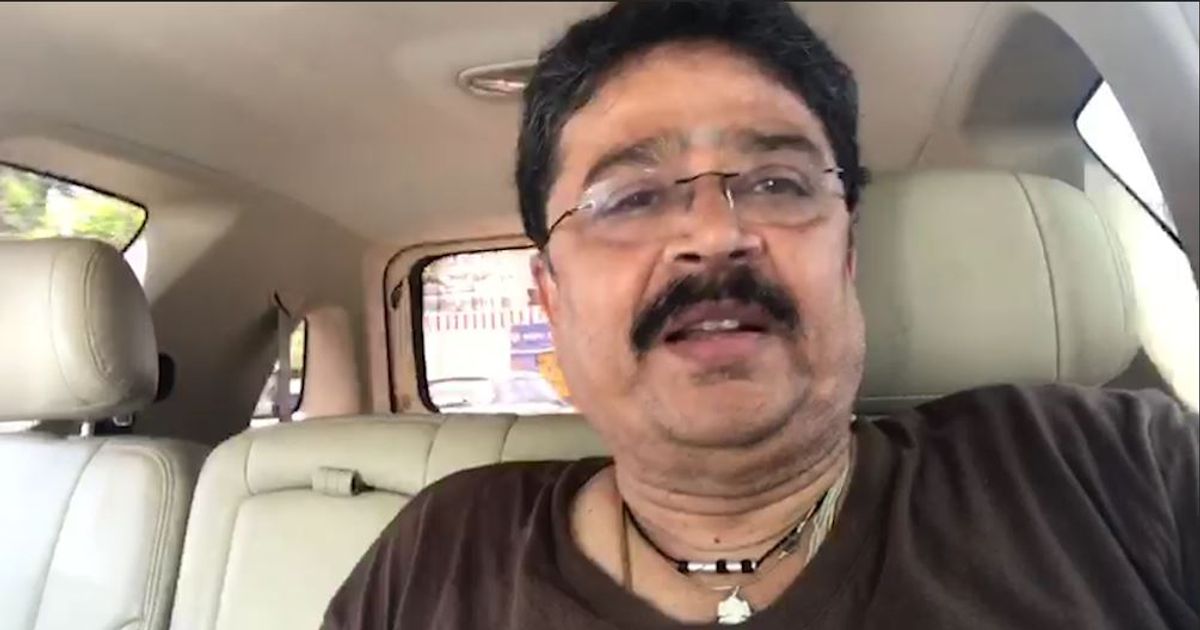 The post also went on to accuse all women journalists in Tamil Nadu of sleeping around.
"Recently this disgusting fact has come out through complaints that women cannot become reporters or anchors unless they sleep with top bosses. And with these faces, they come out to ask questions to the governor," the post stated.
[wp_ad_camp_1]
The post was deleted following the furore it sparked, but not before several members of the media fraternity took to Twitter to condemn the post and Shekher.
The Facebook post shared by Shekher is titled "Madurai University, Governor and the Virgin Cheeks of a Girl". It claimed that more sexual abuses happen in media houses than in universities. It also claimed that a woman cannot become a reporter or news reader without sleeping with bigwigs.Check his post below :
The cybercrime wing of the city police has registered a case against S Ve Shekhar under three IPC sections for posting inflammatory remarks about a woman journalist who complained against governor Banwarilal Purohit for patting on her cheek at a press conference early this week.
The cybercrime wing police registered a case based on the complaint of the journalists association and slapped a case against the BJP member under IPC Sections 504 (intentional insult to provoke breach of the peace), 505 (1) (c) (with intent to incite, or which is likely to incite, any class or community of persons to commit any offence against any other class or community), and 509 (Word, gesture or act intended to insult the modesty of a woman), and Section 4 of TN Prohibition of Women Harassment (Prevention) Act.
The Madras high court denied the anticipatory bail to the actor who apprehended arrest in connection with a criminal case registered against him for his alleged derogatory social media post against woman journalists.
Dismissing Sheker's advance bail application, Justice S Ramathilagam directed police to take action on the complaint as they would do on a normal complaint against any person.
[wp_ad_camp_1]
But he did not arrested by the police yet but instead there were photos leaked him roaming around the city with police protection.
According to Nakkeeran , It is reported that S.ve. Shekar is about to celebrate his grandson's birthday by throwing a party. For that he has made big arrangements in his house it seems and he has been inviting his political, cinema industry friends with invitation cards. To invite his one of the friend he has arrived to the hotel in Kancheepuram it is believed where he had food and relaxed by having Police officers as safety guards.
Realizing people's strong hatred against him , S.ve Shekar used the power of his relatives who are higher authorities to have armed police officers as his guards. When people around him clicked photographs of him by hiding , it is reportedly said that he posed for them casually. It is allegedly said that people also took selfie with him.
After eating, he went to his Innova car where the Police opened door for him say report in Nakkeeran. What do you think on S.Ve. Shekar's happy journeys around the state being an accused ?
Now the actor turned politician seemed to be active on twitter where he wrote a post attaching a guy wearing "Swiggy" T-shirt. He said "In our country especially in Tamilnadu "Swiggy" reminds us the increase level of Saffron." 
நம் இந்தியாவில் குறிப்பாக தமிழகத்தில் காவிப்படை அதிகமாக தெரிவதை நினைவுபடுத்துபவர்கள்.
. "Swiggy "👍👍👍👍🇮🇳🇮🇳🇮🇳🇮🇳🇮🇳 pic.twitter.com/e1oIGD4Ptd

— S.VE.SHEKHER (@SVESHEKHER) October 12, 2018
For this tweet most of the comments that surfaced abused S.ve Shekar in bad language. We tried hard not to attach those but we could not resist. Check some of them here :
குறிப்பாக தமிழ்நாட்டில் காவிப்படையை காலி செய்யவே கிளம்பியிருக்கும் "கருப்புப்படை" @UberEats_IND 👍👍👍👍🇮🇳🇮🇳🇮🇳🇮🇳🇮🇳 pic.twitter.com/NvAZMsw8hC

— Rakesh Yppup (@Rakesh_comrade) October 12, 2018
Good reply. In reality Saffron will rule India.

— S.VE.SHEKHER (@SVESHEKHER) October 13, 2018
மதிய நேரம் கம்மாக்கரை பக்கம் போய் பாருங்க ஜி, காலைல போட்ட மஞ்சபீ எல்லாம் காஞ்சு போயி ஒரே காவி நிறமா இருக்கும், அப்டியே அள்ளி பூசிகிட்டு பாரத் மாதாகி ஜே சொல்லிட்டு வந்துருங்க … பட் ஆல்ரெடி உங்க மூஞ்சி பீய அள்ளி பூசன மாதிரி தன் இருக்கே.. டெலிகட் பொஸ்சன்..

— சென்ட்ராயன் (@Senttu_ofcl) October 12, 2018
கேவலமான லாஜிக். Saffron color shirt போட்டு இருந்தா காவி பரவி இருக்கா?

— சு.விஜய்குமார்🇮🇳🇮🇳🇮🇳 (@VitGmail) October 12, 2018
— Dr. Jai (@Dr_SJK) October 12, 2018
— Sakthi 🏄 (@NAMEISYOGI) October 12, 2018
Sir paavam avanaga sapattula manna alli potradheenga…!!
Oorukkea soru delivery pannittu avangalea road kadaiyila sapdukinu irukkanga..?!

— Shanmugam muthusamy (@shan_dir) October 12, 2018
மாட்டு மூத்திரம் குடிச்சா மூளை இப்படி தான் வேலை செய்யும்.

ஆனா உனக்கெல்லாம் ஓவர் டோஸ் கூடாது.

கொஞ்சமாக குடிக்கவும். 😊

— K.N.அருளானந்தன் 😊 (@kn_Arulananthan) October 12, 2018
மாமா தயவுசெய்து நீங்களாகவே கீழ்ப்பாக்கத்தில் அட்மிட் ஆகிடுங்க.. உங்களுக்கு ரொம்ப முத்திடுச்சி.. #பைத்தியம்

— Pasumpon kumar (@Pasumponkumar1) October 12, 2018
என்ன சேகர் சார். டிராமால பண்ணற மாதிரியே சம்மந்தாசம்மந்தம் இல்லாம ஜோக்கடிக்கிறீங்க!!!

— S RAJAGOPALAN (@rajagopallan) October 12, 2018
— 🔥ஷத்ரியன் மணி (@kajalag59555337) October 12, 2018
இதக் கேட்டதும் சில நாட்களுக்கு முன் இந்த காவி கோஷ்டிகள் நடுரோட்டில் நின்று சாப்பிட்டது தான் நினைவுக்கு வருகிறது காவி போட்டாலே நடுத்தெருவுல தான் நிக்கணும் போல

— Santhosh John Raj (@SanthoshJohnRa1) October 12, 2018
— இணைய போராளி⭕ (@inaiya_poorali) October 12, 2018
இப்படியே பகல் கனவு காண வேண்டியது தான்…. 😊😊😊

— Avadi Karthik (@kartiadmk) October 13, 2018
காவி காவி னு மதத்தை புடிச்சு தொங்காதிங்கடா … உங்களால தாண்டா அதிக பிரச்சனை வருது..

— இளைய தளபதி💕®™ (@SivanTwtz) October 12, 2018
சுருக்கமா சொன்னா, சோத்துக்கு வழி காவி

— sgrajan (@sgrajanchennai) October 12, 2018
அது கட்சியா பைத்தியக்கார ஆஸ்பத்திரியாடா?
மொத்தமும் கிறுக்குகூதிகளா இருக்கீங்க 😂 pic.twitter.com/TiUY80CKzB

— Black Cat 🐈 (@Ramanimsd1) October 13, 2018
— Pradeep (@pra_deeep_) October 12, 2018
உங்கள நீங்களே கலாய்ச்சிக்கிட்டா நாங்க எங்கயா போவோம் 😔😔😔

பாவம்யா நீங்க 😞

— Mannu (@mannu_meh) October 12, 2018
இனிமேல் #Swiggy ஐ புறக்கணிப்போம் அவர்கள் Tshirt கலரை மாற்றும் வரைனு ஆரம்பிச்சிற வேண்டியதுதான் 😂😂

— Chintweets (@chintoo77) October 12, 2018
எங்க கண்ணுக்கு படிச்ச இளைஞர்களின் உழைப்பு சுரண்டப்படுவது தெரியுது உங்க கண்ணுக்கு காவி கலர் தெரியுது…#growup

— Novice (@JaiMadhan3) October 13, 2018
அவர்கள் பாவம் உழைத்து சாப்பிடுகிறார்கள்.அவர்களை உங்கள் காவி கூட்டத்துடன் சேர்க்க வேண்டாம்…..

— V (@vpandian3) October 12, 2018
இவனலாம் வச்சிகிட்டு எங்கிட்டு தாமரைய மலர வக்கிறது… pic.twitter.com/vKNwEmXsPc

— VJ (@jey5692) October 12, 2018
Dear @SwiggyCares , You promoting @BJP4India in Tamilnadu ! So i uninstalled ur App ! Kaavi Kodiyathu pic.twitter.com/Cvh8SchdvH

— Tamil Films Censor (@TamilfilmCensor) October 12, 2018
What do you think on this tweet of him ?? Comment below !!