Ruturaj Gaikwad Got Slammed For Skipping WTC For His Marriage !!
Written by Dhiwaharan Published on Jun 02, 2023 | 08:34 AM IST | 212
Follow Us
Comments: 0
Ruturaj Gaikwad is all set to get married to his girlfriend and the Mehendi function is currently happening. Pictures of the event are going viral in social media platforms with many wishing the emerging Indian cricketer. However, a number of comments criticizing the cricketer for skipping World Test Championship are also surfacing in the micro blogging social media platforms.
also read : Sameena Of "Jio Cinema" Fame Replied To RCB Fans Who A*used Her !!
Chennai Super Kings (CSK) opener Ruturaj Gaikwad, who was slated to be the reserve opener for the World Test Championship (WTC) Final, made the decision to withdraw from the prestigious match due to his upcoming wedding with his long-time girlfriend, Utkarsha Pawar. According to various reports, their marriage is scheduled to take place on Saturday, creating a buzz among cricket enthusiasts.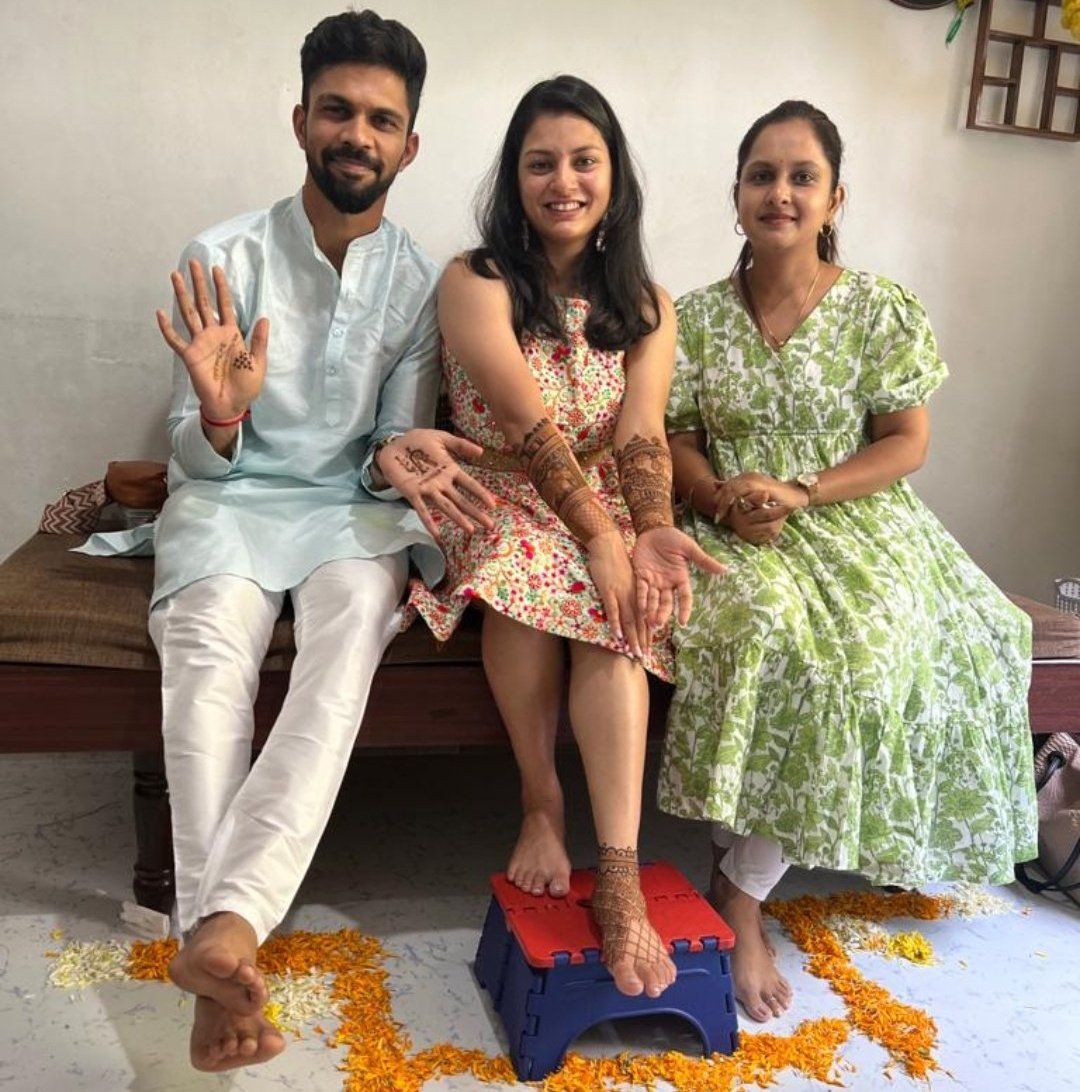 Recently, a picture from Ruturaj and Utkarsha's mehendi ceremony went viral on social media platforms. Utkarsha, who was last seen at the Narendra Modi Stadium in Ahmedabad, joyously celebrated CSK's victory in the IPL 2023 final alongside her soon-to-be husband. The couple even had the opportunity to meet and interact with CSK captain MS Dhoni, adding to their happiness.
Born on October 13, 1998, in Pune, Utkarsha is not only Ruturaj's soulmate but also a first-class cricketer herself. She represents the Maharashtra Women's cricket team in domestic competitions and showcases her skills as a versatile all-rounder. Although Utkarsha hasn't played a match in approximately 18 months, media reports suggest that she is currently pursuing her studies at the Institute of Nutrition and Fitness Sciences (INFS) in Pune.
The couple's excitement surrounding their upcoming marriage has garnered attention from various personalities, including Marathi actress Sayali Sanjeev. She recently extended her heartfelt congratulations to Ruturaj Gaikwad and Utkarsha Pawar through a comment on their social media post. Sayali's warm wishes have further added to the celebratory atmosphere surrounding their union.
also read : Vishnukanth's Co-Star Reehana Revealed About His Character !!
Ruturaj Gaikwad played a crucial role in CSK's triumph in the IPL 2023 season, emerging as the team's second-highest run-scorer. Throughout the tournament, he amassed an impressive tally of 590 runs in 16 matches, displaying his exceptional batting prowess. CSK's victory in the IPL 2023 final against the Gujarat Titans secured their record-equalling fifth title.
Former Pakistan captain Wasim Akram has also heaped praise on Ruturaj Gaikwad, acknowledging his outstanding performances under pressure. Akram commended Gaikwad's physical fitness, highlighting his exceptional fielding abilities as well. The legendary cricketer expressed his belief that Gaikwad possesses a bright future in Indian cricket and in the various franchises he represents, emphasizing his potential for success.
Ruturaj Gaikwad's decision to withdraw from the WTC Final to prepare for his wedding with Utkarsha Pawar has garnered attention and best wishes from fans, cricket personalities, and even renowned figures from other fields. Gaikwad's exceptional performances for CSK in the IPL 2023 season and his bright future in cricket, as recognized by Wasim Akram, have further added to the excitement surrounding his personal and professional journey.
While many are congratulating the cricketer for the special event of his life, a number of reactions. "This guy cancel WTC final for his marriage But postponed his marriage for IPL Great👏 Reason why he doesn't perform in international matches 😭😭" a user commented whereas another one said "Few saying , he wont get chance to play . Thats true . But what if india wins ? present in a group pic with winning trophy will be the greatest moment in his career than winning ipl troph And watching legends like kohli , rohit amd practicing in lords he missed . Jaiswal deserved"
also read : Bigg Boss Thamarai Selvi's Loss Left Her Followers Devastated!!
Check out some of the reactions below :
Few saying , he wont get chance to play . Thats true . But what if india wins ? present in a group pic with winning trophy will be the greatest moment in his career than winning ipl troph And watching legends like kohli , rohit amd practicing in lords he missed . Jaiswal deservd

— DJ (@Chris_9666) June 2, 2023
Better than carrying drinks to the field. He knows he wouldn't be in the playing 11 anyways, so getting married is a better option than warming benches

— Sports Corner (@FakeAccountHoon) June 2, 2023
Exactly you are right. International matches are so important but he proves that not for some players

— Shreya Jha (@_shreyajha_) June 2, 2023