Rukhsar Rehman Divorced Her Husband With Whom She Lived For 13 Years!!
Written by gokul krishnan Published on Jun 30, 2023 | 10:19 AM IST | 139
Follow Us
Comments: 0
Rukhsar Rehman has announced her decision to end her 13-year-long marriage with film director Faruk Kabir. The couple has been living separately since February this year, and Rukhsar has confirmed that they are currently in the process of obtaining a divorce. While the reasons for the separation have not been disclosed in detail, it is evident that the actress made a difficult decision based on some non-negotiable factors.
Celebrity marriages often capture public attention, and the recent news of Rukhsar Rehman and Faruk Kabir's impending divorce has left their fans surprised and saddened. After a decade-long relationship, the couple has decided to part ways, marking the end of a chapter in their lives.
also read: Pawan Singh Rautela K*lled By The Family Of His Girlfriend??
Rukhsar Rehman, known for her roles in movies like "PK," "83," "God! Tussi Great Ho," and "Uri: The Surgical Strike," confirmed the news of their separation and impending divorce. Speaking to the media, she mentioned that she and Faruk have been living separately since February and are currently engaged in the legal process. Rukhsar refrained from discussing the specific reasons behind their decision, stating her desire to keep the matter respectful and free from controversy.
Rukhsar Rehman, an Indian actress and model, began her film career at the age of 17 with the movie Yaad Rakhegi Duniya in 1992. She also appeared in Inteha Pyar Ki. Despite her initial success, she chose to honor her father's request and left the industry, returning to her hometown Rampur in Uttar Pradesh to establish a garment business.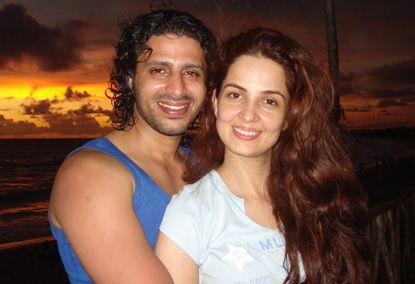 A source close to Rukhsar disclosed to Etimes that there were certain non-negotiable issues that led to the end of their marriage. These undisclosed factors played a significant role in Rukhsar's decision, indicating that they were fundamental to her happiness and well-being. However, the actress expressed that she didn't want to delve into the details, choosing to maintain dignity and privacy throughout the divorce process.
also read: Harish Kalyan's Emotional Post For His Wife On Her Birthday!
Faruk Kabir, who has directed Vidyut Jammwal in the popular "Khuda Haafiz" series, has chosen not to comment on the matter, emphasizing his preference for a private life. As public figures, Rukhsar and Faruk have had to navigate the challenges of maintaining personal boundaries while being in the spotlight.
The couple tied the knot in a low-key ceremony in March 2010, after several years of dating. Rukhsar had been previously married to Asad Ahmed, with whom she shares a daughter, actress Aisha Ahmad. Despite their separation, Rukhsar and Asad have managed to co-parent their daughter, showing their commitment to their child's well-being.
While their personal lives are going through a significant change, it is essential to acknowledge Rukhsar and Faruk's professional achievements. Both have made significant contributions to the entertainment industry, with Rukhsar garnering praise for her versatile performances in various films. Faruk's directorial work, particularly the "Khuda Haafiz" series, has gained attention and acclaim from audiences and critics alike.
also read: Coimbatore: Fight Between Woman & Sanitary Worker Over Littering In Public!!
View this post on Instagram
Here is the Screenshot :
In conclusion, the news of Rukhsar Rehman and Faruk Kabir's divorce marks the end of their 13-year marriage. Rukhsar's confirmation of the separation, coupled with their decision to live separately since February, underscores the difficult and emotional journey they have embarked upon. While the specific reasons for their divorce remain undisclosed, Rukhsar's emphasis on dignity and privacy reflects her desire to handle the matter with grace. As they navigate this challenging time, it is important to respect their decision and offer support to both Rukhsar and Faruk as they move forward in their personal and professional lives.