"Rs. 360 For This Screen ??" – Online Fans Called Out Famous Chennai Theatre
Chennai
Ponniyin Selvan
Rohini Theatre
CM / Updated: 2022-09-26
12:51 IST
By Dhiwaharan
As the release of most awaited "Ponniyin Selvan" of director Manirathnam in nearing, pre bookings are going on in full swing with fans getting their tickets irrespective of the cost. The film which is an adaptation of Kalki's "Ponniyin Selvan" is a 70 year old dream of Tamil cinema. Reports suggests that legendary actor-politician MGR wanted to make the film and later provided the rights to Kamal Haasan. Now, Kamal's one of the closest friends in film industry Manirathnam has made the dream come true and fans are ready to give it all to watch the first shows.
However, on Sunday, a number of online users came up with tweets expressing their displeasure over how theatre managements are using the opportunity to increase the ticket price, even for their poorest screens. Ever since film journalist Ram venkat Srikar came up with a tweet uploading the picture of one of the screens from Rohini theatre that is located in Koyambedu, Chennai, many other online users started venting their emotions out.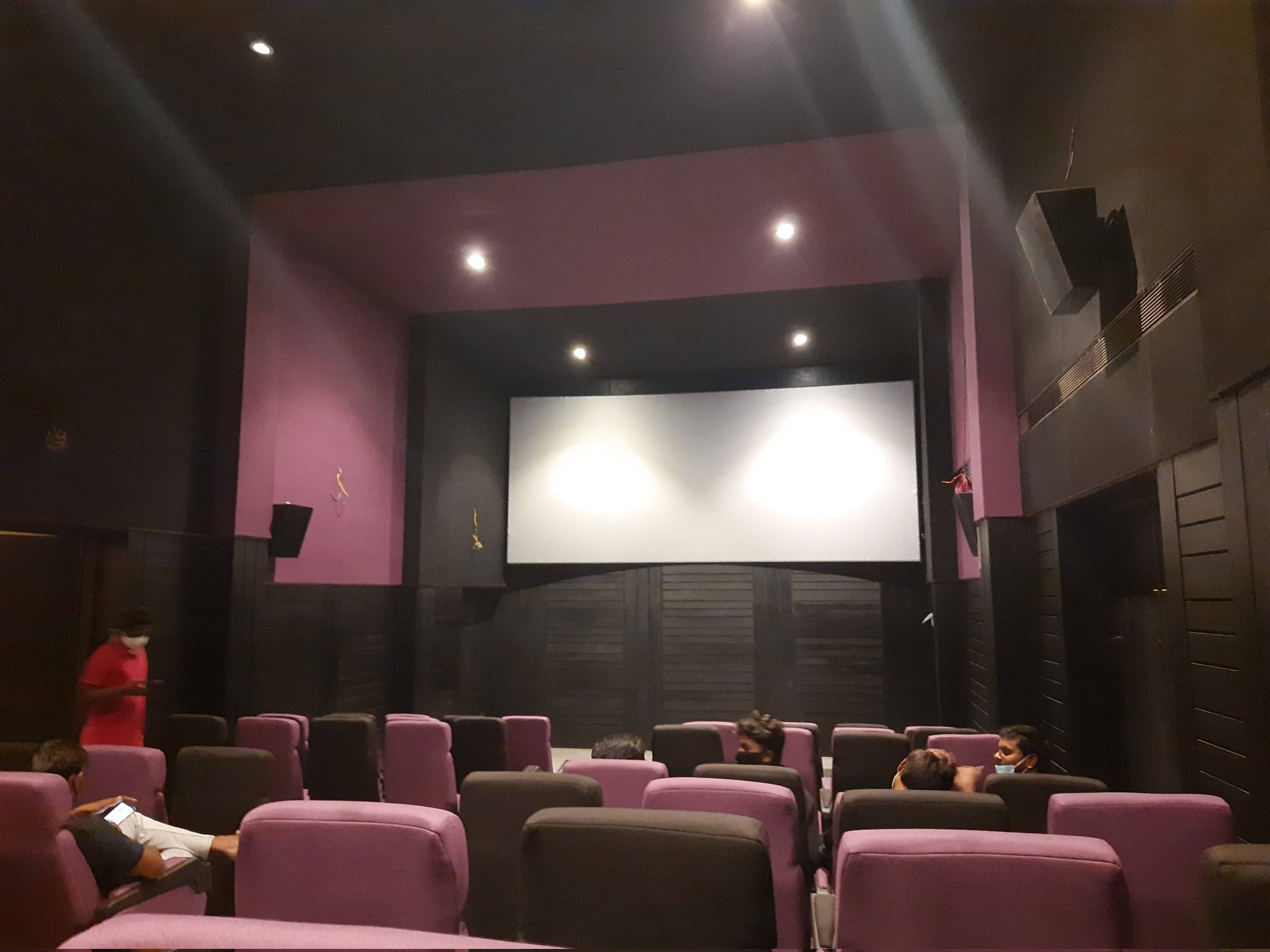 The theatre is charging Rs. 360 for each ticket for "Ponniyin Selvan" and fans are not happy over the size of one of their screens which is evident through their posts and tweets. Going by the theatres notification, the amount includes "Gold 196 + Food".  "I really feel bad for those spending ₹360 to watch #PonniyinSelvan in this auditorium. It's a glorified private theatre" said Ram Venkar Srikar in his tweet which is going viral.
I really feel bad for those spending ₹360 to watch #PonniyinSelvan in this auditorium. It's a glorified private theatre. pic.twitter.com/bcg13oCug5

— Ram Venkat Srikar (@RamVenkatSrikar) September 25, 2022
Popular Movie reviewer Blue Satta Maaran, on Monday morning, came up with a tweet that said "Buzz of the week: One of the screens in Rohini Theatre complex, Koyambedu, Chennai. 'is it a movie screen or LED TV?' netizens ask" 
Buzz of the week:

One of the screens in Rohini Theatre complex, Koyambedu, Chennai.

'is it a movie screen or LED TV?' netizens ask. pic.twitter.com/LhXKPJCzAS

— Blue Sattai Maran (@tamiltalkies) September 26, 2022
Check out some of the other similar reactions from fans :
ஏன் இவ்ளோ செலவு செஞ்சு ஸ்க்ரீன்லாம் போட்டுகிட்டு, பேசாம கலைஞர் டீவி எதுனா பழைய விலைக்கு வாங்கி வெச்சிரலாம்ல Rohini cinemas

வக்காளி 350 ரூவா டிக்கெட்ட வாங்கிபுட்டு A3 பேப்பர் சைஸ்ல ஸ்க்ரீன மாட்டி வெச்சிருக்கானுங்க pic.twitter.com/T3t1jKHHxu

— வன்ம கிச்சா (@itzcrazykichu) September 25, 2022
Old Chennai theatres like Devi, Sangam ,Kamala ,Sathyam had survived these many years by respecting the audience and these theatres have their own loyal followers
Whereas this scam Rohini is surviving with Vijay , Ajith bday celebrations , fdfs serial set show etc
Kuppai theatre. https://t.co/UHPIT4NH7T

— Arul Kumaran (@arulkumaran180) September 25, 2022
Rohini theatre atrocities for #Nanevaruven ticket Price 196+food204=400 ,@RohiniSilverScr what a fuck business strategy 💦 pic.twitter.com/5ynqyCRS5c

— Saravanan (@Itz_SaravananSK) September 24, 2022
Excuse Me அந்த ஸ்மார்ட் Tv என்ன விலை ?

~ Rohini Theatre Sir அது

அட 🌸nட @RohiniSilverScr#Varisu pic.twitter.com/yUKTWPphxx

— VijayAlif🕶️𝕁𝕕🥃 (@VijayAlif5) September 25, 2022
My class board>>>>>>>>>This Screen https://t.co/ee9OSA7DVH

— Balakrishnan (@balakrishnanv_2) September 25, 2022
One of the worst theatres in Chennai. Stopped watching movies in this theatre after 2010 for a different reason. Never understood the hype. Just exploiting fans' emotions to run their business. Fans Fort my foot! Boycott it. https://t.co/hXMqT8EFnA

— George (@VijayIsMyLife) September 25, 2022
360p Quality For 360rs ? @RohiniSilverScr !

Nowadays Home TV Bigger Than This !!! https://t.co/ZB354naM01

— Kαмαℓ ツ (@KamalOfcl) September 25, 2022