Rs. 1.50 Crore Worth CSK Player Cheering From The Crowd ?? Fans Not Happy
By Dhiwaharan
Fans of team Chennai Super Kings baffled after a picture of potential CSK star player who was bought for Rs. 1.50 crore at the auction, seen cheering for the yellow team from the crowd. Many users of online platforms expressed their dejection over the skilled player being not used by the successful franchise which is known for benching uncapped players.
Named as Rajavarthan Hangargekar, the 19 year old bowling allrounder who impressed experts and fans through his performance, was expected to replace Deepak Chahar who got ruled out from the tournament due to injury. It is notable that the youngster was bought for a massive price of Rs. 1.50 crore by the authorities of Chennai Super Kings at the auction.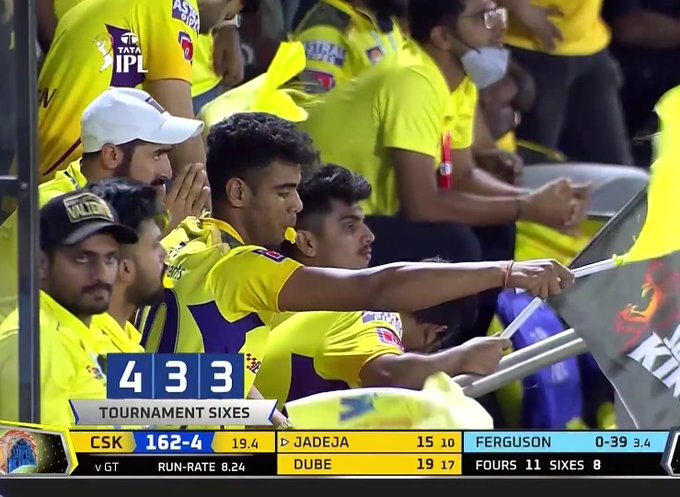 The Under 19 cricket team of country India created history by winning the world cup for the fifth time in the history. Players who represented the country in that tournament, were came under the scanner of fans, cricket experts and even by the IPL franchises. Many were expected to be bought by the 10 teams and show case their talent in the cash rich tournament to prove themselves.
The IPL 2022 mega auction took place just a week after India defeated England in the U-19 world Cup Final in February. One of the players to get a huge bid was fast bowling all rounder Rajvarthan Hangargekar. The 19 years old grabbed the limelight with his raw pace and hard hitting ability in the ICC world Cup tournament.
The defending champions went for him in the IPL mega auction and surpassed Mumbai Indians in an intense bidding war to make sure that the teen player wears yellow jersey in the 14th edition of the tournament. As said, he was bought for an whopping amount of Rs. 1.50 crore in the auction.
On seeing the team desperately buying him in the auction, fans and experts expected him to represent the Ravindra Jadeja led team in the IPL 2022. To everyone's shock, Rajavarthan, during CSK's last two games between Gujarat Titans and Mumbai Indians, was seen spotted in the stand, waving the CSK flag and cheering for the team by blowing whistles.
The absence of the cricketer, even in the dressing room of Chennai Super Kings, caused reactions across the Internet. It is notable that CSK lacks a pacer due to Deepak Chahar's injury and is also doing poor at the tournament with 5 losses so far.
"Feeling sad for this boy🥺💛 He is cheering #CSK𓃬 with Fans.. Please give chance for Rajvardhan hangargekar @ChennaiIPL 💛🤲" a fan said in his tweet on seeing the cricketer waving CSK flag from the crowd whereas another one said "All the youngsters doing well meanwhile Rajvardhan Hargargekar waving flags in the crowd. Absolute states. Shame @ChennaiIPL ?"
Check out some of such reactions below :
Feeling sad for this boy🥺💛
He is cheering #CSK𓃬 with Fans..
Please give chance for Rajvardhan hangargekar @ChennaiIPL 💛🤲#CSKvsGT #WhistlePodu pic.twitter.com/kNezHDncVz

— DEXTER🤫 (@DexteR_VJ) April 17, 2022
Rajvardhan Hangargekar from the stands: pic.twitter.com/r6aip9LA3o

— 12th Khiladi (@12th_khiladi) April 21, 2022
All the youngsters doing well meanwhile Rajvardhan Hargargekar waving flags in the crowd. Absolute states. Shame @ChennaiIPL ? pic.twitter.com/LdKpyS0yhn

— Vaishnavi ✨ (@SubtleShimmer_) April 17, 2022
Blood boiling Raa 😭😭😭😭😭😭

Pls play rajvardhan for ffs. https://t.co/PWTvA7nAKt

— sylesh (@sylesh146) April 22, 2022
Worst middle order @ChennaiIPL bench rayudu and play with rajvardhan

— 闇 (@itxOtaku) April 23, 2022
csk needs and deserves this lose.
No Rajvardhan
No Pretorius
No Conway.

Just get lost

— தங்கபுஷ்பம் (@thangapushpam03) April 17, 2022
should have been a sureshot starter this IPL szn, he would've atleast carried on the momentum from the WC and gave it his best. dunno what kind of bs experimenting these gits are doing with him until now.

— kavya cj 🌻 (@kavyacj) April 17, 2022
@ChennaiIPL @s_badrinath @KrisSrikkanth it's only me or anyone else too noticed that ranjavardhan Hangargekar sitting on the crowd and not in the bubble? 🧐

— Deenu (@Deenu38670907) April 21, 2022
CSK giving "R Sai Kishore" treatment to Hangargekar is not something I expected when they bought him.

Given their bowling attack I thought he'll start from Match 1. https://t.co/t6qqWjq342

— Akash Kumar Jha (@Akashkumarjha14) April 21, 2022
Why is Rajvardhan Hangargekar in Crowd Waving CSK Flag ??

— Sharukh (@StanMSD) April 17, 2022