Rowdy Made Entry To Join BJP Party !! Escaped After Seeing Cops
By Dhiwaharan
A longtime rowdy named as Suryah who was involved in more than 50 cases, including six murders, managed to escape when police tried to catch him at Otteri near Vandalur on Monday. Four members who are believed to be his friends were arrested. After receiving a specific tip, Police tried to arrest him when he attended a BJP event that took place at Otteri, Vandalur, reportedly to join the party.
[wp_ad_camp_1]
The history sheeter who is a resident of Nedunkundram came to the function conducted by BJP in the area, allegedly to join the party in front of state unit L. Murugan. A lethal weapon hidden inside a car parked near the venue was recovered by the police who collected the video evidence of the event to confirm the presence of Suryah. It is reported that Suryah escaped in BJP member Raghavan's car.
Tamil nadu leader of BJP party, while talking about the accused to media said "I am not aware of every person's background who are willing to join the party.". Then he hurriedly left the venue when journalists started questioning more about the issue, according to Time of India. The report further added that a notorious Rowdy named as "Kalvettu" Ravi joined the party earlier. He was involved in 36 plus cases including 6 murders.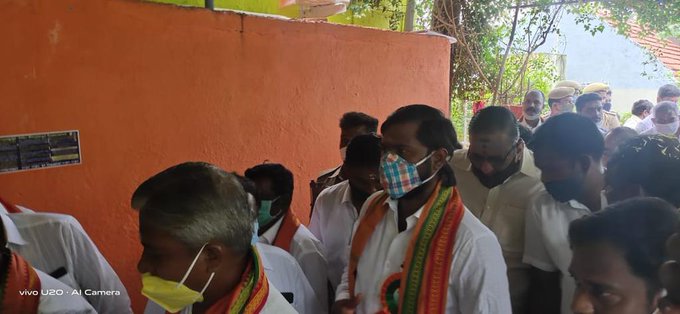 [wp_ad_camp_1]
Police filed a case under Section 41 (any police officer may without an order from a magistrate and without a warrant arrest any person) of CrPC, 1973, against the four friends of Suryah and let them go after taking an undertaking from them.
Nataraja, a BJP functionary in Otteri, exclusively arranged the party as L.Murugan failed to attend a marriage of his family. He organised the separate function at the community hall near his house. His family function turned party event as workers decided to join new members to the BJP party in front of L.Murugan which made Suryah to make his presence at the hall.
As soon as the news surfaced in Internet, Tamil based twitter users started making fun of the political party.
இதனால்தான் பொதுகூட்டத்திற்கு போலீஸ்காரர்களை வரவேணாங்கிறது. ஒரு பய வரமாட்டேங்குறான்.

— شیم sham ഷാം शाम ஷாம் (@SamjersINC) September 1, 2020
TN BJP is a joke which writes itself 😂🤣😂🤣😂🤣 since nobody is joining they are inducting gangsters lmaoo https://t.co/sdwEmWkHDJ

— پربھا (@deepsealioness) September 1, 2020
[wp_ad_camp_1]
தமிழக போலீசார் இது போல சில சமயம் அவுட் ஆப் த பாக்ஸ் யோசித்து எங்கே ரவுடிகள் வருவார்கள் என்பதை கண்டறிந்து பிடிப்பார்கள் 😹😹😹😹 pic.twitter.com/h2NYYNp9Mo

— செந்தழல் ரவி (@senthazalravi) September 1, 2020
வண்டலூர் அருகே பாஜக தலைவர் எல்.முருகன் முன்னிலையில் அக்கட்சியில் இணைய வந்த பிரபல ரவுடி நெற்குன்றம் சூர்யா (7 கொலை உட்பட 52 வழக்கு) போலீசாரை கண்டதும் தப்பியோட்டம்…
//அடப்பாவி..12 வது துணைத்தலைவராக வர்ற வாய்ப்பை கெடுத்துட்டியேடா.. 😄 pic.twitter.com/mMyfEXjSrL

— சாணக்கியன் (@thechanakkiyan) August 31, 2020
Comment your views on this bizarre !!