The World Test Championship Final is heading towards a draw and the trophy is expected to be shared by both the teams as two complete days got washed out. Currently, fifth day of the test match is in progress and it has been reported that ICC could consider two reserve days if both the teams accepts. Indian managed to score 217 runs in the first innings and got all out. New Zealand who started their batting innings, lost five wickets as of now and are trail by 82 runs.
[wp_ad_camp_1]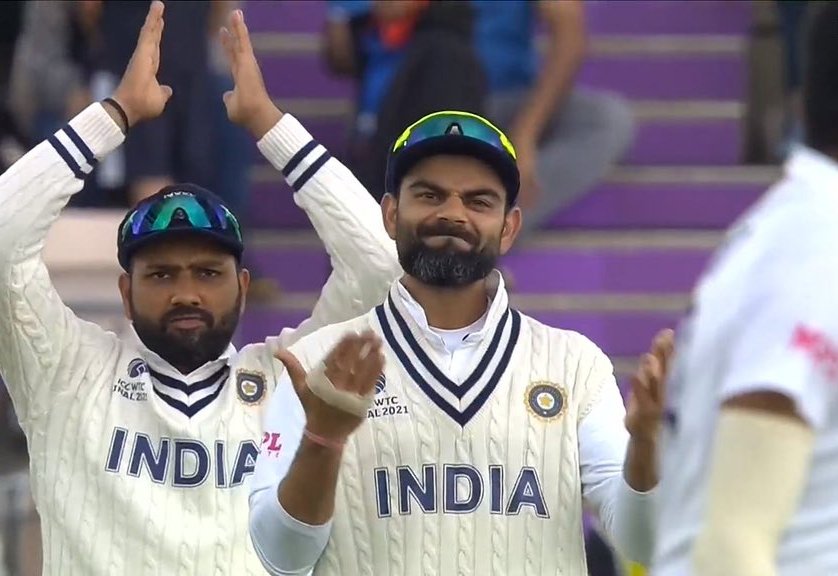 With weather and bad light playing the spoil sport in Southampton, fans are still hoping for a result in this historic final. Meanwhile, a video of mischievous Kohli reacting to the weather of England and Rohit Sharma gesturing him to focus on fielding is going viral in social media platforms. As we all know, Kohli is known for his expressive attitude. He who wouldn't hide his emotions, would react on the field to keep himself engaged. Videos of himself dancing, shouting, yelling are making headlines evety now and then.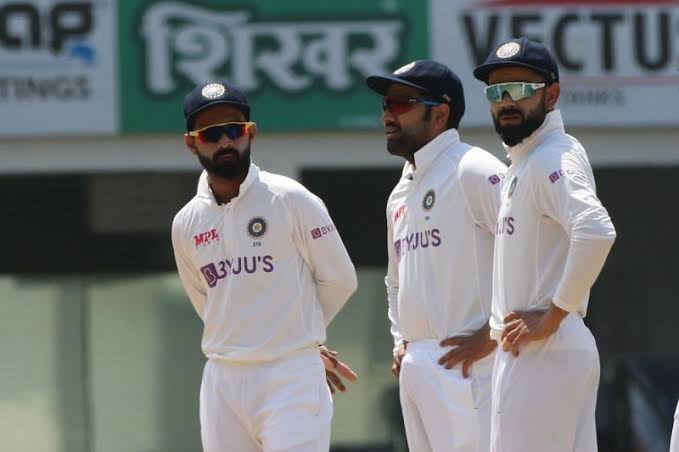 In the recent video which is going viral in social media platforms, Kohli could be seen reacting to the cold weather of England. Kohli, looking at his back, rubs both his hands heavily and jumps to keep himself focused before fielding for the next ball. Rohit Sharma who could be seen standing beside him, could be seen gesturing him to get back to the fielding. However, Kohli didn't see him doing that and started focusing on the field. The way Rohit reacted has garnered attention of social media users and many Tamil online users compared it to a popular template of comedy actor Vadivelu.
[wp_ad_camp_1]
Watch the video below :
Hittu😂😂 #WTCFinal2021 pic.twitter.com/tUCiFh2xSb

— Sabarish Sundaram (@VSabarish_22) June 22, 2021
It is very well known that fans of both the cricketers often came up with speculations saying that there is rift between the duo over the captaincy of Team India. They often involved in verbal spat and argued over who is the best captain. Now, this video had clearly proved that they are in good terms with each other.
Check out some of the reactions for this video below :
Hittu mams be like: https://t.co/rg1BXfnCHU pic.twitter.com/sPX95vhaa1

— Beast Tracker (@itz_deebanvj) June 22, 2021
Rohit was like https://t.co/TY2AFEyvje pic.twitter.com/BLO9311FPb

— 𝘈𝘬𝘢𝘳𝘴𝘩 𝘚𝘳𝘪𝘳𝘢𝘮 (@akarshsriramno1) June 22, 2021
same energy but cute tho✋ https://t.co/JE5eWGfeF0 pic.twitter.com/n8wFSMCiNt

— Anju💛 (@JuInAWonderland) June 22, 2021
Rohitian: Rohit is better than Virat
Viratian: Virat is better than Rohit

Meanwhile Rohit and Virat: https://t.co/rISQDyRPLD

— Just Cricketism (@JustCricketism) June 22, 2021
He's trying to say something and he's not even listening 😂😂😭😭.. https://t.co/BKolRyZMAt

— rohit 🖤 #HBDThalapathy ❤️ (@jrohit_tweets) June 22, 2021
[wp_ad_camp_1]
இந்த நண்பர் வேற 😂😂😂 pic.twitter.com/jzxvcRO1rq

— 𝗩𝗮𝗹𝘂 𝗕𝗼𝘆 (@ValuBoy_) June 22, 2021
enna enna panraan parunga tone 🏃🏃 https://t.co/Z0cDCGjaey

— Mugunth (@mugunth_08) June 22, 2021
Rohit ~ இந்த லூசு வேற சும்மா சும்மா ஆடிகிட்டு…. https://t.co/Sk3iRaeauu pic.twitter.com/hYNqHDo75Z

— DON ⚔️ (@Itz_don_) June 22, 2021
Rohit mind voice: Aha oru loosu payata matikitame🤣🤣https://t.co/mgGupQravo

— Vinoth Raj (@Raj00790594136) June 22, 2021
ஹிட்டு:இந்த தாயோலி வேற https://t.co/CTWudSMFrj

— 👑ராக்கிபாய்👑 (@Rockybaai) June 22, 2021
Hittu to kohli https://t.co/ZfuQaX9moI pic.twitter.com/HO67kezBSZ

— . (@Knot_e_boy1) June 22, 2021