Rohit Sharma Got Slammed By Fans For Sending Rahul Dravid To Meet Press!!
Written by Dhiwaharan Published on Nov 11, 2022 | 07:19 AM IST | 78
Follow Us
Comments: 0
A number of fans in social media were seen criticizing current Indian captain Rohit Sharma for not attending the press reporters post the match. Instead of him, team's coach Rahul Dravid met the media and answered to their questions. Many fans were seen comparing Rohit with Kohli, saying that the latter never shied away to face press even after losing crucial knockout games.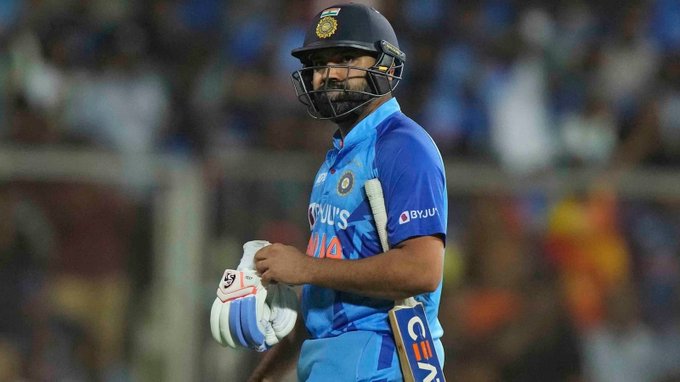 In the semi finals of the ongoing T20 worldcup, after losing the toss, team India who batted first, posted 168 runs in the first innings with the help of Virat and Pandya's half centuries. Team England chased down the total effortlessly and India was never in the game throughout the second innings. Without losing a single wicket, England sent India out of the tournament.
"Pretty disappointed how it turned up today. We batted well at the backend to get that score. We were not upto the mark with the ball, we couldn't turn up today. It's all about handling the pressure in knockout games. All these guys have played enough to understand that. These guys have played under pressure in IPL games, it's all about keeping calm" said Rohit Sharma in the post match presentation.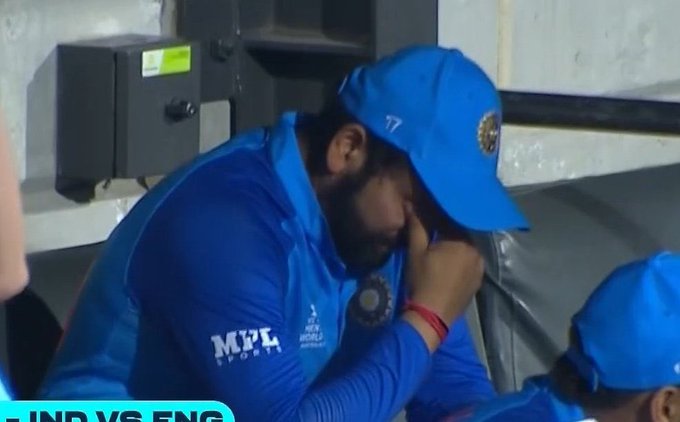 "We were nervy to start with, but you got to give credit to their openers, they played really well. I thought it swung a bit in the first over, but not from the right areas. We know the runs are scored square off the wicke, we were aware about it. When we won the first game, it showed a lot of character. The game against Bangladesh, it was a tricky one. I thought it was difficult defending 85 runs in 9 overs, but we held our nerve and executed our plans. Couldn't do that today, and when you don't execute your plans, you are in trouble" he further added.
However, the cricketer didn't turn up for the extended press meet post the match and it in Indian team's coach who made his presence to answer their questions. Indian team fans who were keen enough to take note of the same, started questioning Rohit for taking part of the team's press meet and for avoiding after losing crucial losses.
Though few fans of Rohit Sharma defended saying Dravid is the one who stopped the captain from taking part in the press meet, reactions slamming Rohit kept surfacing. Check out some of them below :
Virat Kohli always had guts to face media not only in success but even in setbacks, unlike "new era captain" who sent Virat Kohli & Rahul Dravid after losing against Pak & SF vs ENG yesterday. pic.twitter.com/J58x52kXZl

— Pari (@BluntIndianGal) November 11, 2022
In press conference, Rohit Sharma didn't address his fans. Just said, it was not our day?

Is that enough to console 1.3 billion or more fans in india? Shame on your captain. #T20WorldCup

— Gyaani-Cricketer 🇮🇳 (@GyaaniCricketer) November 11, 2022
Virat Kohli always face media not only in success but even in failure s as well true leader.

Meanwhile Rohit Sharma send Rahul Dravid after SF defeat vs ENG yesterday.#INDvsENG • #T20WorldCup2022 pic.twitter.com/Ja6p76jMy8

— Eyed (@meownces) November 11, 2022
Where is Rohit Sharma 😂
Virat Kohli always had guts to face media not only in success but even in setbacks,. pic.twitter.com/HY2Jg97AAf

— 𝙎𝙝𝙖𝙝𝙞𝙙 ⚡ 𝘋𝘰𝘳𝘢'𝘴 𝘣𝘥𝘺 (@smd001120) November 11, 2022
Virat Kohli always face media not only in success but even in setbacks as well true leader.

Meanwhile Rohit Sharma send Rahul Dravid after SF vs ENG yesterday.#INDvsENG • #T20WorldCup2022 pic.twitter.com/Tx3h2K8HP5

— Kiara (@Kohlis_Girl) November 11, 2022
And he came to press after MCG win against Pakistan 😭 shameless act

— • (@KohlifiedGal) November 11, 2022
This man learnt the art of captaincy from MSD. He also used to take all the blame, and what yesterday that genda did.. Blamed the bowlers

— 69without9 (@69without9) November 11, 2022
Exactly..I said this to someone and they are telling me didn't u see how inconsolably he was crying I mean wasn't Virat hurt that time.. that's what captain is for handling team and not like running away even as a VC he ran away during WC 19

— _LiveLaughLov (@_LiveLaughLov) November 11, 2022
Rohit is that guy who blame others and get a step back but virat was a real leader he always use to cheer up his team, fight for them even take all the credits when team losses the game and gives credit to the team when they win

— ARU$H (@Naman37260088) November 11, 2022