Nenjamundu Nermaiyundu Odu Raja is an upcoming Indian Tamil-language comedy drama film written and directed by Karthik Venugopalan on his directorial debut. The film stars Rio Raj in his lead acting debut and Shirin Kanchwala in the lead roles while RJ Vigneshkanth, Nanjil Sampath and Radha Ravi play supportive roles. The film is produced by actor Sivakarthikeyan under his production banner Sivakarthikeyan Productions. Singaporean composer Shabir was roped into score music for the film.
[wp_ad_camp_1]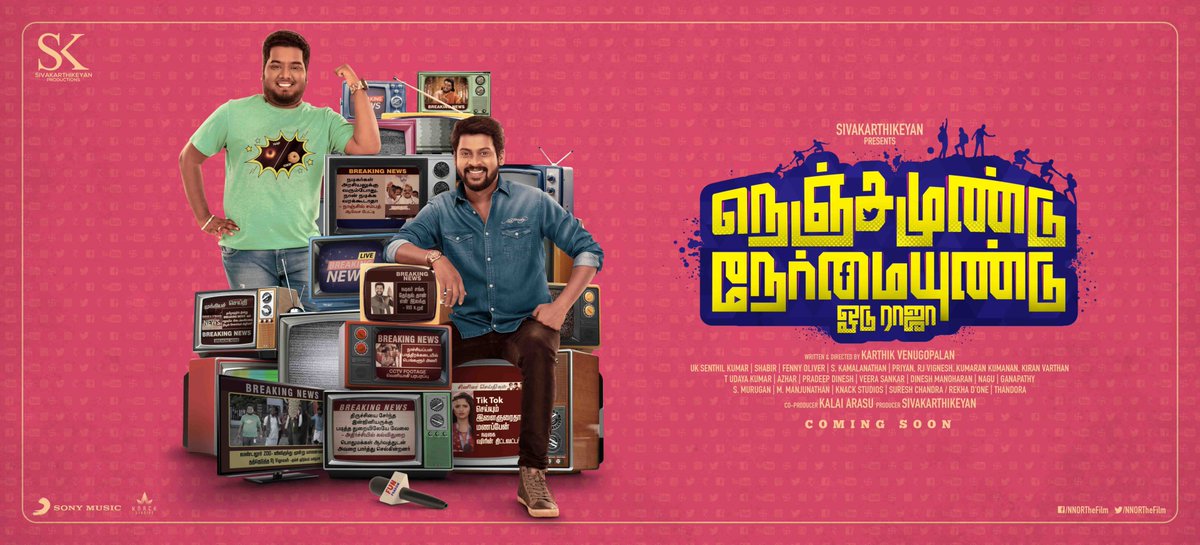 The movie is scheduled to be released in June 14 and the promotional activities are on full swing. In an recent interview with Nakkheeran Studio, the protagonist of the movie, Rio Raj and RJ Vigneshkanth both interacted with the host in which both of them shared many incidents including  their on set experiences.
When the host asked Vigneshkanth about him saying that Mr.Local is a good movie while giving public review infront of theatre. "Nowadays people are going to movies after seeing public review. It became easier to change the mentality of audience while watching movie in the theatre. If 10 people keeps on trolling the movie in theatre hall, audience will easily get distracted. Honestly in Selam, where I watched the movie, no people trolled the movie in theatre. I watched a movie 2 weeks back and it was promoted by the makers that it a movie to be watched by family. But it has more adult rated dialogues and scenes which was not opposed by any single viewer in the public review. I compare that movie with Mr.Local and when I am doing it I see Mr. Local as more family oriented movie." said Vignesh Kanth in the interview. On seeing his opinion many people who saw the interview predicted that the movie he is mentioning is Kanchana 3 in the comment section.
[wp_ad_camp_1]
Watch the video where Vignesh Kanth gave positive response for the movie :
"As a Rajesh sir movie, it has a number of "WOW" moments which I enjoyed very well" said Vignesh Kanth in the interview. Apart from that many things including how Sivakarthikeyan handled the production shared by Rio and Vigneshkanth.
[wp_ad_camp_1]
Mr.Local is a movie which had Sivakarthikeyan and Nayanthara as male and female lead respectively. The film turned out to be a box office bomb and failer to impress the critics as well for it's weak polt and usual content. While everyone gave negative review to the movie, Vignesh's contrast response instigated the host to ask such question to the comedy actor.
The film Nenjamundu Nermayundu Odu Raja cast consists mainly of YouTube personalities  from a YouTube channel called Black Sheep including the director, VJ turned lead actor Rio Raj and RJ turned comedian RJ Vigneshkanth.It also includes Many Youtube personalities. The film was announced by debutant director Karthik Venugopal and chose his close YouTube mates Rio Raj and RJ Vigneshkanth to play the pivotal roles in the film.
While talking about the movie's production, Vignesh revealed that it was supposed to be produced by Karthick Subbaraj's stone bench film originals which produced Vaibhav's Meyatha Maan.
What do you think on this opinion of RJ Vignesh ?? Comment your views below !!