Balaji Patturaj, a practising radio jockey, made his entry in films with Sundar C's Theeya Vela Seiyanum Kumaru in 2013. For nearly half a decade, the actor has been doing comedy roles in films.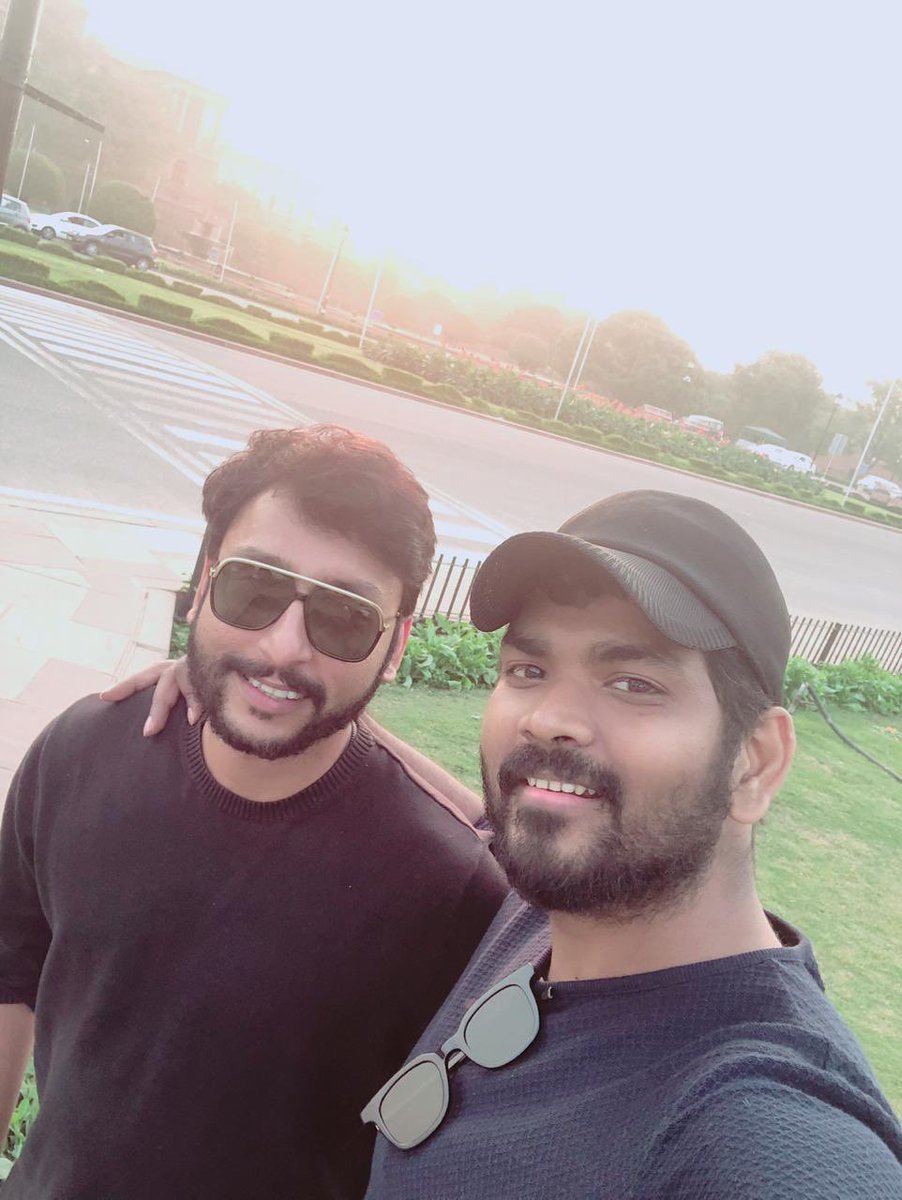 However, with his upcoming flick titled LKG, he will make his debut as a hero. LKG, directed by Prabhu is tipped to be a political satire film. On November 14, RJ Balaji took to Twitter to share a poster and the film's release date.
[wp_ad_camp_1]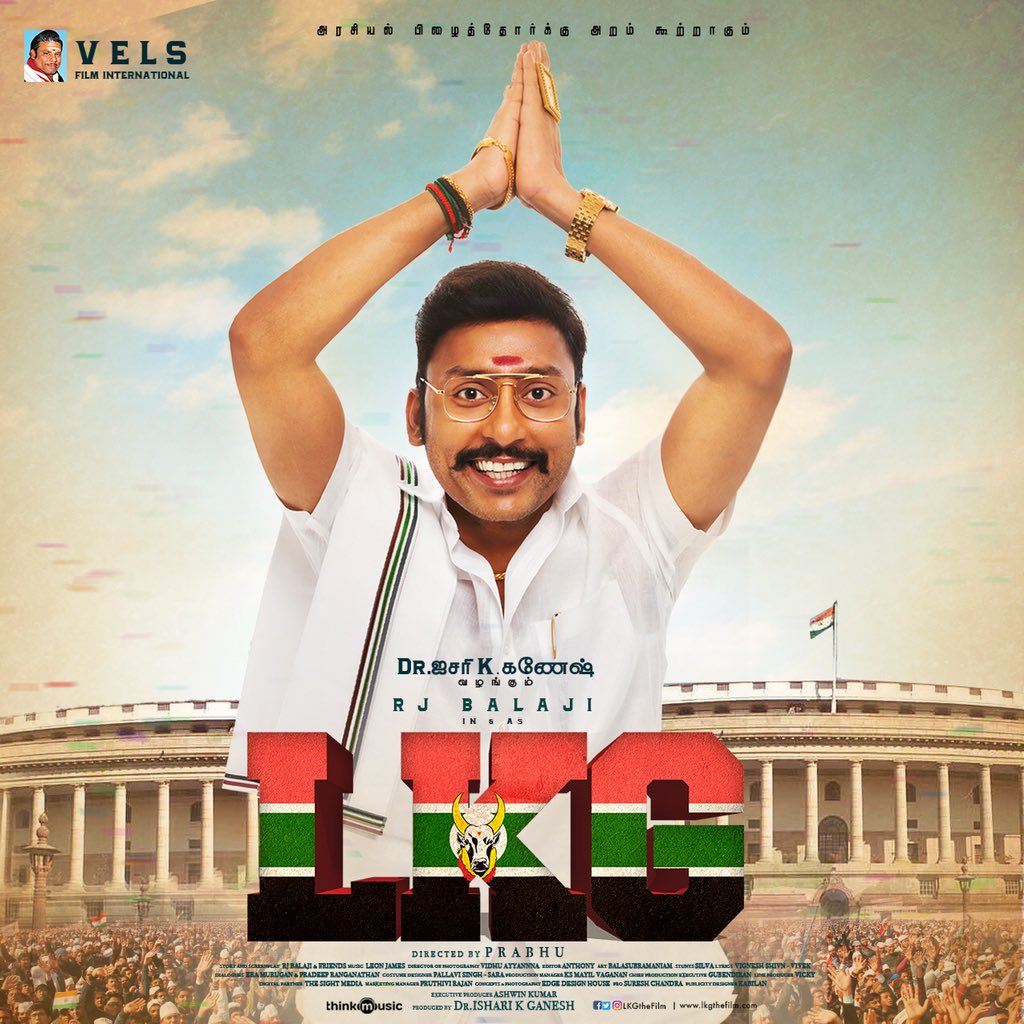 RJ Balaji will be seen as a politician and the latest poster indicates just that. The poster also takes a jibe at political parties (mainly AIADMK and DMK) in Tamil Nadu. He is standing amidst freebies like laptop, fan, television, cycle, grinder and many other items.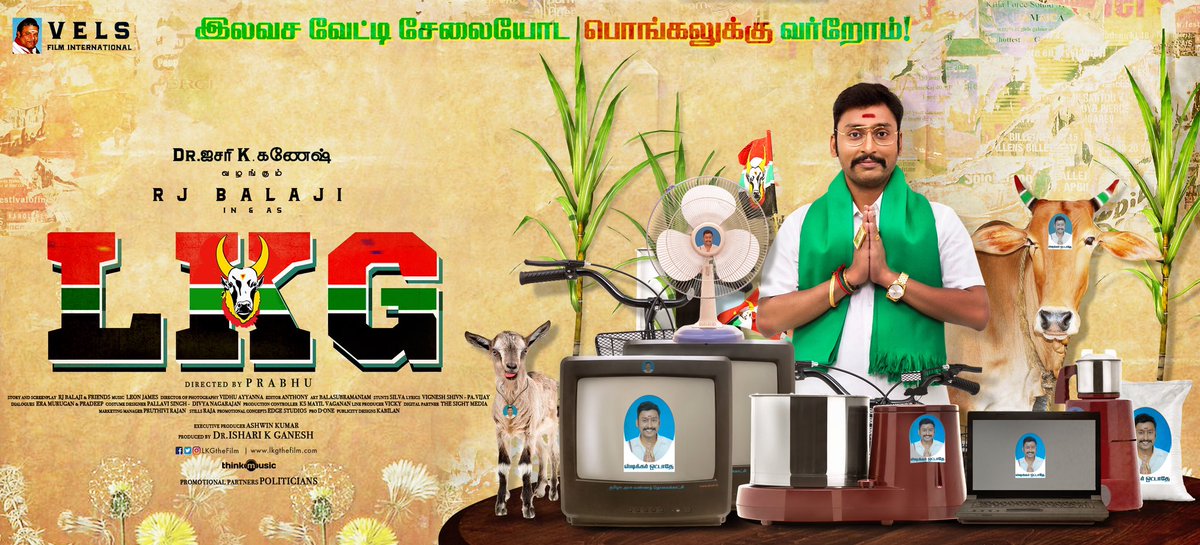 All these freebies have RJ Balaji's photo stuck on them, just like how the political parties brand themselves while offering the freebies. The poster might cause a stir with senior leaders from both the parties taking offence.
[wp_ad_camp_1]
In the first look poster the actor published the film as a Pongal release using the tag "Pongaluku Varrom" (Arriving on Pongal). But as it is now confirmed that the film is not going to release on Pongal, RJ Balaji took his official twitter account and made fun of himself.
In his tweet RJ Balaji wrote "பொங்கலுக்கு வரோம்னு சொன்னோமே, இப்போ பொங்கலே வர போகுதே, என்ன பண்ணலாம் !?!
அனைவருக்கும் Team LKG இன், வேட்டி தின வாழ்த்துக்கள்…" (We said we are coming on Pongal, Now Pongal came to us, What do do ? Dhoti day wishes for everyone on behalf of NGK team)
பொங்கலுக்கு வரோம்னு சொன்னோமே,
இப்போ பொங்கலே வர போகுதே, என்ன பண்ணலாம் !?! 🤔🤔
அனைவருக்கும் Team LKG இன், வேட்டி தின வாழ்த்துக்கள்…❤️ pic.twitter.com/6BZW5S0mAr

— LKG (@RJ_Balaji) January 6, 2019
Check out the reactions for his tweet :
Onnum urgent illa porumaiya vaanga….

— Vinoth (@Itzvinothoffl) January 6, 2019
நீங்க எப்போ வந்தாலும் அரசியல் வாதிகளுக்கு பொங்கல் தான் 😊
பொறுமையா திருவாரூர் தேர்தல் அப்போ வாங்க😂😂😂

— RAM_actor (@actor_raamm) January 6, 2019
Vandha rajavadha varuvenu oruthan irukan avan kuda vanga 😆

— அஜித்தியன் டா🔥 (@Aamaivijay3) January 6, 2019
நீங்களும் வந்தா தான் வருவிங்களா அப்போ 🤣

— Nithy (@NithyNG) January 6, 2019
Vaanthu tha paraa pic.twitter.com/yg0sZu70Mc

— Muthu Selvan (@MuthuSe56548546) January 6, 2019
— M O U L I (@AskMouli) January 6, 2019
இந்த பொங்கலுக்கு கலவரம் அதிகமா இருக்கு பப்பி…அதனால நீ யோயி….அந்த LKG நல்லா நடி

— தனிமை காதலன்💐 (@majikathali) January 6, 2019
Adha yendha pongal nu sollava ilaya😂😂😂

— ~#$u|th@n#~ (@Movie333U) January 6, 2019
ஏற்கனவே வந்தா ராஜா வா தான் வருவேன் சொல்லிக்கிட்டு ஒருத்தன் வரல வருவதா இருந்தா அவங்க கூட வாங்க

— Nithya hbk (@Nithyahbk1) January 6, 2019
உங்க மேல இருக்க நல்ல எண்ணத்துல சொல்றேன் வராதிங்க Jan 26 பாக்கலாம்

— S.Thiyagarajan (@raj2thiyagu) January 6, 2019
Pesaama nee children's day ke vandhudu sivaji title kum day kum crctah irukum 😂

— Riyaz (@Hiphop_Riyaz23) January 6, 2019
பீர் சாப்பிட்டு மல்லாக்க தூங்குங்க இல்ல காளி தூக்குதுறை வந்து தூக்கிடுவாங்க

— Senthilkumar (@cmpasenthil) January 6, 2019
Produced by Isari Ganesh, LKG expected to be released on Pongal 2019 alongside Rajinikanth's Petta and Ajith's Viswasam but now its been postponed it seems. The political satire film has Priya Anand playing the female lead.
[wp_ad_camp_1]
Meanwhile, The Petta trailer ends with Rajinikanth warning his enemies to run away if they love their families. On the other hand, in the trailer of Viswasam, Ajith calls himself a family man, who is still ready for a one-to-one fight. Do you think RJ Balaji made his decision after watching these trailers ?