Articles
RJ Balaji Released His LKG Movie's Poster With Mixie & Grinder !! Reactions Are Just Hilarious !!
RJ Balaji, is an Indian radio jockey, presenter, comedian and actor based in Chennai, Tamilnadu. He is best known as the host of the BIG 92.7 show Take it Easy and its now defunct segment Cross Talk, where he made prank calls to unsuspecting victims.
[wp_ad_camp_1]
His supporting roles in the films Theeya Veali Seyyanum Kumaruu (2013), Vadacurry (2014) Naanum Rowdy Dhaan and Pugazh were acclaimed among the audience. He has also been a presenter at many inter-school cultural events in Chennai, a cricket commentator, and has contributed to many social causes, such as providing relief support to the victims of the 2015 South Indian floods along with other actor Siddharth.
Now he is playing the protagonist role in a film named LKG which is a remake of Kannada film "Humble Politician Nograj". LKG will be a political satire that aspires to educate the audience about what happens behind the screen. The team has spoken to around 60-70 politicians including senior leaders, MPs, ministers, and MLAs. "I am entering politics but through films. Politics is not just about contesting elections. The main backbone of politics is knowledge and I'm delivering that through the film." This is also what makes LKG different from his stand-up show Ice House to White House. "Ice to White House was my way of expressing my opinion about things around me. There was no fabrication as to the content."
R J Balaji Brutally Trolled The Politicians & Asked Them To Promote His Film !! HILARIOUS !!
Yesterday in his official twitter account R J Balaji said that there is an announcement regarding his film on Children's day with a witty post. His post read "Important Announcement #LKG"
Important Announcement #LKG pic.twitter.com/po37xoNIdu

— LKG (@RJ_Balaji) November 12, 2018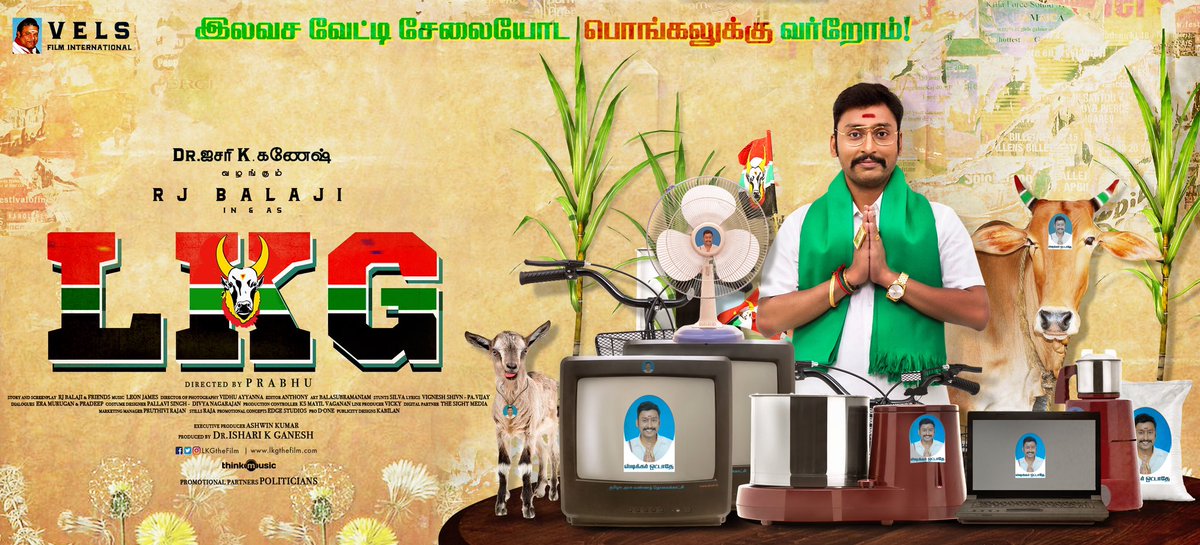 Now the look has been released and it involves government freebies as he said earlier. His caption included "A good news to all the Loyal hood people" mentioning the two big films that are planned to release on coming Pongal. Check out his post here :
விஸ்வாசமான நம்ம பேட்ட மக்களுக்கு ஒரு நற்செய்தி.!#LKGForPongal 🙏 pic.twitter.com/wLqW3sGtUV

— LKG (@RJ_Balaji) November 14, 2018
[wp_ad_camp_1]
For this look he received hilarious reactions from his followers. They assumed that the film is expecting free promotion from the political parties. Check out some of the selective comments here :
Karuppan Kusumbukaran Free Promotion Kekkaran paa……😂😂

All the Best #LKG Team 👍👍 pic.twitter.com/FSIdgVpKJ1

— Cinema News Updates (@TamilCinemaaz) November 14, 2018
Tharamana sambavam irukum polaiyae padathula🤣🤣🤣🤣🤣🤣🤣

— Avi P (@AviP0613) November 14, 2018
First censor pakkam poitu vanga bro appram confirm pannalam… 😂😂😂😂😂

— Tharani RTK (@iam_Tharani) November 14, 2018
Vera level aa iruku Anna ..total political um iruku. #LKG awesome

— Sai pallavi Mamoda.fan.A.k.durai@2000 (@KDurai31712579) November 14, 2018
Free promotion irukku sir @RJ_Balaji

— ❣️💝💞தளபதியன்டா💞💝❣️ (@Arunvijay0007) November 14, 2018
Enga thalaikku Yevloo Dhillu Paaruyaawwww 😎😎இலவச வேட்டி சேலையோட பொங்கலுக்கு😎 Mixi, Grinder,fan , laptop, cycle,ilavasa Aadu ,Maadu😛Yellam Vachirukkaru 💥💥💥athuvum Sticker Otti 😁😁 Irukku Bayangara Entertainment Irukku 😎💥 #LKGForPongal @RJ_Balaji pic.twitter.com/tSUeDNWKOY

— Nandha S Rohit (@NandhaP463) November 14, 2018
அய்ய்யோ போதும் இங்க ஹவுஸ்புல்லு 😂😂😂 pic.twitter.com/AvTnbF0xOJ

— . (@syed_abbbass) November 14, 2018
ᴘᴏʀᴀ…. ᴘᴏᴋᴋᴀ! ᴘᴀᴛʜᴀ ᴀᴅᴍᴋ ᴋᴀɪʟᴀ ᴘᴏɴɢᴀʟ ᴛʜᴀɴ ᴇʀᴜᴋᴜᴍ ᴘᴏʟᴀ😂

— ʀᴋ_rανι💙 (@Rk_ravioffcl) November 14, 2018
Nice boss thala kooda mothi pakka oru kooddame irukku nenga parka porathu
Ithu thala yoada viswasam illa
Thala fans oda viswatha parka thana poringa

— Sachinsenthil (@Sachinssenthil) November 14, 2018
PromotionalPartners POLITICIANS 🤣🤣🤣🤣 👌👌👌👌

— BRAD CYBORG (@m_v_r_89) November 14, 2018
Aniyaaiyam panringalaaeee brother 😂😂

— Karthik Raja VKR 💕 (@karthik_vkr) November 14, 2018
😂😁 pongal Starts now …. pic.twitter.com/2rCvUUYEym

— AvÏs Vîçky (@avis_vicky) November 14, 2018
அம்மா இல்லாததால உனக்கு குளிர் விட்டு போச்சு _ ஜெய குமார்

— CrImINαL ™ (@ThalapathiFan2) November 14, 2018
Tat "promotional partners politicians" bangam ya😂😂😂 sticker otadhe😂😂😂

— Harish_SARKAR® (@hariharish24) November 14, 2018
Irundhalum rombo dhilu pha unnaku😂😂😂😂 apudiyee rendu tv parcel panunga thalaivareeee

— Rakesh (@rakesh_k29) November 14, 2018
— + × – =+ (@Navitecho) November 14, 2018
LKG போட தியேட்டர் எங்க இருக்கு.

தீபாவளிக்கு களவாணி மாப்பிள்ளை னு ஒரு படம் வந்து கடைசில தியேட்டர் கெடைக்காமா எவ்ளோ கஷ்டம். என்ன ஆச்சு தெரியுமா

— JSK.GOPI🌍 (@JSKGopi) November 14, 2018
எத்தன படம் யா பொங்கலுக்கு ரிலீஸ் 🤕🚶 pic.twitter.com/43io4evjth

— ANJAANKAVI™ || NGK (@AnjaanKavi132) November 14, 2018
Maatu ku aatu ku sticker uh.. sema 😂😂 #LKG PONGAL

— arivarasan (@arivu_s) November 14, 2018
நீ இலவச டிக்கெட்டோட வந்தாலும் பாக்கபோறது இல்ல 😋🤭🤭

— Devil in Disguise 😇 (@0_Prankster_0) November 14, 2018
Yow neeyuma 🤣🤣🤣🤣 pic.twitter.com/4wCBg4Oxaa

— TraVanCore (@Yummy_20002) November 14, 2018
தக் லைஃப் @RJ_Balaji 😂😎

— ŚÚßÁŚĤ ŤĶ (@Iam_Subashtk) November 14, 2018
Irukku Pongalukku Tharamana Sambavam irukku 😂 Nee Vaa Thala 😝 am Waiting 😎 pic.twitter.com/8PzxW4lCMG

— BlaCk Heart ♠️ (@aju_black_heart) November 14, 2018
என்னடா…. இது ஏரியா பசங்க கிட்ட கொடுத்து மொபைல்ல எடிட் பன்ன மாதிரி இருக்கு

— kannan jiiva (@KannanJiiva) November 14, 2018
நல்லா ஸ்டிக்கர் ஓட்டி இருக்கீங்க…..ஆன அந்த scooty மட்டும் காணமே…..😂😂😂

— Rajasekar Ravi (@Rajravi520) November 14, 2018
[wp_ad_camp_1]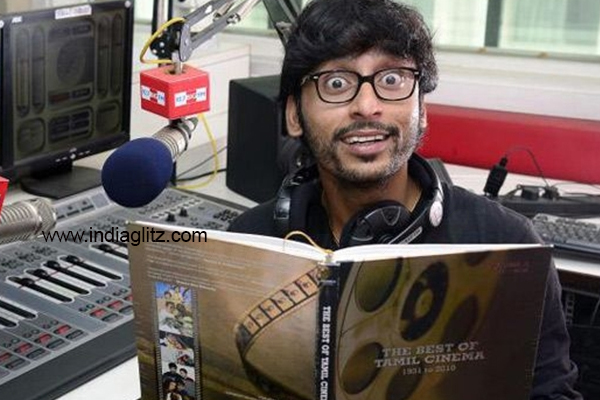 However, Balaji made it clear that LKG is not a 'puratchi film'."There are two reasons to name the film LKG. The first is we are all LKG in politics, the main character is one. And the second, it's a film for the entire family. There is a lot that will appeal to children and women as well." The Naanum Rowdy Thaan actor also stressed the politics in the film hasn't been designed to target anyone. "This is a film that doesn't target a particular political outfit or an individual. Ellarume onu than panranga — arasiyal panranga. (Every politician does the same.) I am not trusting on a controversy to make my film a big film. I have solid content that will make it a good film. Even politicians who watch the film will not oppose it, it's not against them."
Comment your views on the poster !!