Rithvika Slams Mumtaz For Being So Selfish & Adamant !! Watch Video !!
CM / Updated: 2018-09-07
13:17 IST
By Dhiwaharan
The second season of Bigg Boss Tamil has started to test the endurance and emotional strength of the contestants already. It's twelveth week in the house, and the pressure of giving one's best to get into the finale is palpable.
[wp_ad_camp_1]
As the show is inching towards the finale, there's some confusion in the house that sparked with Nithya's opinions on the inmates. The day she asked Mumtaz not to exploit others' weakness as a weapon, it was just Mumtaz who brooded over the remark. But a few days after, a faction of the house started thinking what if Nithya was true? As Balaji was making the morning tea for the house, Janani and Riythvika pondered about Nithya's remark on Mumtaz. "Mumtaz never liked Nithya. It was always a cat and mouse fight between them in the kitchen. But on her eviction day, she was shedding tears. How genuine her tears can be?" asked Riythvika who is known for her level-headed nature in the house.
In this week's open nomination, the contestants had to take three inmates they wish to nominate into the activity area, which had an interrogation table set up. As they put forth their reason for nominating, the nominees can defend themselves which might save one of the three from being nominated. Vijayalakshmi, Sendrayan, Janani, Aishwarya, and Mumtaz are nominated for this week.
[wp_ad_camp_1]
The contestants were given tasks through calls that will save them from next week's direct nomination; a phone booth was set up in the garden area for the purpose. Aishwarya who first picked the call was asked to convince Sendrayan to color his hair red to get herself saved. But she lied to him that he will be saved and told Yashika that this is her strategy and she will do any task given to her. Except for the naive Sendrayan, everyone could easily sense her lying. When the inmates felt his naivety had been used, it sparked off a ruckus in the house, but Aishwarya chose not to reveal the truth. Aishwarya and Vijayalakshmi didn't get along well after the dispute, and the former even ignored her buddy Yashika for rubbing shoulders with the latter.
Janani was given the task to convince Balaji to tonsure his head to save her from direct nomination. Balaji after quite a thought agreed to shave his head quoting, "I would do this for Poshika, and you are no different from my daughter." A squeamish Riythvika who fears needles had to tattoo Bigg Boss's eye in a visible area of her body to save Vijayalakshmi. Riythvika agreed to challenge her fear of needles and got inked. Mumtaz had to convince Vijayalakshmi to take a dip in cow dung filled bathtub. Mumtaz didn't persuade her much but asked her to do only if she wishes to. Aishwarya had to get a bob cut to save Sendrayan from direct nomination. After racking her brain for quite some time, Aishwarya agreed to go for it.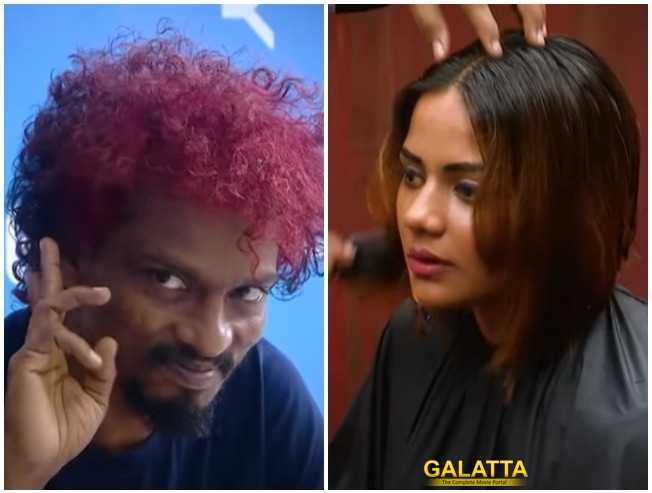 A video of Rythvika explaining to Mumtaz how selfish she is has surfaced on Internet. She says that everyone did their minimum sacrifice for their co-contestant but being this stubborn will help none. Rythvika also explains that everyone including Vijayalakshmi who has new born baby done her task without concerning her health.
[wp_ad_camp_1]
watch the video below :
But Mumtaz said that she has already done 16 treatments for her hair which will lead to lose her hair if she colour her hair this time. Mumtaz also said that she will do all the three  tasks which was given to Janani, Yashika and Vijayalakshmi but won't touch her hair.
Meanwhile today's promo showed that Mumtaz was so stubborn and does not caring about other's words.
#பிக்பாஸ் இல்லத்தில் இன்று.. #BiggBossTamil – தினமும் இரவு 9 மணிக்கு உங்கள் விஜயில்.. #VivoBiggBoss @Vivo_India pic.twitter.com/Dj5JNrUTP1

— Vijay Television (@vijaytelevision) September 7, 2018
Check out some of the comment here :
Worst adamant character pic.twitter.com/319HOAJnlQ

— தமிழன் சாரதி (@Parthi199023) September 7, 2018
மும்தாஜுக்கு கொடுத்த Task அவங்க பண்ணனும் னு கொடுக்கப்படல, அவங்க பண்ண மாட்டேன் னு சொல்லணும் என்றே கொடுக்கப்பட்டது

Task ல் Green Colour தான் வேணும்னா மும்தாஜ் கேட்டதுபோல் Green Spray கொடுத்து இருக்கலாமே.

அதுசரி BB க்கு மும்தாஜ் task பண்றதை விட பண்ணக் கூடாது அதானே#BiggBossTamil2 pic.twitter.com/VpTpvtslva

— Hussain Mohamed® (@hussainme2) September 7, 2018
VIJI, SERUPPADI reply 👏👏👏

"THAPPU PANNA OTHU KONGA!!" 👌

Mumtaz = (Attitude) * n

— BiggBossTamil Analyst (@bbtamil_analyst) September 7, 2018
கண்டிப்பா எல்லாம் சேர்ந்து மும்தாஜ நாமிநேட் பன்னுவாங்க அடுத்த வாரம்….

மக்களே ரெடிய இருங்க மும்தாஜ தூக்கிர்லாம் வெளிய

SAVE RITHVIKA 😍😍😍

— KING 👑 (@sarkarking24) September 7, 2018
Need to know Mumtaz name meaning??? Here it is.. 🤣🤣😂😂🤩🤩 #BiggBossTamil2 #BiggBossTamil #BiggBoss2Tamil

M – Mudiyadhu 🙅
U – Udambu Vali 🚶
M – Mudhugu Vali 🙍
T – Thalai Vali 💆
A – Adament🙋
J – Joint Pain🙎 pic.twitter.com/IJvYGoPcNo

— BiggBossTamil 2 (@Befrank20) September 7, 2018
😍😍😍 pic.twitter.com/JDhDmDoTP9

— Top10 Memez (@Top10Memez) September 7, 2018
Intha nala manasu yenga thalaiviya thavira vera yaaruku varum, Rithu unga nala manasuku neenga kandipa finals poi jeipinga, We are so proud of u Riythvika 🙏 #BiggBossTamil #BiggBoss2Tamil #BiggBossTamil2 pic.twitter.com/FVgSL70Y7R

— Riythvika Army (@RithvikaArmy) September 7, 2018
What do you think ?? Is Mumtaz is selfish ?? Comment your views !!