Rishabh Pant, on Tuesday, set social media on fire when Bonnie Paine, wife of Australia skipper Tim Paine, posted a photo of the India star holding one of her children in his arms with the caption 'Best Babysitter'. The 'babysitter' sledge was one of the highlights of the third Test between India and Australia in Melbourne. In a cheeky attempt to unsettle Pant during the second innings, Paine had tried to sledge him.
The Aussie keeper-captain had tried to get under Pant's skin by reminding him of MS Dhoni's inclusion back in the ODI side and his exclusion, telling him they could use him at Hobart Hurricanes in the Big Bash League. He had also asked Pant whether he could babysit his children while he takes the wife out for movies.
[wp_ad_camp_1]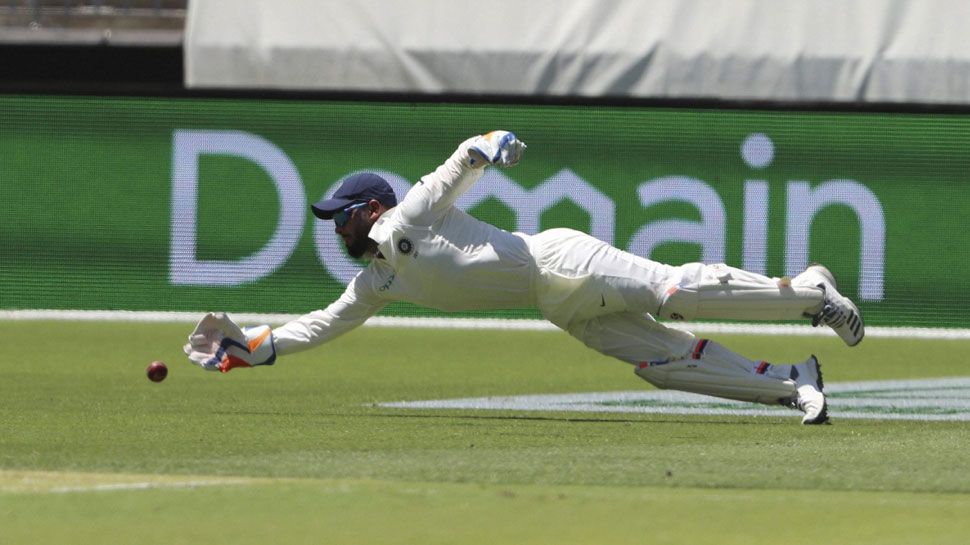 "Tell you what big MS is back in the one day squad. Should get this bloke down to Hurricanes.. They need a batter. Fancy that extend you Aussie holiday, beautiful town Hobart too… get him a water front apartment. Have him over for dinner. Do you babysit? I can take my wife to the movies while you watch the kids," Paine had told Pant.
[wp_ad_camp_1]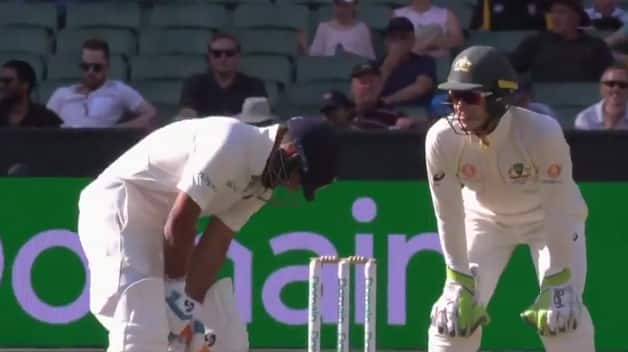 The Indian keeper just accepted the challenge by posing alongside Paine's wife and two children.
Tim Paine to @RishabPant777 at Boxing Day Test: "You babysit? I'll take the wife to the movies one night, you'll look after the kids?"

*Challenge accepted!* 👶

(📸 Mrs Bonnie Paine) pic.twitter.com/QkMg4DCyDT

— ICC (@ICC) January 1, 2019
As soon as the picture released, the reactions from twitter are hilarious. Check out some of them here :
But he's still not playing for us @tdpaine36? What's with that? 👀

— Hobart Hurricanes (@HurricanesBBL) January 1, 2019
Rishabh Pant has a safe pair of hands 😊😊😊

Tim Paine had sledged Pant asking him at the MCG if he could babysit.

Tim's wife Bonnie has given her verdict on Pant. She posted a story on Instagram and says Pant is the "best babysitter."#AUSvIND pic.twitter.com/C6obqvTDsm

— Sarang Bhalerao (@bhaleraosarang) January 1, 2019
The Accidental Babysitter#RishabhPant#TimPaine pic.twitter.com/YgZc4f94oM

— V (@sarkasticsoul) January 1, 2019
As Rishabh Pant has proved to be The Best BabySitter, will Tim Paine prove to be a Temporary Captain??#AUSvIND

— Mitul (@Eme2ul) January 1, 2019
What a picture to start the year this is how the game should be played absolutely loved it

— Gurpreet Singh (@gscldh) January 1, 2019
— Qt. (@Modricly) January 1, 2019
Absolutely classic! Such great sportsmanship. Well done! 👏👏

— Vivianne Rees (@vivianne_rees) January 1, 2019
[wp_ad_camp_1]
Love this – brilliant and how good is the banter @BCCI @CricketAus 👍🏏

— Jim Wilson (@JimWilsonTV) January 1, 2019
Rishabh Pant taking it to the next level! 😂 #AUSvIND
Hope @tdpaine36 doesn't mind that 😜 #HappyNewYear2019 pic.twitter.com/cKCdn13OA6

— Gagan Thengane (@Kintu_Parantu) January 1, 2019
Paine gone for movie with pain, Pant looks after Mrs. Paine and kids….

— Lulu Thomas (@thomaslulu) January 1, 2019
really loved this… great gesture again
from an Indian…
shows our growing n culture spot
on Rishab…

— krushna gaikwad (@krriish96) January 1, 2019
Ok I'm your fan for life now Sir, brilliant!😅👌

— Huclkeberry Pie McFinnen (@HMcfinnen) January 1, 2019
Hahaha best thing on Internet today!!!

— Ritesh Chakraborty (@riteshcruise) January 1, 2019
This would have been a heart attack for Paine @tdpaine36 pic.twitter.com/ktrJOuatqh

— Shivam Yadav (@shivamy19) January 1, 2019
Now waiting for the next challenge on stumps mike 💪😂😂

Healthy one😊

— Gopinath vj (@gopi_g1) January 1, 2019
Thank god..🙏🙏
Paine didn't sledge Murali Vijay..

— Ranjit biswal (@RANJIT845) January 1, 2019
There will never be a better response to a sledge than this. Well played Rishab Pant. https://t.co/if592UcjMZ

— Jason Giri (@Dredge_Dragline) January 1, 2019
Paine: Keep quiet.
Pant: I keep wickets. #Paine #RishabPant

— Jayanthi Jayavanth (@JayanthiJayava1) December 29, 2018
When Rishab Pant met the Aussie PM 😀😀 pic.twitter.com/68lp0E1Q7u

— Short-arm Jabber (@mongoos_mande) January 1, 2019