Bollywood actress Rhea Chakraborty who became the prime accused in the suicide case of Sushanth Singh Rajput, has been named as the "Most Desirable Woman" of the year 2020 by the Times group. It has been reported that the results were announced based on an online poll and by the decisions of an internal jury and the list reportedly features 40 women who made a mark in their respective fields. The result became a subject to controversy as the news emerged about actress Rhea Chakraborty for the past one year has been completely contrast to the title she is awarded now. The actress topped the "The Times 50 most desirable Women 2020" list.
[wp_ad_camp_1]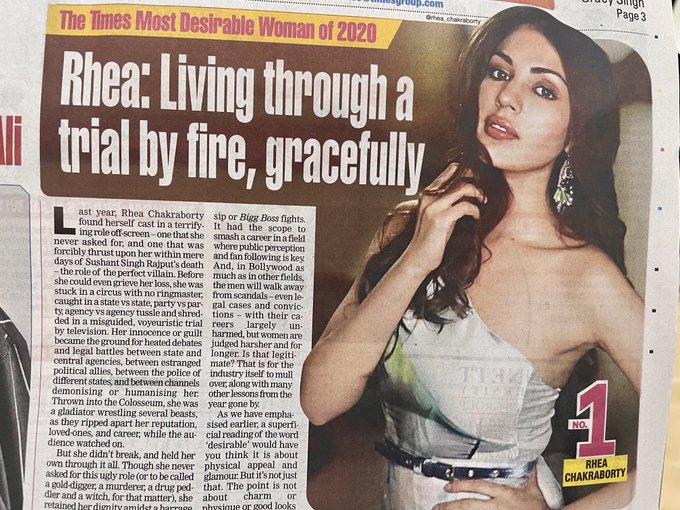 While awarding her the award, the Times group, in a press meet said that the actress who found herself cast in a terrifying role off screen, rose above it with her strength, resilience and restraint. The media said that she retained her dignity amidst a barrage of insinuation and abuse. It also said that the "Most desirable woman" award is not only about physical and glamour appeal but also about how much of the mind space an individual occupies.
It is worth remembering that several media portals, including Times group, accused Rhea of running a "drug" racket, demanded her "arrest", made her "Whatsapp chats" public by reading out them on air and even conducted debates discussing about the actress's role in Sushanth's death. "Drug Chats first reported by me on @TimesNow. Even as CBI & ED were investigating. @dir_ed handed the narcotics investigation to @narcoticsbureau. 'Smelt' the story first & today reporting arrest of #Rhea. Time for questions on #real journalism." tweeted Navika Kumar, the Times Network's Group Editor (Politics) on 8th of September 2020 about predicting the arrest of the actress.
[wp_ad_camp_1]
#RheaArrestedForDrugs. DrugChats first reported by me on @TimesNow. Even as CBI & ED were investigating. @dir_ed handed the narcotics investigation to @narcoticsbureau. 'Smelt' the story first & today reporting arrest of #Rhea. Time for questions on #real journalism. 😂

— Navika Kumar (@navikakumar) September 8, 2020
Now, many users of social media platforms has been criticizing Rhea topping the list of "Most Desirable Women". "Looks like the Times Group is making up for Times NOW/Navika's "misguided, voyeuristic trial by television" from 2020 by giving Rhea the 'most desirable woman' tag in 2021." a user wrote to express his opinion whereas another one said "Times of India's 'Most Desirable Woman' of 2020 is Rhea Chakraborty. This when she spent most of that year defending herself in the Sushant Singh Rajput case."
Check out some of the reactions that emerged against Rhea in social media platforms below :
The Times group led by it's English news channel carried out the most vicious witch hunt and slander campaign against Rhea Chakravarty. Today, the group's Bombay Times has said she is the 'most desirable person of 2020.' Is this hypocrisy or shamelessness?

— Rohini Singh (@rohini_sgh) June 8, 2021
Times of India's 'Most Desirable Woman' of 2020 is Rhea Chakraborty. This when she spent most of that year defending herself in the Sushant Singh Rajput case. #kuchbhi pic.twitter.com/BpziEA2Uis

— Smita Prakash (@smitaprakash) June 8, 2021
#RheaChakraborty : The Most desirable woman of 2020? Omg, what is this? How could someone who had been a prime suspect in a death case, top such a fancy list? So confused! On what basis do they give such random titles? 🧐

— Ahmed Meeran (@ahmedmeeranoffl) June 7, 2021
[wp_ad_camp_1]
Looks like the Times Group is making up for Times NOW/Navika's "misguided, voyeuristic trial by television" from 2020 by giving Rhea the 'most desirable woman' tag in 2021. pic.twitter.com/2hi1g1fea6

— Karthik 🇮🇳 (@beastoftraal) June 8, 2021
#RheaChakraborty
most desirable woman
LOL😂😂
JOKE OF THE YEAR https://t.co/KTxgdepYwz

— Susmita Suvadarsini (@Susmita_SSS) June 8, 2021
Don't know who thinks this witch is the most desirable???#RheaChakraborty pic.twitter.com/ZMUyqq5RkI

— SAKSHI VAISHNAV (@Sakshv) June 7, 2021
Paid media in full swing to make someone like her trend! #RheaChakraborty

— Meena Das Narayan (@MeenaDasNarayan) June 8, 2021