Reviewer Prashanth Bashed Sun Network For Using "Sarkar" Movie To Sell Their App !! Check Reactions !!
CM / Updated: 2018-09-26
17:34 IST
By Dhiwaharan
Following the commercial success of Thuppakki and Kaththi, actor Vijay and filmmaker A.R Murugadoss have teamed up for the third time in upcoming political action-thriller Sarkar. The film's first look and title were revealed last week on the occasion of Vijay's birthday on June 22. While the title and the first poster were released on the eve of his birthday on June 21, two more posters were released the next day as a birthday gift to his fans. The film's shooting is progressing at breakneck speed and as announced earlier, the makers recently reconfirmed that the film is on track for Diwali release. Sun Pictures is bankrolling the film on a lavish budget.
[wp_ad_camp_1]
According to the industry grapevine, the shoot of Sarkar will very soon shift to Las Vegas where the team is believed to shoot the introductory song of Vijay. It is also being rumoured that the film stars Vijay as a US-returned character who vows to bring about change in his society. Veteran actor Radha Ravi is tipped to be playing the antagonist in the film. Keerthy Suresh has rejoined hands with Vijay after last year's Bairavaa. The film also stars Varalaxmi Sarath Kumar, Prem Kumar and Yogi Babu.
A.R Rahman has been officially signed to compose music for the project, which will mark his reunion with Murugadoss after the Hindi version of Ghajini. Girish Gangadharan, the young lensman whose recent work includes Kali and Solo, is cranking the camera. National award-winning editor Sreekar Prasad, who has worked with Murugadoss in projects such as Thuppakki and Spyder, is also part of the film. All eyes are on Sarkar as the combination of Vijay and Murugadoss has set the bar very high. Two of Vijay's best films in recent years have come from Murugadoss and it naturally has built high anticipation around their next project. Sarkar is set for box-office clash with Suriya's NGK, which is also confirmed to hit the screens this Diwali.
[wp_ad_camp_1]
Prashanth one of the prominent reviewer of the town, bashed the strategy of Sun network which earlier demanded fans to watch and answer the questions of the TV serials to attend the audio launch of "SARKAR" film.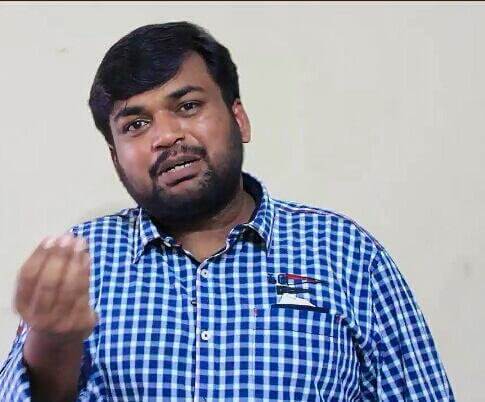 Now at the release of the single song "Simtangaran" , for first few minutes the song only streamed in Sun NXT app and then it streamed it Youtube as usual. In a note of condemning the strategy of Sun Nxt, Prashanth wrote "Hi @SunTV – Trying to sell Sun Next app by forcing the user to listen to Sarkar song is the worst marketing strategy you can come up with. Please think about better ways to push the app."
[wp_ad_camp_1]
Thank you @ThameensFilms and @shibuthameens anna – For not calling any tracker to remove any tweet, for not threatening any Media Company to remove any video, for being a gentle man and accepting the genuine criticism about #SaamySquare . I wish nothing but success to u !

— Prashanth Rangaswamy (@itisprashanth) September 24, 2018
Check out some of the reactions from his followers :
It's cross promotions for their products @itisprashanth what's the problem ? They don't even sold audio rights to any one. Own content. It's free, nothing is wrong & compulsory

— Skycinemas (@SkycinemasNews) September 25, 2018
டேய் ரியூவ் சொல்றேன்னு ரெண்டு நிமிஷம் விளம்பரம் போட்ற நீயெல்லாம் புத்தி சொல்ற அளவுக்கு வந்துட்டான்னு நினைக்கும் போது தான் மனுஷ வலிக்குது…

— BJP FACTS (@bjpfacts) September 24, 2018
Paanda neyum than review solrathuku munnadi un video la halwa, laddu, poori, chapathhi nu ellathukum marketing panra….kooti kalichu paru kanaku sariya varum😃

— Alwin Chiyan (@ALWINchiyaan95) September 24, 2018
I don't see anything wrong here. People release songs on Saavn first only to make the app popular. You don't complain that. You are happy with that. Strategy is theirs. Accepting or not is your wish. Cannot blame them for that is my point.

— Solomon Robert (@iamrobi24) September 24, 2018
Same way u make us watch ads in ur reviews !!

— Shreeram Hari (@ShreeramH) September 24, 2018
The same will happen with #Petta , there everyone will be against #Rajinikanth and not SunTV.

— dev shak (@devashak) September 24, 2018
— Heroic MàlàràvàN😈 (@itz_malaravan) September 24, 2018
It's their movie , their app , their money ! He can market however he wants to ! If you don't like it , wait for an hour and watch it in YouTube or other social platforms. It's same as you marketing various things in your videos ! I think it's absolutely fair !

— harish ashok kumar (@harishashokumar) September 24, 2018
Apo why do you market anil patasu da gabsa thalaya

— prem (@premnath_92) September 24, 2018
உங்களுக்கு கொஞ்சம் கொடுத்திருந்தா பேசாம இருந்திருப்ப. pic.twitter.com/h7Awk241PZ

— Knaz (@johnkennaz1987) September 25, 2018
நல்லா செருப்ப சாணில முக்கி அடிச்சு சொல்லுங்க, அப்போவாது திருந்துறானா பாப்போம்..

— Sarathy Sarkar 🌐 (@sarathytuty) September 24, 2018
தல!! நீங்க மட்டும் உங்க ரிவியூ வீடியோல பொருளு விக்கறீங்களே அது தப்பில்லையா???

— மன்னாதி மன்னன் (@mannathi_mannan) September 24, 2018
Epic 😂😂 pic.twitter.com/xhBM19D4Xa

— sureshmuthusamy (@sureshmuthusam) September 25, 2018
கமல் மட்டும் ஹாட் ஸ்டார் ஆப் வெச்சு பிசினஸ் பண்றப்போ எங்கே போனீங்க….

— Czar Dash (@DashCzar) September 25, 2018
ப்ரோமசன் பத்தி அவனுக்கு பாடம் எடுக்க வந்துட்டியா? நீயெல்லாம் நேத்து மொளச்ச காலான்.

— Karthikeyan (@i_Karthikn) September 25, 2018
What do you think on this , Comment below !!