After the chat screen shots of Zomato went viral among the users of micro blogging social media site, a hashtag saying "Reject Zomato" started trending in the same platform. As a result, Zomato came up with a public note, apologizing for what happened Vikash who raised the complaint. They apologized for the inconvenience that caused to Vikash and updated about his rejection. The public note also informed about Zomato's effort to increase their service in Tamil nadu.
[wp_ad_camp_1]
A series of screen shots shared by a twitter user, complaining against one of the customer care personalities about how he insisted on Tamils and other non-Hindi speakers to learn a "little" bit of Hindi while replying to a complaint, sparked outrage among the users of Tamil social media users. Producer C.V Kumar of "Pizza", "Soodhu Kavvum" fame and many others expressed their condemnations over the reply made by the Zomato employee.
A twitter user named Vikash shared the series of screen shots which shows himself chatting with the Zomato customer care employee. The former who didn't get what he ordered from the Zomato online food delivery platform, tried to get refund from the app. In return, what all he received is a schooling from a Zomato employee on why everyone in India should learn a little bit of "Hindi".
[wp_ad_camp_1]
When Vikash ordered for Chicken rice combo which consisted a bowl of chicken rice and pepper chicken, he only received the rice. He contacted Zomato and asked the chat executive to get his refund but the person in the other end cited language barrier as the reason for not being able to get his refund. Replying to the response, Vikash suggested the employee to transfer his issue to someone else who knows Tamil and sort his problem out.
"For your kind information Hindi is our national language. So it is very common that everybody should know Hindi little bit" read the message sent by the Zomato customer care support. Check out the series of screen shots that are doing rounds in online platforms below :
Ordered food in zomato and an item was missed. Customer care says amount can't be refunded as I didn't know Hindi. Also takes lesson that being an Indian I should know Hindi. Tagged me a liar as he didn't know Tamil. @zomato not the way you talk to a customer. @zomatocare pic.twitter.com/gJ04DNKM7w

— Vikash (@Vikash67456607) October 18, 2021
After the tweet went viral, hashtag "Reject Tomato" is trending in the micro blogging social media site. Check out some of the reactions that surfaced under the hashtags below :
Uninstalled. #Reject_Zomato pic.twitter.com/bikKNqZbLr

— ஆரோக்கிய எட்வின் (Arockia Edwin) (@edwinarockia) October 19, 2021
Tamils to @zomato 😎#stopHindiImposition#Reject_Zomato pic.twitter.com/9xD8wyfgAP

— Troll Mafia (@offl_trollmafia) October 19, 2021
[wp_ad_camp_1]
#Reject_Zomato AND YOU DON'T HAVE CUSTOMER SUPPORT IN TAMIL LANGUAGE THEN HOW CAN YOU SENDING NOTIFICATION IN TAMIL…
Begging needs regional language Righttt???? Just remove that language racist bastard from your company & post a tweet Or else you'll face great loss pic.twitter.com/zZjLt8UX7e

— Tamizharasu.g (@tamilspicy) October 19, 2021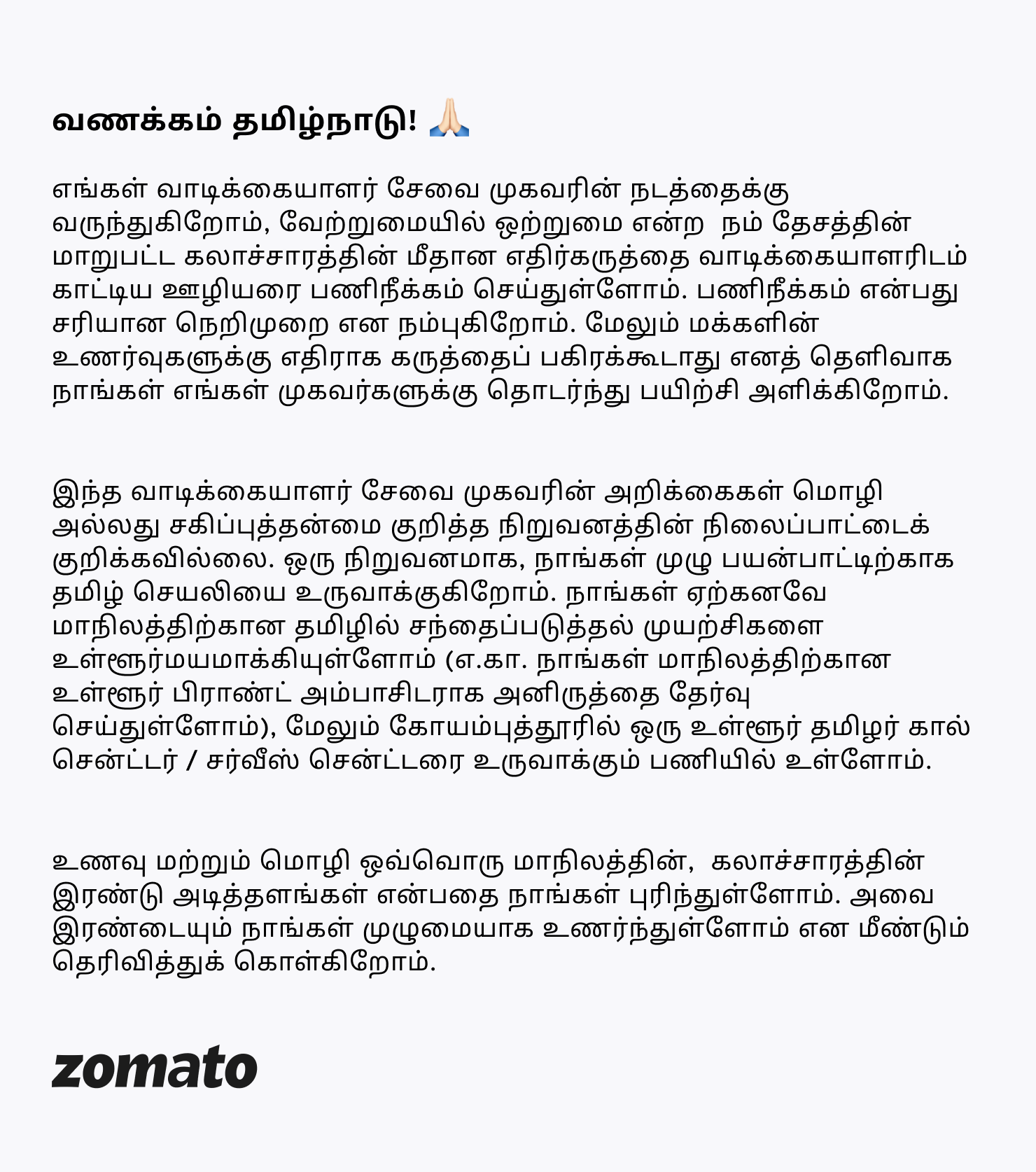 Reacting to the hashtag, "We are sorry for the behaviour of our customer care agent, we have terminated the agent for their negligence towards our diverse culture. The termination is in line with our protocols, and agent's behaviour was clearly against the principles of sensitivity that we train our agents for on a regular basis. This customer care agent's statements do not represent our company's stance towards language and diversity. At Zomato, we are buildinga Tamil version of our app. We have already localised marketing communication in Tamil for the state (e.g. we also signed up Aniruddh Ravichander as our local brand ambassador), and we are in the process of building a local Tamil call/support centre in Coimbatore. We understand food and language are core to any local culture and we take both of them seriously" said Zomato in their public note.
Vanakkam Vikash, we apologise for our customer care agent's behaviour. Here's our official statement on this incident. We hope you give us a chance to serve you better next time.

Pls don't #Reject_Zomato ♥️ https://t.co/P350GN7zUl pic.twitter.com/4Pv3Uvv32u

— zomato (@zomato) October 19, 2021