Recent Picture Of Director Parthiban's Daughter Surfaced In Internet!!
Follow Us
Comments: 0
Parthiban's Daughter, Keerthana: Embracing Tamil Culture Abroad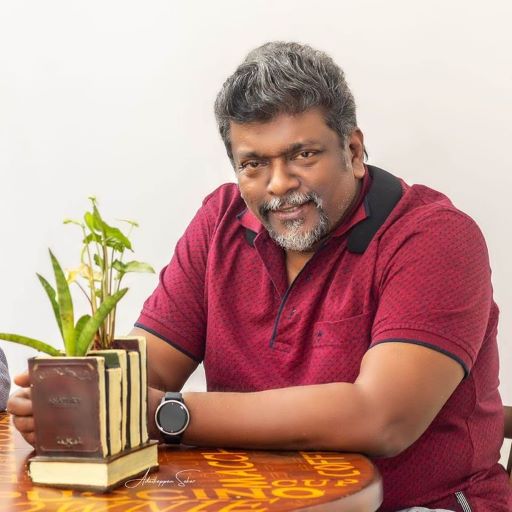 ACTOR PARTHIBAN
In the fast-paced world of social media, viral moments can be unexpected and heartwarming. Recently, a photo of renowned Tamil actor and director, Parthiban, and his daughter, Keerthana, has taken the internet by storm. Despite studying abroad, Keerthana has managed to maintain a deep connection with her Tamil roots and culture. The image captures the essence of a father-daughter bond while beautifully showcasing the harmony between tradition and modernity. In this article, we delve into the significance of the photo, the impact of Tamil culture on Keerthana's life, and her father's unwavering support in her artistic pursuits.
PARTHIBAN'S DAUGHTER KEERTHANA
The Multifaceted Talent of Parthiban, Parthiban, a prominent figure in the Tamil film industry, has established himself as both an exceptional actor and director. His presence on the silver screen has brought immense joy to countless fans over the years. He began his journey as an assistant director to the esteemed director Pakiyaraj before ultimately gracing the screen as a leading actor. Parthiban's personal life, which includes his marriage to actress Sita, has been subject to public attention. However, despite differences of opinion, the couple's love for their children remains unwavering.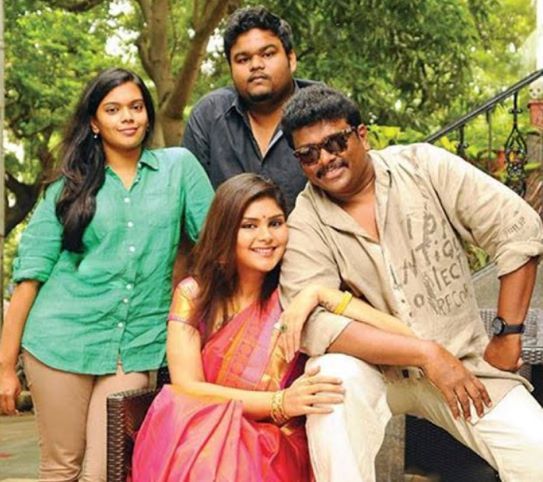 ACTOR PARTHIBAN WITH HIS DAUGHTERS & SON
A Glimpse into Parthiban's Family, The renowned actor and director proudly shares his family with the world. Alongside his son, who aspires to follow in his father's footsteps as a director, Parthiban has two daughters. One of them is Keerthana, the focus of this viral moment. In a recent interview, Parthiban expressed his love and admiration for his children, considering them to be the pillars of his life. Keerthana, in particular, holds a special place in his heart due to her interest in music, which played a pivotal role in inspiring his re-entry into cinema.
Keerthana's journey as an artist is a tale of passion and dedication. Her profound interest in music has undoubtedly shaped her character and artistic expression. Despite her father's illustrious career in the film industry, Keerthana is forging her own path as a musician. Her love for music knows no boundaries, transcending geographical barriers while she studies abroad.
Embracing Tamil Culture Abroad, Studying in a foreign land can be an enriching experience that exposes individuals to diverse cultures. For Keerthana, being away from her homeland has not diminished her attachment to Tamil culture. In the viral photo, she stands gracefully with her father, donning a traditional sari, symbolizing her pride and connection to her heritage. The image resonates with many, illustrating how the younger generation can stay rooted in their culture, even when living far away from home.
Parthiban's Unwavering Support, As a father, Parthiban's unwavering support for his daughter's aspirations is evident. He has always encouraged her dreams and artistic pursuits. Keerthana's passion for music, combined with her father's mentorship, has become a driving force behind his re-entry into the film industry. The photo of them together in traditional attire serves as a testament to the loving relationship they share, emphasizing the importance of preserving Tamil culture and family bonds.
The viral photo of actor Parthiban and his daughter, Keerthana, wearing a sari while abroad, beautifully encapsulates the harmonious blend of tradition and modernity. Keerthana's passion for music and her commitment to Tamil culture showcases the influence of a strong familial foundation. Parthiban's wholehearted support for his daughter's aspirations reinforces the notion that love, culture, and art can bridge the gap between generations and continents. In the vast world of social media, this heartwarming moment serves as a reminder of the enduring power of family and heritage in shaping one's identity, regardless of where life's journey takes them.