Articles
"Receipts For Waive Off Will Be Handed Over To Farmers In 15 Days" – TN CM On Agriculture Debts
Chief Minister of Tamil nadu Edappadi K Pazhanisamy has said that the receipt for the agricultural loan waiver will be issued to the farmers within the next 15 days. While delivering his speech in the campaign that took place in Arakkonam, the Tamil nadu chief minister has made the important announcement.
On Friday, the AIADMK led Tamil nadu government has announced waiver of Rs. 12, 110 crore farm loans that was received by 16.43 lakh farmers from cooperative banks. Chief minister Edappadi K Pazhaniswamy said that the scheme would come into immediate effect to reduce the burden on debt-ridden farmers who are currently affected by the COVID 19 pandemic, two cyclones such as Nivar and Burevi in the state since November and the monsoon.
[wp_ad_camp_1]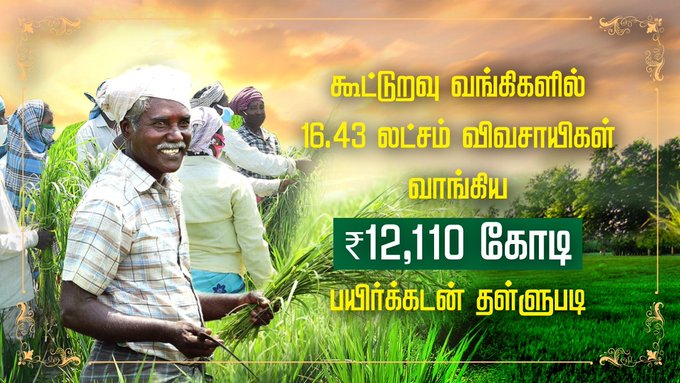 Followed by this move of the Chief minister, Representatives of several agricultural associations met him in his house that is located in the Greenways road of Chennai and thanked him for waiving off the agricultural loan.
Chief minister Edappadi K Pazhaniswamy who identifies himself as a farmer, always said that he knows the hardship of a fellow farmer. Now, it has been reported that the Chief minister, during his election campaign in Arakkonam, has announced "Farmers will receive the receipt for the waiver of Agricultural loan within 15 days"
[wp_ad_camp_1]
அதிகமாக நேசிப்பவனே அதிகமாக உதவி செய்பவன்!

நானும் ஒரு விவசாயி; விவசாயிகளை அதிகமாக நேசிப்பவன்!

வேளாண் பெருங்குடி மக்களின் இன்னலைத் தீர்ப்பதே எனது முதல் கடமை! pic.twitter.com/SxmxLM0DNZ

— Edappadi K Palaniswami (@CMOTamilNadu) February 5, 2021
While interacting with the public, the Chief minister also trolled the idea of MK Stalin on receiving petition from the public and resolving their issues after becoming Chief minister. "Mr. Stalin, I have already initiated "Chief Minister's Special Grievance Redressal Scheme" and received 9,77,000 petition from the public" Chief minister Edappadi K Pazhaniswamy said.
"Across Tamil nadu, we have received 9,77,000 petitions and solved the issues of 5,25,000 petitions so far. This is an achievement. There is no probability for you to know about this as you haven't attended legislative assembly" he further said to DMK chief MK Stalin.
Watch the video below :
February 9, 2021