Several kind of reactions are flooding the Internet platforms after "Jai Bhim" makers changed the symbol in the calendar that was hanging in a corrupted police officer's house. Many asking when the makers are going to change the identity of the police man himself whose name, in real life, is Anthony Das. Director Mohan G of "Draupathy", "Ruthra Thandavam" fame thanked "Jai Bhim" makers for changing the symbol in the calendar.
[wp_ad_camp_1]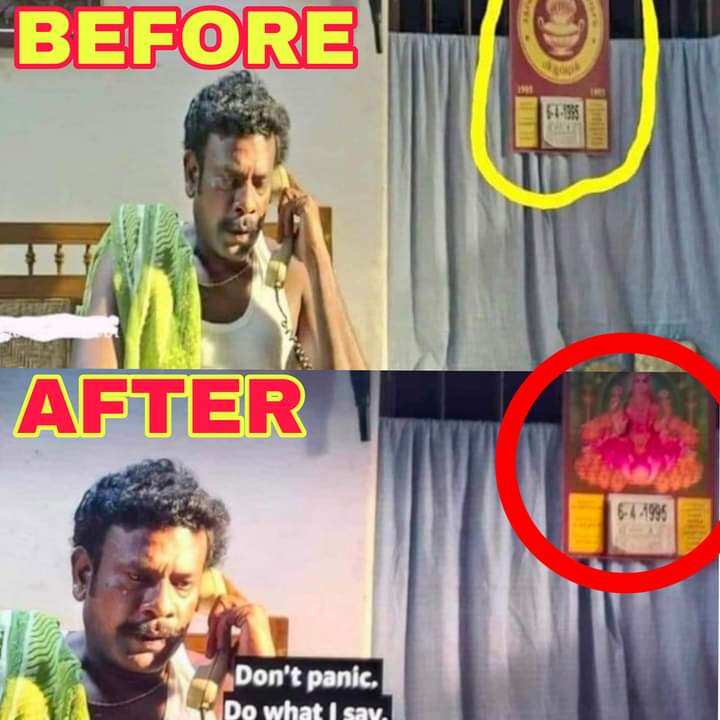 "Jai Bhim" released on Amazon Prime on 1st of November with much expectations among fans. The film is getting humongous amount of positive response from fans and is being widely watched due to the word of mouth. Based on a true event that happened in the year 1995, the film concentrates on showing light to the hardship people of tribal community went through at that time. Exposing the police brutality, the film shows how lawyer Chandru won the case without receiving a penny from his client who is a wife of the victim. Though the incident took place 25 years ago, it looks still relevant due to the police atrocities that are still taking place in the state.
In the film, director Tamil acted as Inspector Gurumoorthy who leads the lock up harassment. In a scene where he attends a phone call from his house, a calendar that contains the symbol of "Vanniyar" caste, an "Agni Motif", could be seen hanging. On seeing it, many users of Internet condemned "Jai bhim" makers accusing them of defaming a particular caste.
[wp_ad_camp_1]
தோழர் சூர்யா வேலய காட்ட ஆரம்பிச்சிட்டாப்ல..#குறியீடு – வன்னியர் சமூக ஆளை வில்லனாக காட்டியிருக்காங்க…#குறிப்பு – படத்த படமா பாருங்க டா னு அட்வைஸ் பன்ற புரட்சி போராளிகளுக்கு என்னோட பதில்
இதே மாதிரி #திரௌபதி.#ருத்ர_தாண்டவம் படத்தையும் ஏன்டா நீங்க படமா பாக்கல… pic.twitter.com/J97xdAGeDw

— Jayam.SK.Gopi (JSK.Gopi) (@JSKGopi) November 2, 2021
Now, after seeing the online outrage, the makers have edited the picture out and included a new one. Now, the calendar shows the picture of goddess Lakshmi instead of the "Agni motif".
#JaiBhim team has conveyed that they don't have any intention to hurt the sentiments of any particular community by changing the controversial calendar in this scene. pic.twitter.com/RVJjBZOuc5

— Rajasekar (@sekartweets) November 6, 2021
Now, after the decision made by the makers, many other demands are being made in the online platforms. A number of people could be seen demanding the makers to change the identity of the Police officer.
Check out some of the reactions below :
#ஜெய்பீம் படத்தில் !! வன்னியர் சங்க அக்னி கலசம் – இலட்சுமியாக மாறியது.
அதேப்போல் குருமூர்த்தி என்ற பெயரை ரியல் கேரக்டர் பெயரான அந்தோணிசாமியாக மாற்ற வேண்டும். #JaiBhim #JaiBhimOnPrime #Suriya மாத்தியே ஆகனும்.
——- @Suriya_offl pic.twitter.com/KksVROOGvI

— வன்னியர் குரல் (@vanniyar_kural) November 6, 2021
Those who are making issues on the calendar frame in #JaiBhim flim.And claim them as a purity creature. I recommend them to see this. pic.twitter.com/f8k8nDSNpi

— Yukesh Rajendran (@YukeshRajendran) November 6, 2021
[wp_ad_camp_1]
Dear jaadhi veri pudicha makkas, put some sand on your asses now.. #JaiBhim calendar is changed. pic.twitter.com/BRbistJ62k

— ッ (@anbAAna__fan) November 6, 2021
#jaibhim_liebhimmovie #பொய்பீம் #HinduHaterSurya #ITScammerSurya
Power of Vanniyar Kula Kshatriya pic.twitter.com/S3gcbrRR2D

— Viswalochani🔥 (@vishalnms1) November 7, 2021
#JaiBhim team changes a calendar in one shot to ensure communal harmony.

Poodhuma da alaruraanga 😂@Suriya_offl #EtharkkumThuninthavan pic.twitter.com/O294sHOFpi

— Ragul (@Ragul_Off) November 6, 2021
நீங்கள் நினைத்திருந்தால் அந்த போட்டோவில் இருக்கும் மகாலட்சுமியின் புகைப்படத்திற்கு பதிலாக இயற்கை உள்ள புகைப்படங்களை அச்சடித்து இருக்கலாம் ! ?

— Rajesh Shivan (@RajeshShivan2) November 7, 2021