RCB Getting Trolled From Every Direction Of The Internet!!
By Dhiwaharan
Team Royal Challengers Bangalore once again choked and failed to go near the IPL trophy in the 14th edition of the Indian Premiere League. The Team which looked as one of the favourites to win the trophy till yesterday, choked at the knock out match and missed their opportunity of facing Gujarat Titans in the finals. Though fans of the red team are dejected and venting out their emotions one side, trolls making fun of the team is flooding from the other side.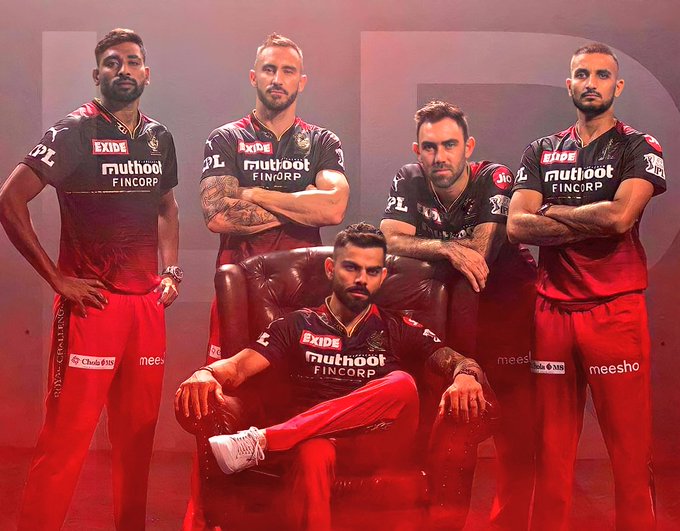 Winning the toss, Rajasthan Royals asked RCB to bat first. Rajat Patidar who smashed a century in the eliminator one and left the trophy dream of the team alive, scored another crucial half century in the qualifier 2. However, the top order and the middle order batsmen including Virat Kohli, Glenn Maxwell and Fac Du Plesis didn't help the team to get going which resulted in RCB putting a score on board that is way less than the par score.
Chasing an easy total of 157 in 20 overs, Rajasthan Royals comfortably completed the task with 11 balls remaining. Jos Buttler smashed a century and the cameos of Sanju Samson and Jaiswal helped the team to clinch the victory. Rajasthan Royals has been entering the play offs after the inaugural season of the tournament in which the team defeated Chennai Super Kings and lifted the trophy.
Entering the finals for the second time after 13 long years, Rajasthan Royals team is expected to tribute to Shane Warne who captained the team while they were winning their first trophy. Gujarat Titans which is looking pretty strong with powerful players, is also expected to give tough competition.
However, netizens are concentrating in neither of the teams as they are busy trolling Royal Challengers Bangalore team, one of the teams with largest fan base that is yet to win the trophy. From fans asking RCB to pin their tweet on "Coming back next year" to "Buttler eliminating RCB only due to MI involvement in their qualification to the playoffs", trolls are being flooded in the internet. A post uploaded by RCB saying "We'll be back to #PlayBold next year. 🙌🏻" became a sunject to severe trolling as well.
Here's their post :
An unforgettable season with so many unforgettable moments.

We cannot thank you enough for your support, 12th Man Army. ❤️ We tried our best not to let you down.

We'll be back to #PlayBold next year. 🙌🏻#WeAreChallengers #IPL2022 #RCB #ನಮ್ಮRCB #PlayOffs #RRvRCB pic.twitter.com/xg5yoZZi7Z

— Royal Challengers Bangalore (@RCBTweets) May 27, 2022
Check out some of them below :
Just pin this tweet instead of tweeting it every year… It's now like " Same old shit but different years "… Don't need to do this much hardwork…. Just pin it

— Sudipta Das (@SudiptaDas27) May 27, 2022
Always RCB'ian ❤️ pic.twitter.com/T4FctzR1rm

— M.R JAWID ROSHAN (@im_jawidroshan) May 27, 2022
You don't deserve such loyal fans man, shame on you, 14 years and still we need to wait for a trophy 💔

— 𝐘𝐚𝐬𝐡 𝐓𝐞𝐫𝐫𝐢𝐭𝐨𝐫𝐲 ʸᵃˢʰ¹⁹ (@yash_territory) May 27, 2022
Dear RCB, thank you for 15 years of trauma.

— Anil (@anilalpula) May 27, 2022
Dear RCB,

You're a bunch of overhyped chokers.
Absolutely zero respect for fans or willingness to win.

Regards,
Your die-hard fan since 2008. #RCB #RCBvRR

— Ashish Pareek (@pareektweets) May 27, 2022
Wathaaa 😂😂😂😂 @RCBTweets #EeSalaCupNamde pic.twitter.com/ApTkcB5bLx

— தளபதி (@Mersal198693) May 27, 2022
It's laughing time😂😂#EeSalaCupNamde#HaaRCB #RCB pic.twitter.com/91BuSpu8Go

— CV💛MSD (@ChyVarma) May 27, 2022
RCB's every season is just an elaborate prank on their fanbase.

— Heisenberg ☢ (@internetumpire) May 27, 2022
RCB Fan's & Their Expectations 🤦#EeSalaCupNamde #RCBvsRR pic.twitter.com/VIWODY8Xpz

— Sam Rajput (@rajputsam01) May 27, 2022
RCB in Final. pic.twitter.com/7VmSkWfSHi

— Silly Point (@FarziCricketer) May 27, 2022
They say RCB is destruction but self is silent 🥲 pic.twitter.com/uIL0Luby5L

— Ankit Pathak 🇮🇳 (@ankit_acerbic) May 27, 2022
1. " Remove kohli from captaincy & RCB will do wonders " , probably the most balanced RCB team ever yet they lost .

2. "Because of Kohli's poor form RCB lost this IPL " bruh RCB failed to get that trophy even when he scored 973 runs .

— Yashvi (@BreatheKohli) May 27, 2022
RCB fans waiting for their 1st IPL trophy…….! pic.twitter.com/OMdHw0reEK

— Krishna (@Atheist_Krishna) May 27, 2022
Who and all want to dance with them right now….??? RT 🔃#RCBvRR #RCB #EeSalaCupNamde #ViratKohli𓃵 #RCBFans pic.twitter.com/yifhi2HPMQ

— HeᎥຮen多erg♦️ (@V_I_P_E_R__) May 27, 2022
😂😂😂😂😂😂🤣🤣🤣🤣🤣🤣🤣 pic.twitter.com/MBEvErULLL

— 🍫ɴᴀᴠᴇᴇɴ ᴠᴊ💜ˢᵃᶜʰᵉⁱⁿ (@Naveen___Vj) May 27, 2022
Karn Sharma : pic.twitter.com/QQqeQOeAWq

— Prabha Rio (@prabh_here) May 27, 2022