RCB Getting Hilariously Trolled For Scoring 92 Runs After Announcing About Donating To Frontline Workers !!
By Dhiwaharan
Team Royal Challengers Bangalore, prior their match against Kolkata Knight Riders, announced that the title sponsors of their team will be donating a sum of amount to the frontline workers for every boundary RCB scores and for every wicket they take. Unfortunately, the team managed to score only 8 fours and took only one wicket in the entire match which became a subject to troll in online platforms. The team lost to Kolkata Knight Riders after scoring 92 runs in the first innings with all the 10 wickets.
[wp_ad_camp_1]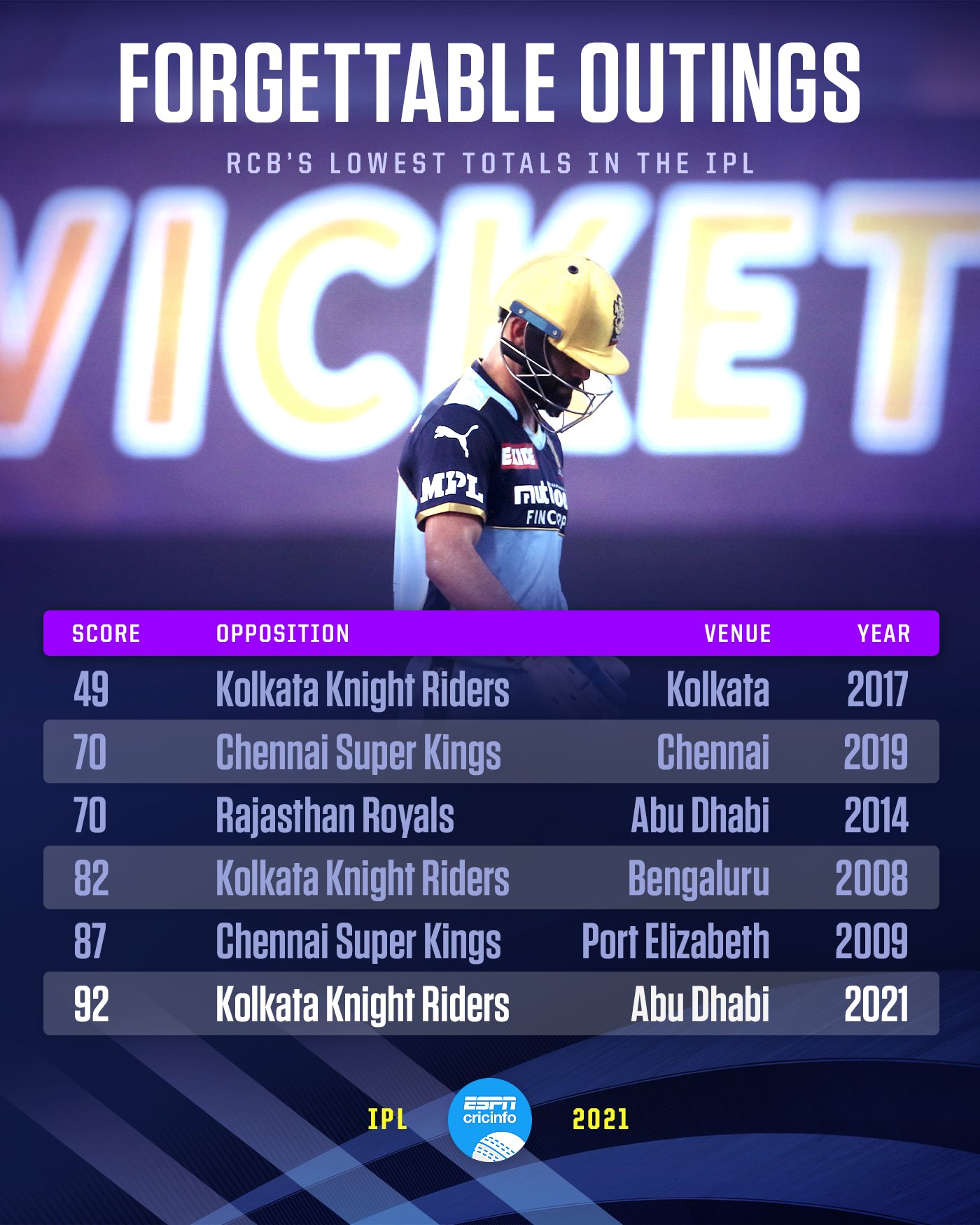 "For every 6, 4 we hit & wicket we take today, our Title Sponsor be donating towards Give India's frontline efforts" said Royal Challengers Bangalore in their post. "RCB and our title sponsors have joined hands today's funds to support real blue warriors through Give India. Our title sponsors will donate generously for every four or six we hit and for each wicket that we take. So when we are out there, cheer for blue. The more you cheer, the more we will score, our title sponsors will donate to Give India and more we support the real blue warriors. So be with us and cheer as loud as you can. Cheer more, Cheer for blue RCB. Let's cheer for blue" Kohli Padikkal and Chahal said in a video.
For every 6⃣, 4⃣ we hit & wicket we take today, our Title Sponsor be donating towards Give India's frontline efforts.#CheerWithMuthootBlue for RCB@MuthootIndia #MuthootFinCorp #MuthootBlue #RCB #IPL #PlayBold #1Team1Fight

pic.twitter.com/87D9GMCPzE

— Royal Challengers Bangalore (@RCBTweets) September 20, 2021
Unfortunately, the team managed to score only 8 fours throughout the match and took only one wicket. This became a subject to severe online troll against the Kohli-led team. Many trolled the team saying that this is the reason behind RCB failing score much runs in the match. Fans said that the team wanted to save money of their title sponsors. Check out some of the reactions that surfaced for the announcement after the match :
[wp_ad_camp_1]
The low score you know. The reason you don't.

Sheer Brilliance lol https://t.co/b75tqteVkB

— didsyan (@didsyan) September 20, 2021
https://t.co/xsMPtdxzHA pic.twitter.com/16PwKbAsiJ

— PunjabKings 🏏 (@LocalPowerstar) September 21, 2021
Title partner by end of the match https://t.co/xSKR9jNhkf pic.twitter.com/zKxNZ7Oxuj

— 𝐇ᴀɪʟ 𝐏ʀᴏᴄʀᴀ𝐬ᴛɪɴᴀᴛɪᴏɴ 🇮🇳 (@DotJOffbeat) September 21, 2021
Now we know why they scored just 8 boundaries and took 1 wicket
🤣🤣 HaaRCB#RCB https://t.co/OWCcx5qaxN

— Mehar singh (@mehar__singh) September 21, 2021
Mams Ipo theriyuthu yen ipdi aadunom nu… Athana paathen

Ellam planned thana… ungala poi thittiputten.. 🙏

Next match than iruku pola..🤩#RCB #IPL2021 #PlayBold https://t.co/u3P0HrsvvR

— ⚡𝙈𝙧.𝙑⚡ (@imVinothkumar16) September 21, 2021
Shame on you @KKRiders https://t.co/KZssfkqgl7

— saagar (@sagarmehta777) September 20, 2021
[wp_ad_camp_1]
MUTHOOT GROUP SAVED A LOT OF MONEY @RCBTweets BE LIKE "THIS IS BUSINESS" https://t.co/q4YO2jJl3q

— Ashmit Gupta (@theGupt_Ash) September 20, 2021
Sponsors to donation https://t.co/6vhdlNB7GG pic.twitter.com/2OA0PxS2zG

— Maanasika Alasata (@noiceperalta99) September 20, 2021
That's why they chose not to hit boundaries and not to take wickets https://t.co/TYXDODlZEj

— MAURYA (@Maurya_Here) September 20, 2021
RCB donating https://t.co/1Es0ww9Vyv pic.twitter.com/whukoJAlpG

— Manya (@CSKian716) September 20, 2021
Frontline workers: https://t.co/jXm6KP0mS4 pic.twitter.com/2OtUSfCMZN

— CSK VerithanaM 😈 (@VeriVjAddict) September 20, 2021
Should I cry or laugh? https://t.co/C5A0zBLTfz

— Bishal (@BishalK38795934) September 20, 2021
Looks like they don't wanted to donate 😂 https://t.co/oaKYE5Jvod

— Abhijeet (@King__Ro45) September 20, 2021