Ravichandran Ashwin Accused Of Spoiling The "Spirit" Of The Game !! Check How Fans Reacted
By Dhiwaharan
In the match that took place between Delhi Capitals and Kolkata Knight Riders on Tuesday, a verbal spat took place between ace spinner Ravichandran Ashwin and England Captain Eoin Morgan. over Ashwin trying to get the second run after the ball hit the pads of his partner Rishabh Pant. Initially Ashwin had a conversation with bowler Tim Southee and the conversation turned argument after Eoin Morgan intervened to exchange words with the Chennai born spinner.
[wp_ad_camp_1]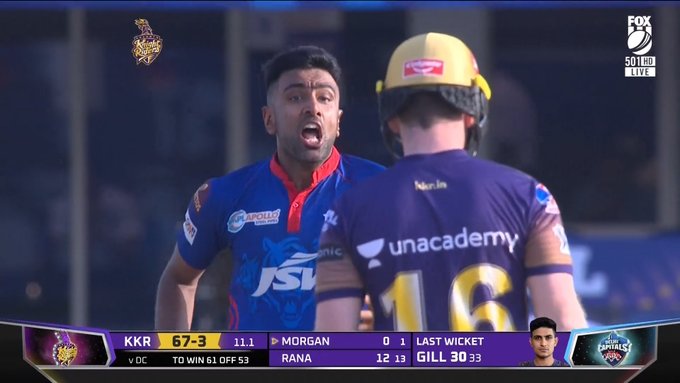 The altercation took place after a throw of Rahul Tripathi hit Rishab Pant's arm and the strikers decided to take an extra run in the last ball of the 19th over. In the next over, Ashwin got out in the very first ball bowled by Tim Southee. When Ashwin tried to go for a maximum, the ball got caught by Nitish Rana at the deep square leg. This led to an exchange of words between Tim Southee and Ashwin. Eoin Morgan, captain of the Kolkata Knight Riders team also got involved in the argument.
Just when the situation was getting escalated, Dinesh Karthick intervened and calmed the situation. Talking about it to the media, Karthick said that Rahul Tripathi threw the ball and it hit Rishab Pant's arm and the ball got ricocheted off that. "Ashwin called for it and they started to run. I don't think Morgan appreciates that. He is some body who, when the ball hits the batsman or pad, expects them not to run in the spirit of cricket. It is a very grey area and a very interesting topic." said Karthik and added that he has his own opinion on it.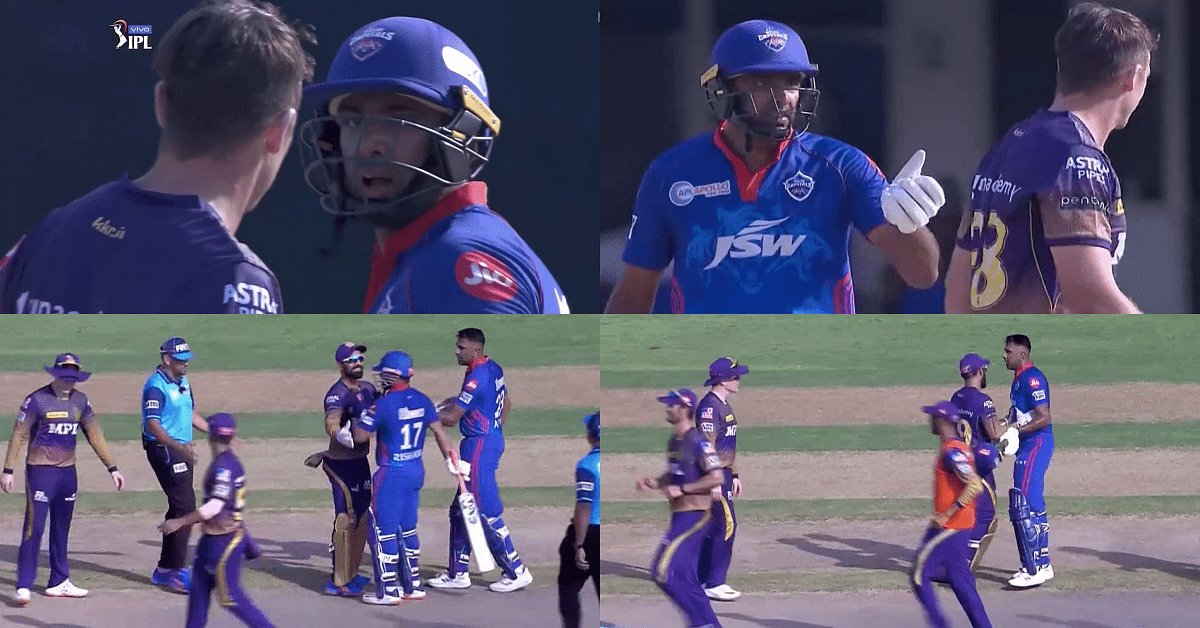 "At the moment, I am happy that I played peacemaker and things have come to a good standstill right now" Karthick said in a virtual press conference. Later the match, when Morgan came in to bat, Ashwin got him out for a duck and celebrated the wicket in an aggressive manner.
[wp_ad_camp_1]
Watch the video below :
Ash with Morgan.. #Ashwin @ashwinravi99
ASH ANNA 🔥🔥🔥❤ pic.twitter.com/BNsvBeS8oe

— Abitha YN (@AbithaYn) September 28, 2021
The incident caused various kind of reactions from the viewers. Veteran spinner Shane warne accused Ashwin of spoiling the spirit of the game. "It's pretty simple – it's disgraceful & should never happen. Why does Ashwin have to be that guy again ? I think Eoin Morgan had every right to nail him !!!!" he said in his tweet.
The world shouldn't be divided on this topic and Ashwin. It's pretty simple – it's disgraceful & should never happen. Why does Ashwin have to be that guy again ? I think @Eoin16 had every right to nail him !!!! https://t.co/C2g5wYjeT6

— Shane Warne (@ShaneWarne) September 29, 2021
Warne facing the wrath of Indian fans after accusing Ashwin. Several other reactions supporting the cricketer also surfaced in the micro blogging social media site. check out some of them below :
Enough Said! That's it, that's the caption! #Ashwin #KKRvDC pic.twitter.com/PLGXvo3Xpo

— Abhinav mukund (@mukundabhinav) September 29, 2021
Indeed it was disgraceful and should have never happened pic.twitter.com/CoV5PTXyOH

— Rohit Yadav (@cricrohit) September 29, 2021
[wp_ad_camp_1]
This character assassination of Ashwin is appalling. He simply goes by the book & it's foolish to nail him for this. The problem lies with this 'Spirit of Cricket' book which isn't quite in sync with the laws of the game. Fix that issue first. Ash is a champ & we are proud of him

— Ashish Nair (@ashish_nair12) September 29, 2021
Ashwin nailed him by dismissing him for 0, that is the only thing that matters

— India Fantasy (@india_fantasy) September 29, 2021
Morgan nailed him like this ? pic.twitter.com/1zJYgpJfJq

— Andy (@WeBleedBlue007) September 29, 2021
Lol. Why didn't Morgan take back the 4 runs that ricocheted off Stokes bat? Nz would have won the World Cup. Don't say because it went past the boundary, it was beyond the batting team!!

And yeah, Morgan nailed Ash beautifully yesterday by getting out for a grand 2-ball duck. https://t.co/CZLnrsWA43

— Srini Mama (@SriniMaama16) September 29, 2021
Ashwin Anna always has the last laugh. #KKRvDC pic.twitter.com/XlKNzUZVu9

— Chinaman (@ChinamanStrikes) September 28, 2021