Ravi Ashwin Wants "Non-Striker" Run Out To Be Added In Bowler's Credit !!
Mankad
Ravi ashwin
run out
CM / Updated: 2022-09-25
12:14 IST
By Dhiwaharan
After seeing his name trending in the micro blogging social media site, Indian cricketer Ravichandran Ashwin who is being considered as the representative of "running out" non-strikers, uploaded a tweet wondering why he is trending. The cricketer said that Deepthi Sharma is the hero who should be trending that night.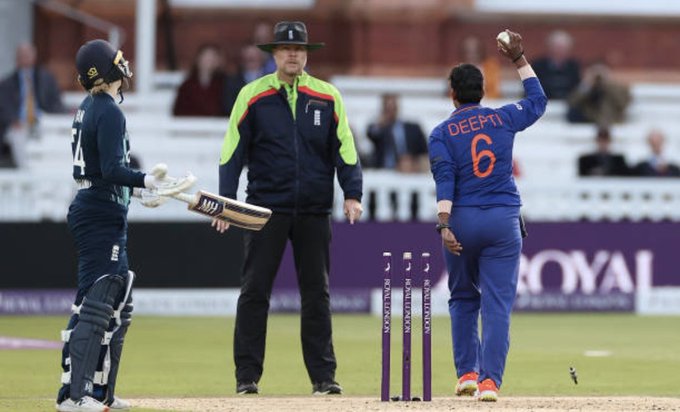 Team India for women defeated England in the third ODI to complete the 3-0 series sweep. Even with England 9 wickets down, Charlie Dean almost took the hosts on the brink of victory. To everyone's surprise, Deepthi ran her out at the non striker's end as she was backing up, to seal India's win. The 20 year old was heart broken as she was seen shedding tears while shaking hands with Indian players. She walked in while England was struggling at 65-7 in chase of 170.
Dean put on a 38 run stand with captain Amy Jones. Even after Jones and Kate were dismissed quickly, Dean kept the score board increasing. While the team was needing 17 runs from 39 balls with one wicket in hand, Deepthi, the bowler who saw her taking advantage of the crease, ran her out at the non-strikers end and appealed.
As per the new rules imposed by ICC, through the method which was previously called as "Mankad", Dean has been announced as "out". Watch the video below :
Here's what transpired #INDvsENG #JhulanGoswami pic.twitter.com/PtYymkvr29

— 𝗔𝗱𝗶𝘁𝘆𝗮 (@StarkAditya_) September 24, 2022
The twitter cricket divided after Deepthi Sharma took the last wicket by running out the non-striker. Many senior cricketers from both India and England came up with reactions expressing their views on the run out. Staurt Broad, Anderson slammed deepthi pointing out the spirit of the game whereas legend Sehwag took dig at English team saying that they invented the game but forgot the rules.
Sam Billings, an English cricketer has been expressing his displeasure the way Dean got out and accused Deepthi Sharma of not even intending to bowl. James Anderson also joined him in venting his emotions out.
Here's their tweets :
There's surely not a person who has played the game that thinks this is acceptable?

Just not cricket… https://t.co/VLGeddDlrz

— Sam Billings (@sambillings) September 24, 2022
Safe to say… a few people disagree 🤣🤣🤣🤣🤣🤣

— Sam Billings (@sambillings) September 24, 2022
Not even looking at the other end in delivery stride… 🤣 pic.twitter.com/n0ZZjnpyuV

— Sam Billings (@sambillings) September 24, 2022
Imagine how many more wickets you could get James 🤣🤣🤣🤣

— Sam Billings (@sambillings) September 24, 2022
On seeing their conversation, Ashwin who got into controversy for making a run our in similar way in the past, acme up with a sarcastic reply, trolling Sam Billings who wrongly mentioned that the run out will be accounted as a wicket to Bowlers.
Calling it as a nice idea, Ashwin said "In fact that's a great idea. How about awarding that wicket to the bowler for " presence of mind" under immense pressure and of course knowing the social stigma that he/she would have to deal with post doing it. How about a bravery award to go with it too @ICC ?"
In fact that's a great idea. How about awarding that wicket to the bowler for " presence of mind" under immense pressure and of course knowing the social stigma that he/she would have to deal with post doing it. How about a bravery award to go with it too @ICC ? https://t.co/9PqqetnnGw

— Ashwin 🇮🇳 (@ashwinravi99) September 25, 2022
On the night of the incident hapened, Ashwin, on seeing his name trending in twitter asked "Why the hell are you trending Ashwin? Tonight is about another bowling hero
@Deepti_Sharma06  🤩👏"
Why the hell are you trending Ashwin? Tonight is about another bowling hero @Deepti_Sharma06 🤩👏

— Ashwin 🇮🇳 (@ashwinravi99) September 24, 2022
Here's the reactions that surfaced regarding the incident :
I find the debate of the Mankad really interesting. So many views from either side. I personally wouldn't like to win a match like that, also, very happy for others to feel differently https://t.co/BItCNJZqYB

— Stuart Broad (@StuartBroad8) September 24, 2022
Will never understand why players feel the need to do this. Is she stealing ground? pic.twitter.com/KJi1Rgzmdi

— James Anderson (@jimmy9) September 24, 2022
It's actually quite simple. Ball comes into play when bowler starts run up. From that moment on as a batter or non striker you've to keep your eyes on the ball, if you're a bit careless, opposition will get you out. And you can get out at either ends. #ENGvIND

— Wasim Jaffer (@WasimJaffer14) September 24, 2022
Funny to see so many English guys being poor losers. #Runout . pic.twitter.com/OJOibK6iBZ

— Virender Sehwag (@virendersehwag) September 24, 2022