Ravi Ashwin Opened For The First Time About The Crucial Final Over Against Pakistan!!
India
pakistan
Ravichandran Ashwin
T20 World Cup
5 months ago
By Dhiwaharan
Ravichandran Ashwin who is trending in the social media platforms ever since he scored that one run in the last ball against Pakistan in the first match of the ongoing T20 world Cup tournament, opened for the first time about his experience in his YouTube channel in which he enjoys nearly a million followers. The cricketer said that he is truly blessed to be a part of such a wonderful match and credited Pakistan team for the way they played.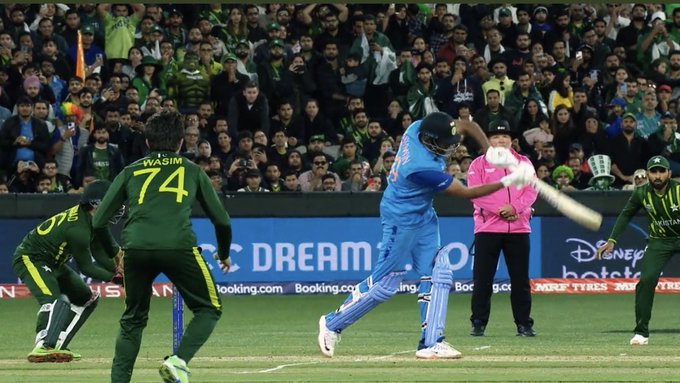 From comparing Virat Kohli's transformation with Gangha-Chandramukhi from the most famous Rajinikanth film to sharing about how he felt while leaving the ball for a wide under pressure situation, Ashwin was pretty much candid throughout the video. The spin bowler's slang to describe how he and Kohli conversed before the last ball of India's innings was hilarious to say the least.
"After they posted 159 on the board, initially I thought that we could have restricted them within 140. But with the batting line up we had, I thought we would be chasing it effortlessly" Ashwin said while sharing about one of the most crucial matches of India in the tournament. The off spinner said that MCG was very cold on that day and players were feeling the cool whether in their body.
| WHOLE INDIANS REACTION WHEN ASHWIN DID THIS YESTERDAY 😁|@BCCI@WasimJaffer14 @sachin_rt @ImRo45 pic.twitter.com/TFyEllyisd

— 𝚁𝙰𝙹𝙰_77🇮🇳 (@Cric_News_RAJA5) October 24, 2022
"In the first 10 overs, we were 45-4. I was wearing the pad from third over. I thought 60,60 runs from Virat and Pandya would make us win the match and my role will be very minor at the end" said Ashwin and went on to talk about Virat Kohli's monstrous innings.
"I can definitely say that something has imposed inside him. After 45 balls, he transformed like how Gangha transformed into a Chandramukhi. He was suggesting me to hit the ball here and there while I entered when 2 runs needed in 1 ball with his big eyes. While entering, I scolded Dinesh Karthik for getting out but came back to the reality and told myself to do my job" Ashwin said in his video.
If cricket was science, Ashwin would be Einstein.😊😍#INDvPAK #Ashwin pic.twitter.com/J03o1S4uGs

— Adarsh singh🇮🇳 (@AdarshRo45) October 23, 2022
"I was telling myself to watch the ball closely and hit it in the right spot. Kohli was suggesting me to place the ball over the covers and I told myself how can I do it at that situation but didn't say much to him. I asked him few questions about where and how he was bowling. While facing the first ball, I left it saying that i have no connection with the ball at all to myself" said Ashwin in a hilarious way.
"After getting that one run, I had a sigh of relief as there won't be stone pelting at my house. "Won't the God who made Kohli to hit a six against Harris Rauf in back foot, who made him to hit a six above the square leg, help me to clear the fielder in the short mid off?" is what I was thinking while facing the last ball of our innings. Thankfully, the ball went the way I wanted" said Ashwin and defined the moment as a fantastic memory of him.
Watch the video below :
Source : Ravichandran Ashwin