Rangaraj Pandey, One of the leading journalists of the state who have interviewed almost every leading celebrities including Prime Minister Narendra Modi. Be it any politician or actor his questions to them during the interview would be bold and straight which gained him a unique set of audience. People started setting eyes on him since his interviews made big time controversies and debates.
Pandey is currently Editor in Chief of Thanthi TV. His Television interviews with famous personalities on Thanthi TV made him a popular person. He hosts the talk show "Kelvikku Enna Badhil" (What is the answer to this question?)– where he interviews notable.
Pandey's interest towards journalism started at young age. While studying in 11th standard, he came out with a handwritten magazine. Post graduation, he worked in the Tamil daily newspaper Dinamalar. He started the well-known satire column "Doubtu Dhanabalu" a fictional character who mocks the day to day political discourse in Tamil Nadu and pan-India.
Having completed 150 episodes, some of his notable interviews with Prime Minister of India Shiri  Narendra Modi and BCCI head N Srinivasan. His prime time program, 'Ayutha Ezhuthu', a news debate program based on current affairs broadcast on Thanthi TV. He is renowned for his simple and spontaneous brilliant questions style of TV anchoring, though it invites a few debates as well, mostly related to religious, communal and political issues.
Being a leading journalist, Rangaraj Pandey is followed by nearly two and half Lakh people in twitter. Each every post of him would grab the attention of vast number of audience. Yesterday he changed the profile picture of his official twitter account which was brutally trolled by his own followers.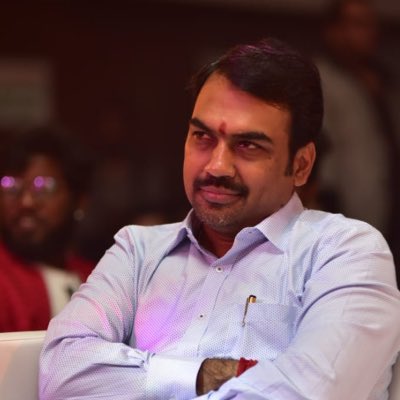 Everyone had different reasons. At the same time many complimented him for his good work and wished him the best for his Birthday as well. Check out some of the selected here :
— உள்ளூராட்டக்காரன் (@shivaas_twitz) November 15, 2018
— கஜாவாரண்டா 😳 (@jothi247854) November 15, 2018
— T.Sathis Kumar (@Sathis_Erode) November 15, 2018
அமெரிக்க ஜனாதிபதி அண்ணன் @RangarajPandeyR வாழ்க …

— PG Venkat ram (@venkat_online) November 15, 2018
எல்லாரையும் எப்படி சார் கேள்வி கேட்டு மடக்கிறிங்க

— Magi⏺ (@MagiS74265420) November 15, 2018
— Dhayalan.m (@dhayalan_m) November 15, 2018
புயலடிக்கிற நேரத்துல உங்களுக்கு புரொஃபைல் படம் தேவையா சார்

— Eswaran (@1989Eswaran) November 16, 2018
— RSP…🙌 (@immrrsp) November 15, 2018
Happy birthday Rangaraj pandey sir, your my inspection sir,.
உங்களை போல நெறியாளர்கள் இல்லாவிட்டால் சில அரசியல்வாதிகளை யாராலும் கேள்வி கேட்க முடியாது………one more time happy birthday sir

— Tamilkumaran (@TamilKu28893115) November 16, 2018
டேய் ஏண்டா குரு குருனு பாக்குற…. pic.twitter.com/NoOToeM9SA

— மணி (@toomanikandan) November 16, 2018
ஒரு திருட்டுக்கலை தெரியிதே.. pose மாத்துங்க sir..

— Prem Chander A (@mapremchandar) November 16, 2018
— 🔥என்றும்தமிழன்🔫 (@mj_jaghur) November 15, 2018
Takkunu…Arnab Goswami thought vanduchu…..!!! Nengalum kudiya sekiram oru media start panniduvinga nu…thonudu…

— draviyam s Fernando (@Draviyamsfernan) November 16, 2018
அந்த நக்கல் பார்வை. செம்ம ஜி

— தேசமே தெய்வம் 🇮🇳 (@redhatsam) November 16, 2018
— Yamaha Karan Murugan (@KaranianDa) November 16, 2018
அண்ணே நீங்க அப்பிடியே MGR மாதிரி கலரா தக தக தகன்னு மின்னுறீங்கண்ணே.

— Anbukarasan (@Anbukarasanc) November 16, 2018
சார் யோக்கியன் மாதிரியே இருக்கீங்க.

— கால்டுவெல் (@ikannatwit) November 16, 2018
— கிருஷ்ணா சிவகாசி (@akmuthusvks) November 16, 2018
அதே மோடி பார்வை …

— தமிழ் பையன் (@Imjaykay122) November 16, 2018
Always looking cool…. pic.twitter.com/EMbOmIxPdq

— Raghav J Arun (@RaghavJArun) November 16, 2018
நல்லாத்தானே போய்கிட்டு இருந்திச்சு ….!!!!

— sivasamy ponnusamy (@premsivaa) November 16, 2018
— Pubg Arumai-Rover (2.0) (@vinusakthi) November 15, 2018
நாம கட்சி ஆரம்பிக்லாமா இல்லை வேண்டாமா யோசனை யோடு இருந்தபோது…

— Murugesh (@Muruges54212113) November 16, 2018
Let us wish him a very happy birthday and comment your views on this !!