Rangaraj Pandey is Chief News Editor in Thanthi TV till yesterday, famous TV channel in Tamilnadu. Before working in Thanthi tv, he joined as a writer in Dinamalar, daily Newspaper. He wrote an article in a pen name 'doubt danabal' which was very famous and received an overwhelming response from the reader.
[wp_ad_camp_1]
After 12 years he joined in Thanthi TV in 2012, over the period of 6 month time he was promoted twice and when he resigned yesterday his post in Thanthi Tv was editor in chief of Thanthi TV.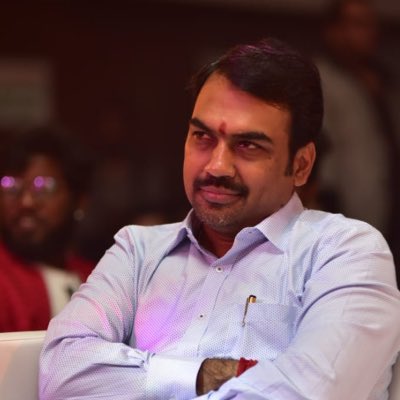 Being one of the leading journalists of the state who have interviewed almost every leading celebrities including Prime Minister Narendra Modi. Be it any politician or actor his questions to them during the interview would be bold and straight which gained him a unique set of audience. People started setting eyes on him since his interviews made big time controversies and debates.
[wp_ad_camp_1]
Confirming his resignation from Thanthi Tv, the journalist uploaded a video in his youtube channel. In the video he says "There is no particular reason for my resignation, This is decided by me after thinking about it very deeply. When we do a same work in a repeated manner, we become tired, it is a try to overcome it. Be it Dhinamalar or Thanthi television, if i talk anything ill about them, it would be very false. They took care of me very well and treated me as a king. It is also a try of giving space for young generations. There will be atleast 6 or 7 youngsters who would see a change in their career because of my absence."
In the video he also shares about how generously the administration of Thanthi Tv accepted his resignation and he also says that he will be always connected with the people through his profession.
[wp_ad_camp_1]
Following this Pandey also posted a popular poem of Bharathiyar in his official twitter account whose birthday is today :
தேடிச் சோறுநிதந் தின்று – பல
சின்னஞ் சிறுகதைகள் பேசி – மனம்
வாடித் துன்பமிக உழன்று – பிறர்
வாடப் பலசெயல்கள் செய்து – நரை
கூடிக் கிழப்பருவ மெய்தி – கொடுங்
கூற்றுக் கிரையெனப்பின் மாயும் – பல
வேடிக்கை மனிதரைப் போலே – நான்
வீழ்வே னென்று நினைத் தாயோ?
— மகாகவி பாரதி

— Rangaraj Pandey (@RangarajPandeyR) December 11, 2018
Is this a hidden message to someone regarding his resignation from Thanthi ?? Well, check out some of the reactions from public for his resignation from Thanthi :
உங்கள் நல்ல நோக்கம் நிறைவேற வாழ்த்துக்கள்….

//பாண்டே

— சுட்டிப்பையன் (@maranveer) December 11, 2018
வாழ்த்துகள் ! 💐💐 ஓரளவு நடு நிலையுடன் தந்தியை பார்த்தோம் நீங்கள் இருந்ததால் !அடுத்து மிகப்பெரிய தளத்தில் எதிர்பார்க்கிறோம்👍💐

— Sumitha Ramesh (@srirasuhar) December 11, 2018
தமிழக ஊடகவியலில் மேலும் சரித்திரம் படைக்க வாழ்த்துக்கள்!!!

— Sarav (@ananvaras) December 11, 2018
Miss you pandey ஊடக துறையில் கறை படியாத நல்ல மனிதர் நீங்கள் தமிழக ஊடகங்களை பாண்டேவுக்கு முன் பாண்டேவுக்கு பின் என இரண்டு வகையாக பிரிக்கலாம் ராஜினாமாவை மறுபரிசிலனை செய்யவும்

— Miss you பாண்டே😢😢 (@immaakhan) December 11, 2018
புரிதலோடு நடக்கும் பிரிதல் என்று அழகாக சொல்லி விட்டீர்கள். மேலும் உயரத்திற்கு செல்வீர். விரைவில் வேறொரு இடத்திலிருந்து மெருகேற்றுங்கள் எங்கள் அரசியல் அறிவை. வாழ்த்துக்கள்

— C.FRANCIS GASPAR (@CFRANCISGASPAR) December 11, 2018
கடைசியா பேட்டி எடுத்த நபர் : வைகோ எங்கள் தலைவன் ராசி போல..

— sureshbabu (@sureshbabu1983) December 11, 2018
@RangarajPandeyR brought a unique brand of Hard Talk to Tamil News Television.I am yet to speak to him to find out what his plans are but I will. I'm sure he will continue in a new avatar with another channel. Wish him the very best. #rangarajpandey

— Sumanth Raman (@sumanthraman) December 10, 2018
Reliable sources say that @RangarajPandeyR #RangarajPandey has resigned from Thanthi TV with the instructions of #RSS. Sources also adds that he would be joining #Rajinikanth @rajinikanth in constructing Rajini Makkal Mandram @rmmoffice as a political party. @RIAZtheboss pic.twitter.com/HuO4db4vJv

— Ottran Cheithi (@ottrancheithi) December 10, 2018
#rangarajpandey resign from thanthi tv . he delete cheif editor thanthi tv . pic.twitter.com/s4q8CLE6kb

— Jamal Uddin.n (@JamalUddinn3) December 10, 2018
Rajini needs to open a new TV channel as a package plan to start a political party in TN. So who can be a best fit to take care of the new channel. It should be Pandey @RangarajPandeyR @rajinikanth #rangarajpandey #Rajinikanth #thanthitv

— ஓட்டு போடாதவன் (@hacker5274) December 10, 2018
Famous News / TV Anchor Rangaraj Pandey quits Thanthi TV officially. Likely to join hands with Thalaivar soon ?#RangarajPandey #ThanthiTV pic.twitter.com/DvHfGcE6A8

— Praveen (TSR) (@Praveen_TSR) December 10, 2018
#rangarajpandey quits thanthi TV#urjitpatel quits #RBI#mallaya to be brought back to India

As if the year end sale slogan says..

" everything must go" 😜…

— Naveen (@mkpNAVEENCons) December 10, 2018
Heard #Rangarajpandey left Thanthi Tv,The Strong pillar of Thanthi has gone now! His abscence definitely will be felt!@RangarajPandeyR

— Avudaiappan (@ImAvudaiappan) December 10, 2018
Comment your views on Rangaraj Pnadey's decision !!