Rajinikanth Reacted To The "Karuppar Kootam" Issue !!
Written by Dhiwaharan Published on Jul 22, 2020 | 18:05 PM IST | 54
Follow Us
Comments: 0
Superstar Rajinikanth reacted to the "karuppar Koottam" issue through his official twitter twitter account. The actor lauded Tamil nadu government for removing the videos uploaded by the youtubers and added an hashtag saying "கந்தனுக்கு_அரோகரா" which is trending nationwide now. Despite of the trending, his tweet became a subject to severe criticism as well.
[wp_ad_camp_1]
Rajinikanth in his tweet said that the video made by "Karuppar koottam" abusing "Kandha Sashti Kavasam" hurt the sentiments of crores of Tamil people and created outrage among them. "We couldn't forget this cheap activity forever. I appreciate the immediate action of Tamil nadu government which intervened into the matter and deleted the related videos. At least now, let religious hatred and God-baiting end. It is must" Rajinikanth said in his tweet. "All regions are acceptable, Kandhanukku Arogara" he added.
Check out his tweet below :
#கந்தனுக்கு_அரோகரா pic.twitter.com/zWfRVpufXk

— Rajinikanth (@rajinikanth) July 22, 2020
"Karuppar Koottam", a youtube channel, caught in controversy after the makers of it created several videos allegedly abusing the Hindu religion and the Gods of it, mainly targeting Lord Murugan. One of their recent video on "Kandha sashti Kavasam" of lord Murugan created huge outrage among the followers of Hindu religion. Surendar natarajan, narrator of the show alleged that "Kandha Sashti Kavasam" is abusing lord Murugan and the author of it degraded him with unnecessary requirements.
The video went extremely viral and people who belong to Hindu organisations filed case against him. They demanded arrest against Surendar and asked police officials to permanently ban their youtube channel "Karuppar kootam".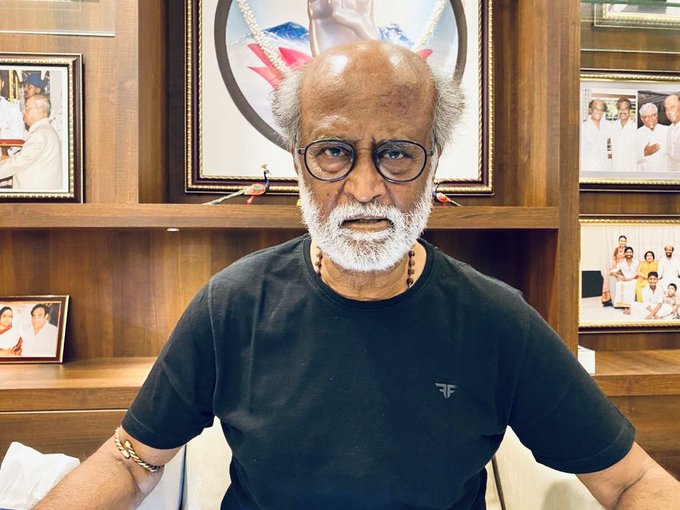 [wp_ad_camp_1]
Meanwhile, this tweet from the Superstar actor getting criticized for two main reasons after posting the tweet. A number twitter users asked Rajinikanth why he has not opened on the ongoing OBC reservation yet. Another set of Twitter users questioned whether he is stating his opinion after Tamil nadu BJP leader L. Murugan asked him to do so.
Check out some of the reactions regarding the same below :
July 22, 2020
Relationship goals 💖 pic.twitter.com/ShHuVrKkUX

— Gurubaai (@ItsGurubaai) July 22, 2020
என் மீது யாரும் காவி சாயம் பூச வேண்டாம்..நானே பூசி கொள்வேன். @rajinikanth@rajakumaari @TenPercentFraud@savukku
நேற்று இன்று pic.twitter.com/6WOxjiEWol

— Ravikumar (@Ravikumarceg) July 22, 2020
[wp_ad_camp_1]
Choice of selection of subjects reveal our political ideas. By selecting a particular subject, we also make our choice of rejection.

Recent issues that are rejected by @rajinikanth

1. OBC reservation in AIQ
2. Job loss in lockdown
3. Crime against girl children. https://t.co/I5UP3AnjrO

— B Anbuselvan (@anbuselvan_tnie) July 22, 2020
தமிழ் கடவுள் முருகன் விசயத்தில், இந்து மக்களுக்காக குரல் கொடுத்த சூப்பர் ஸ்டார் ரஜினிகாந்த் அவர்களுக்கு நன்றி 🙏🙏 @rajinikanth

அதே போல இந்துமக்களாகிய OBC மக்களுக்கு இழைக்கப்படும் அநீதிக்கு எதிராகவும் குரல் கொடுப்பார் என்று எதிர் பார்க்கபடுகிறது.. #OBCReservation

— Madhavi Sri 🎶🎊🎉🕊️ (@Sri_02offl) July 22, 2020
@rajinikanth , a selective minded person.#கந்தனுக்கு_அரோகரா

At the same time, he won't give his voice for the people belongs to OBC.#OBCReservations

— கடலாடியார் (@alagumuni) July 22, 2020
Several political parties of Tamil nadu has come together seeking 50 % reservation for Other Backward Class (OBCs) in post graduate medical and dental seats surrendered by the state for the All India Quota. Throughout the hearing, the parties contented that the central government is only an agent and a counselling authority to fill the seats accordingly to the reservation. Few online users even alleged that Rajinikanth is distracting the OBC reservation issue on behalf of BJP party by voicing out against "Karuppar Kootam" after a week.