Rajini Fan Posted A Disrespectful Tweet Against Director/Actor Parthiban !! You Must See The Way Parthiban Replied !!
Asuran
Danush
Parthiban
rajinikanth
CM / Updated: 2019-09-09
12:33 IST
By Dhiwaharan
the most awaited trailer of Danush-Vetrimaaran's fourth collaboration Asuran released and it promises us at least a national award.
After receiving critical and commercial acclaim for their works in Vada Chennai, Aadukalam and Polladhavan, director Vetri Maaran and actor Dhanush have once again joined hands for their next venture, Asuran. The film, produced by Kalaipuli S Thanu, will be released on October 4.
[wp_ad_camp_1]
The trailer of Asuran has been released today and it is raw, intense and intriguing at the same time. As reported earlier, Dhanush plays two roles – as that of a father and son- in the film.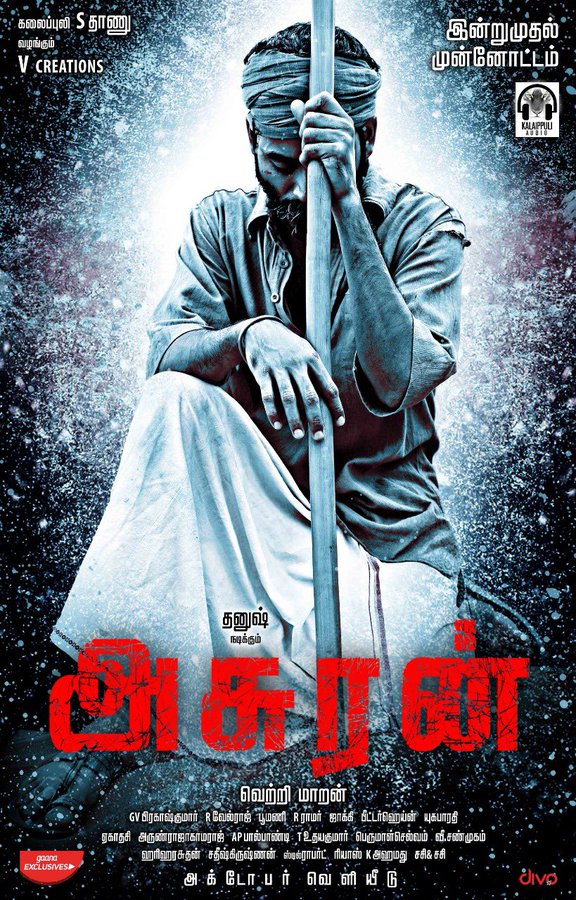 The one-minute-long trailer is gritty and filled with violence. A gruesome murder has happened in the village and Dhanush seems to be avenging the unknown person's death.
There's a lot happening in the trailer of Asuran, but it doesn't give away the plot. Manju Warrier makes a blink and a miss appearance. The trailer sure has set the ball rolling for the film.
[wp_ad_camp_1]
Many fans of Danush and Vettri Maaran lauded the duo for the intense trailer and poured wishes to them by posting tweets. Meanwhile one of a fan who watched the trailer tagged popular actor and director Parthiban and asked whether he watched the trailer or not. The way he frame his sentenced to question Parthiban was in a disrespectful way.
In his tweet the fan whose twitter handle name is Thalaivar Darbar read as "டேய் @rparthiepan அசுரன் ட்ரெய்லர பாத்தியாடா….?"
டேய் @rparthiepan அசுரன் ட்ரெய்லர பாத்தியாடா….?

— தலைவர்_தர்பார்ᴰᴬᴿᴮᴬᴿ (@Thalaivarr167) September 9, 2019
Most of the experienced celebrities would avoid answering to such tweets. But Parthiban who is known for his broad mind and witty knowledge of speech decided to reply to him by writing "பார்த்தேங்க சார்,
அசுரத்தனமா இருந்தது.Super performance by mr danush
இயக்குனருக்கு 6மணிக்கே Msg அனுப்புனேங்க சார்! மற்றும்,'a journey of fakir' பாத்துட்டு (துட்டு குடுத்து) நான் கை தட்னது ஊருக்கே கேட்டுது!"
பார்த்தேங்க சார்,
அசுரத்தனமா இருந்தது.Super performance by mr danush
இயக்குனருக்கு 6மணிக்கே Msg அனுப்புனேங்க சார்! மற்றும்,
'a journey of fakir' பாத்துட்டு (துட்டு குடுத்து) நான் கை தட்னது ஊருக்கே கேட்டுது! https://t.co/5P85hOXuKg

— R.Parthiban (@rparthiepan) September 9, 2019
This reply from the director received lauded by many twitter users as he took the comment in a sportive way. But many started criticizing "Thalaivar Darbar" for making such comment about a senior director. The tweet of him came as the reflection of an earlier comment of Parthiban about Surya as next Kamal Haasan.
[wp_ad_camp_1]
அடுத்த சூப்பர்ஸ்டார் ஆகுறதுக்கு நிறைய போட்டி இருக்கு! ஆனா அடுத்த கமல் ஆகுறதுக்கு இங்க போட்டி இல்ல! அதுக்கு நிறைய திறமை வேணும்! அந்த போட்டியில ரொம்ப முக்கியமான இடத்துல இருக்குறவர் சூர்யா அவர்கள்!! @rparthiepan about Our @Suriya_offl Anna! 😊❤️#KaappaanManiaIn20Days

— Abdullah_SFCᴷᵃᵃᵖᵖᵃᵃⁿ ᴼⁿ ˢᵉᵖᵗ ²⁰ (@SfcAbdullah) September 1, 2019
Twitter users including famous director Mahendran's son John Mahendran expressed their disappointment on the tweet of "Thalaivar Darbar"
மிக கேவலமான பதிவு

— Dir.JohnMahendran (@johnroshan) September 9, 2019
அவனுகளுகு தனுஷ் மேல பாசம் இல்ல கமல் சூர்யா மேல காண்டு

— ManiMaran (@ManiMar39602368) September 9, 2019
On behalf of our Fans, we apologise for that tone of language from our side Sir.@Thalaivarr167 Pls look into it from nxt time🙏

— ▀▄▀▄▀▄ 🆅🅴🆃🆃🅰🅸🆈🅰🅽ᴰᴬᴿᴮᴬᴿ 🌟 ▄▀▄▀▄▀ (@vettaiyanparak) September 9, 2019
செம ரீப்ளே👌🏾👌🏾👌🏾 ஒத்தச்செருப்பால அடிச்சிட்டிங்க.

— Chellapaiyaa ..😍 (@iKumaravelM) September 9, 2019
Comment your views on the way Parthiban handled the situation !!