Rajasthan Royals Admin Got Fired For Mocking Sanju??
Rajasthan Royals
Sanju Samson
1 year ago
By Dhiwaharan
Video suggesting that the admin of Rajasthan Royals getting fired for the tweet he made about Sanju Samson has been shared in the official twitter handle of Rajasthan Royals. The video shows the players of the team conveying the admin their final messages. While se try to console the admin for leaving, few including Kumar Sangakara could be seen asking him to get out.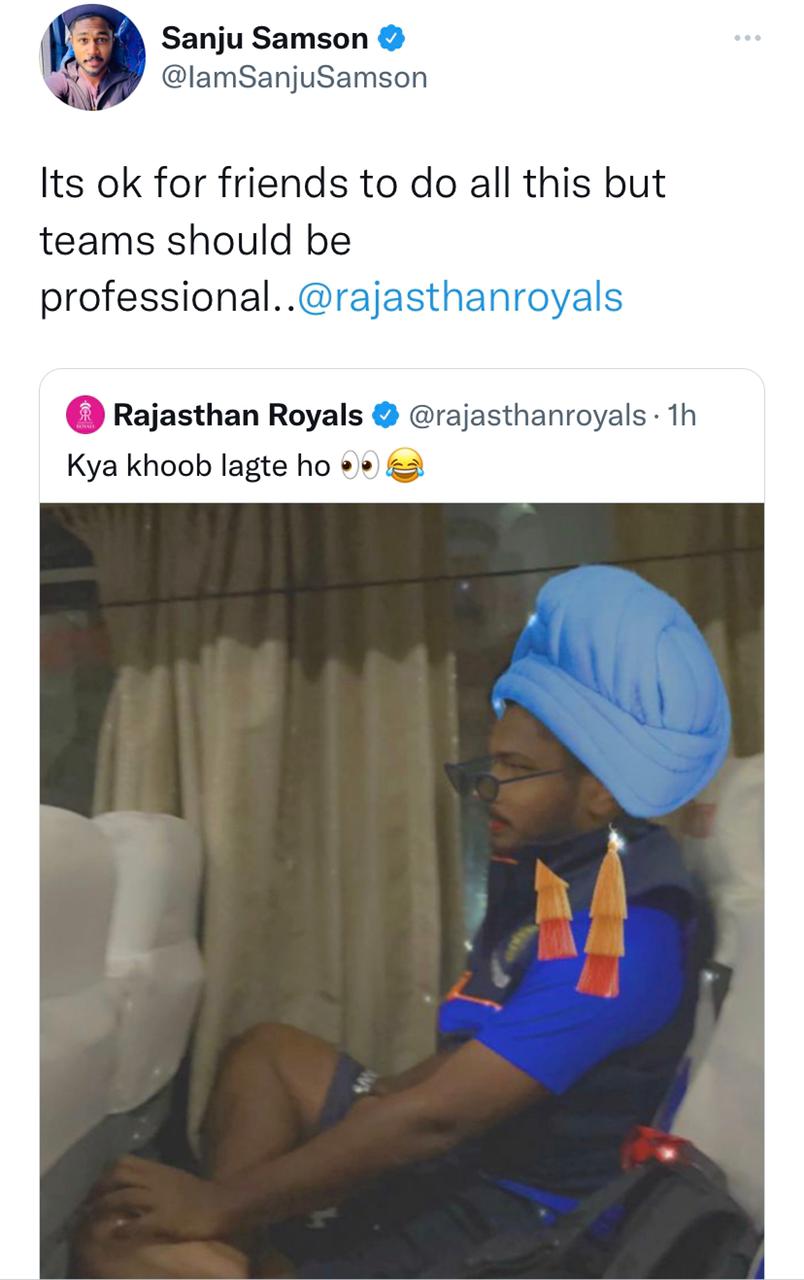 It all started after Sanju Samson got upset over his own team's twitter handle as it made fun of him by morphing one of his pictures. Twitter handle of the team which is known for it's cheeky tweets trolling the players of their own team, other teams and fans, landed in soup as the Rajasthan Royals captain went on to express his dejection over their recent post. The post was deleted and sources say that the captain made complaint against the admin of the RR team to the senior management.
After the twitter handle of Rajasthan Royals came up with a morphed image of Sanju Samson during the afternoon of Friday, the latter expressed his displeasure over the tweet immediately.
https://t.co/bDwj0V6Vms pic.twitter.com/tXfaLpoOxl

— Rajasthan Royals (@rajasthanroyals) March 25, 2022
The pictures showed the cricketer in a very funny way which made the right hand destructive batsman upset. He who is known for his outspoken manner, immediately expressed his displeasure by making a complaint to the senior management. The cricketer also unfollowed the RR's official Twitter handle followed by the series of events.
Reacting to the post, Sanju said "It's ok for friends to do all this but teams should be professional" Sanju Samson wrote before unfollowing the account. The tweet was deleted by the twitter handle of the franchise immediately.
One last time.

PS: Love you, @IamSanjuSamson. 💗 pic.twitter.com/vvYalpFPKI

— Rajasthan Royals (@rajasthanroyals) March 25, 2022
Followed by the series of unexpected events, the team management came up with a clarification over the situation saying "In light of today's events, we will be making changes to our approach and team on social media. Everything is well within the squad ahead of the first game as the boys prepare for SRH. The management will revisit our overall digital strategy and appoint a new team in due course. We realise that it is the IPL season and fans want the account to post updates regularly. We will find temporary solutions in the interim"
Goodnight. 😉🙏 pic.twitter.com/2rzdj8aNAj

— Rajasthan Royals (@rajasthanroyals) March 25, 2022
After that, a video of almost all players and support staff offering bid adieu to the admin was uploaded in the RR's twitter handle only to conclude that it was all a prank. A fake audition which was conducted to make the situation even more funnier was uploaded to confirm that the entire Twitter scenario was prank.
This prank was incomplete without a fake audition. 😂

P.S. Tough luck, @yuzi_chahal 👀#RoyalsFamily | #HallaBol pic.twitter.com/aM3cWJqucv

— Rajasthan Royals (@rajasthanroyals) March 26, 2022