Raiza Wilson's Recent Post Shocked Her Followers !!
Written by Dhiwaharan Published on May 19, 2023 | 10:00 AM IST | 337
Follow Us
Comments: 0
Raiza Wilson who is known among Tamil audience for appearing in films such as "Pyar Prema Kaadhal", "Coffee With Kaadhal", uploaded a series of pictures of herself crying in her official Instagram and Facebook handle. Though she didn't state any reason for expressing such emotions, many of her followers got shocked and has been expressing various kind of comments. Celebrities such as G.V Prakash, Manjima Mohan dropped comments consoling the actress.
also read : Deepika V Finally Made Her Future Husband Public !!
Raiza Wilson, the talented Indian actress and model, has captivated audiences with her exceptional performances in Tamil films. Born on April 10, 1989, Wilson gained widespread recognition after her appearance on the Tamil reality TV show, Bigg Boss. Her journey in the show made her a household name and opened doors to a successful acting career.
Wilson's breakthrough came with her role as Sindhuja in the romantic drama film Pyaar Prema Kaadhal. Her stellar performance earned her the prestigious Filmfare Award for Best Female Debut – South. Paired with another Bigg Boss contestant, Harish Kalyan, Wilson's chemistry on-screen was applauded by both critics and audiences alike. This film showcased her acting prowess and established her as a promising talent in the industry.
Following her remarkable debut, Wilson continued to impress with her diverse choice of roles. In the 2019 film Dhanusu Raasi Neyargale, she showcased her versatility by portraying a different character. The movie highlighted her ability to adapt to various genres, further solidifying her position as a versatile actress.
Wilson's association with the Tamil remake of the Telugu film Arjun Reddy, titled Varmaa, created a buzz in the industry. Although the project underwent significant changes and was released as Adithya Varma without her involvement, it demonstrated her potential to take on challenging roles. Her dedication to her craft and willingness to explore unconventional projects make her a force to be reckoned with.
also read : Manimegalai's Recent Video Left Her Followers To Speculate Pregnancy !!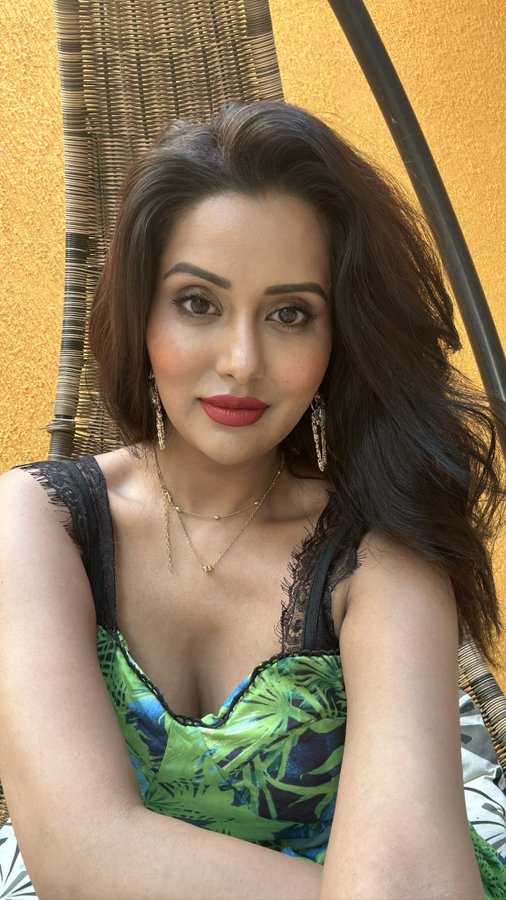 In 2022, Wilson starred in the thriller film FIR, captivating audiences with her intense performance. Her portrayal of a strong-willed character added depth to the narrative and showcased her acting range. Additionally, she graced the screens with her appearances in Poikkal Kuthirai and Coffee With Kadhal, further cementing her position as a sought-after actress in Tamil cinema.
Apart from her acting prowess, Wilson is also known for her striking beauty and elegant fashion sense. Her poise and grace make her a favorite among fashion enthusiasts and designers. She effortlessly carries herself on the red carpet and has become a style icon for many.
Wilson's collaboration with renowned composer Yuvan Shankar Raja in the film Alice further emphasizes her dedication to her craft. The movie, produced by Yuvan Shankar Raja and directed by Mani Chandru, promises to be another milestone in her career. The release of the film's first look generated immense excitement among fans and critics alike.
also read : Devika, Mother Of Two Children K*lled By Her Lover In A Lodge !!
On Thursday, Raiza uploaded a post in her official Instagram handle with a caption that said "It's not easy. You're not alone. We are all just figuring it out step by step"
Check out the pictures she uploaded below :
Check out her post below :
View this post on Instagram
"Sending you lots of love and strength … we are with you ❤️💫✨" GV Prakash commented whereas Manjima Mohan reply said "This too shall pass Raiz. Stay strong 🤗"
Check out some of the reactions below :
Raiza Wilson's journey from a reality TV show contestant to a rising star in Tamil cinema is a testament to her talent and determination. Her ability to immerse herself in diverse characters and deliver captivating performances sets her apart. With each project, Wilson continues to push boundaries and explore new avenues in her career, leaving a lasting impact on the industry.
As Wilson's star continues to rise, fans eagerly await her upcoming projects and anticipate witnessing her shine on the silver screen once again. With her talent, charisma, and sheer passion for her craft, there is no doubt that Raiza Wilson will continue to leave an indelible mark on Tamil cinema for years to come.