Raina's Reply To Faf Du Plesis Left CSK Fans Emotional !!
By Dhiwaharan
Fans of team Chennai Super Kings are extremely dejected over the team's decision on not buying Raina for a base price. The left hand bowling all rounder was not picked by the franchise at the IPD 2022 Mega Auction and went unsold in the first round of the auction. The team didn't show any interest to list him in acceleration round as well.
No one can forget this innings and the things you've done for CSK. Thank you, @ImRaina. End of an era at CSK! pic.twitter.com/sWlUZXZPLd

— Mufaddal Vohra (@mufaddal_vohra) February 13, 2022
The decision of the management about the cricketer who did so much for the yellow team, lef the fans extremely dejected. The team also let Faf Du Plesis go for Royal Challengers Bangalore and didn't want to buy him for more than Rs. 3 crore. Now,an old Instagram  reply made by Raina to Faf is doing rounds in social media platforms with fans expressing their emotions.
Fondly called as "Chinna Thala" by the fans of Chennai Super Kings, Raina played almost all the seasons for the Dhoni-led team. In 2020, he didn't play for the team due o his own unavailability but now, after the team decided not to buy him in the Mega Auction, hints that the IPL career of "Mr.IPL" is over. Fans are sharing the stats, videos and images of Raina representing team Chennai Super Kings and are going emotional. The non-existence of Faf Du Plesis in the upcoming season, became a double blow for the fans of Chennai.
Humanity Level ♾
Great Man!! @ImRaina 💖

Will miss you Champ🥺😔,MR.IPL💥 pic.twitter.com/aLVUeDfpCP

— 🚩Swapnil_x:(♡¹⁸ (@SwapnilSwain2) February 14, 2022
In one of the old posts, Faf, in a post of Raina dropped a comment saying "See you soon brother" meaning to meet him in the CSK. Replying to him, Raina said "Done brother !! Getting bat for you" in Instagram. Sharing the screenshot of the exchange, fans who believe that both the players are not going to don yellow hereafter, vented their disappointment over the management out through their tweets and comments.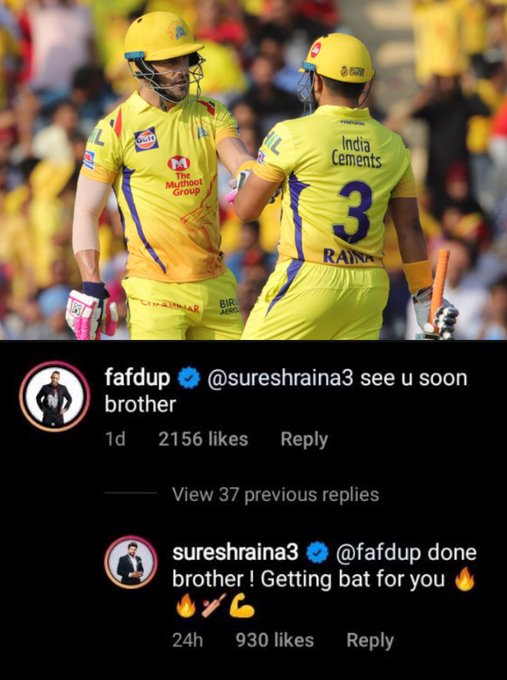 Check out some of the reactions below :
— Cricket Tamilan (@TamilanCricket) February 13, 2022
Goodbye is hard they said and this is how I felt
Forever greatful for Raina and faf du plessis
Painful #IPLMegaAuction #IPLAuction pic.twitter.com/wnyLVrIxv1

— Vaivaswatha (@Vaivas01) February 13, 2022
Thank you Super Kings 🥺
Faf and Raina for Yellovely memories 💛@MSDhoni • #IPL2022 • #WhistlePodu pic.twitter.com/cT0trbJYb7

— DHONIsm™ ❤️ (@DHONIism) February 14, 2022
Thanks for all the Good Memories Faf 💛 will definitely miss you ….🥺#IPLAuction #IPLMegaAuction2022 pic.twitter.com/V7WcUY7JES

— Vaishnavi Raina ♡ (@Vaishu_Raina3) February 12, 2022
#ChennaiSuperKings Major Missing 😑raina, Faf,😓😣💔 @ChennaiIPL pic.twitter.com/Q0NozW2fMb

— 𝙎 𝙄 𝙑 𝘼 (@SivaKum06364385) February 12, 2022
Legacy of @ImRaina pic.twitter.com/u2FmeQcI0D

— Manoj Maddy Edits (@edits_manoj) February 13, 2022
Fed up with this one!😓
This is not the one I expected
Faf and Raina💔
Till the end was waiting that Raina will come to CSK but, it didn't happen!#IPL2022Auction #MrIPL #FafDuPlessis pic.twitter.com/jsRxHfzIgh

— Lingaa 34.92 (@k_bnitn) February 14, 2022
Raina & FaF to CSK: #IPLMegaAuction2022 #IPLAuction #IPLMegaAuction pic.twitter.com/m6yjeXdtCz

— Nysa♡̷̷ˎˊ (@Nysa__says) February 12, 2022
CSK doesn't have money for Faf or Raina but have for Rahul Tewatiya.
🤦#ChennaiSuperKings #IPLMegaAuction2022 pic.twitter.com/Rlg2RxqxNX

— Harry Potter (@HP_FAN073962) February 12, 2022
Faf deserved to be retained in the team
Raina deserved a proper farewell
Tahir deserved a decent send off@ChennaiIPL You will not be the same again
Thalaivanukku enna venumnu therinjirukkaranum pic.twitter.com/DV701KPQy9

— Rathnavel Ponnuswami (@reavan) February 13, 2022
Suresh Raina has got a major part for the consistency of CSK over all these years, don't forget he has been the Mr.IPL

Why don't he deserve another chance ?

Not only CSK even any other franchise could have given him a chance, Fuck this is really insane pic.twitter.com/URMQfogaxd

— Prabha Rio (@prabh_here) February 13, 2022
i was holding my tears😭😭now couldn't stop😩😔

— Maryam (@_maryam_20_) February 13, 2022