Radhika Sarathkumar Upset Over Fan While Posing For Selfie ?
Follow Us
Comments: 0
Radhika Sarathkumar's Unfortunate Encounter with an Overzealous Fan
In a recent incident that caught public attention, renowned actress Radhika Sarathkumar found herself in an uncomfortable situation when a fan persistently attempted to touch her at a public event. The incident quickly garnered widespread attention, shedding light on the importance of personal boundaries and the need for respect towards celebrities' personal space.
Also read: Manikandan Of "Jai Bhim" Fame Charges In Crores?? Actor's Comment Is Trending
As Radhika Sarathkumar made her way through a crowded public place, excited fans surrounded her, eager to catch a glimpse of their beloved actress. Amidst the chaos, one fan, fueled by his enthusiasm and adoration, repeatedly attempted to touch her. Recognizing the intrusion into her personal space, Radhika's frustration was palpable as she sternly repeated, "Don't touch, don't touch," hoping to deter the overzealous fan.
RADHIKA SARATHKUMAR
The incident brings to the forefront a critical issue faced by celebrities and public figures—the disregard for personal boundaries. While fans' enthusiasm is understandable, it is crucial to remember that celebrities deserve their personal space and respect, just like anyone else. Such incidents highlight the need for better awareness and understanding among fans, emphasizing the importance of maintaining a respectful distance when interacting with their favorite stars.
Also read: நடிகையாக போகும் குஷ்பூ மகளின் லேட்டஸ்ட் ஹோம்லி லுக் வைரல் !!
Radhika Sarathkumar's response during the incident demonstrated her firm stance on the matter. Her repeated appeals to the fan to refrain from touching her were a clear indication of her discomfort. By vocalizing her objections, she sought to raise awareness about the violation of personal space faced by celebrities, reminding fans and the public to approach interactions with respect and consideration.
Also read: Arnav Pretended As A G*y & Cheated A Man" – Divya's Shocking Accusation
The Impact on Celebrities, This incident sheds light on the larger issue faced by celebrities, who often find themselves subjected to unwanted attention and invasive behavior. The relentless pursuit of fans seeking selfies, autographs, or physical contact can be overwhelming and exhausting for public figures. The incident involving Radhika Sarathkumar serves as a reminder that celebrities, despite their fame, are entitled to personal boundaries and deserve to feel safe and respected in public spaces.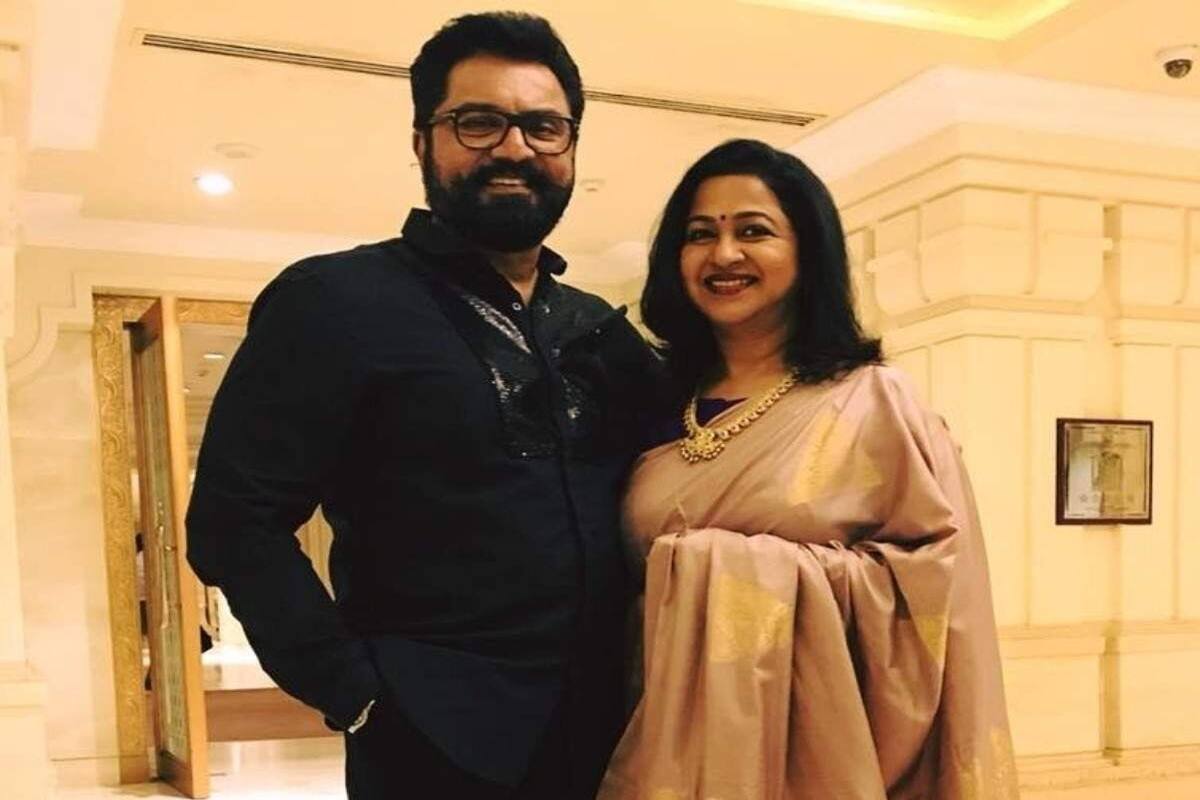 RADHIKA & SARATHKUMAR
Creating a Culture of Respect, As fans, it is essential to strike a balance between expressing admiration and maintaining appropriate boundaries. Celebrities contribute significantly to the entertainment industry, but they are also human beings entitled to privacy and personal space. By cultivating a culture of respect, we can create an environment where celebrities can feel secure, appreciated, and valued for their work without compromising their well-being.
ரசிகையின் செயலால் கடுப்பான நடிகை ராதிகா சரத்குமார். "தொடாதீங்க.. தொடாதீங்க.."https://t.co/5BBXWJe9oB pic.twitter.com/4tjKw7Swrn

— Thanthi TV (@ThanthiTV) June 29, 2023
The Role of Celebrity Management, In the wake of this incident, it becomes evident that the role of celebrity management is crucial in ensuring the safety and well-being of public figures. Publicists, security personnel, and event organizers must collaborate to establish protocols that prioritize the protection of celebrities' personal boundaries. Effective crowd management and communication strategies can help mitigate such incidents and ensure the safety of both celebrities and their fans.
ரசிகையின் செயலால் கடுப்பான நடிகை ராதிகா சரத்குமார். "தொடாதீங்க.. தொடாதீங்க.."https://t.co/5BBXWJe9oB pic.twitter.com/4tjKw7Swrn

— Thanthi TV (@ThanthiTV) June 29, 2023
Also read: Sradha, A College Student Ended Her Life!! College Authorities Accused Of Harassing Her
The Need for Fan Education, Fan education plays a vital role in promoting respectful behavior. Celebrity fan clubs, social media platforms, and fan events provide valuable opportunities to educate and engage with fans on appropriate conduct. By encouraging fans to respect boundaries and fostering a sense of empathy, fan communities can contribute to a more positive and respectful fan-celebrity dynamic.
Also read: "துப்பட்டா போடுங்க டோலி" என கலாய்த்த நெட்டிசன். அதற்கு பதிலடி கொடுத்த VJ பாரு !!
The incident involving Radhika Sarathkumar and her persistent fan serves as a reminder of the challenges faced by celebrities when it comes to maintaining personal boundaries. It highlights the need for fans to approach interactions with respect, understanding, and a conscious effort to maintain a respectful distance. By acknowledging and addressing this issue, we can foster a culture of respect, ensuring that celebrities can continue to entertain and inspire us while feeling safe and secure in their public engagements.