Radha Ravi Still Says Nothing Wrong In His Speech About Nayanthara!! WATCH THIS VIDEO !!
Written by Dhiwaharan Published on Mar 28, 2019 | 19:39 PM IST | 85
Follow Us
Comments: 0
"Nayanthara herself in her statement condemned those who clapped for my speech on stage, more than condemning me. If anyone stood against me while I am giving my speech, then I would accept what I said was wrong. If there is anything wrong in my speech, there would not be that much support for me. Including press people many endorsed my speech by clapping for it" says Radha ravi in this recent interview with Behindwoods. 
Source : Behindwoods 
[wp_ad_camp_1]
Veteran actor Radha Ravi made some derogatory comments on actress Nayanthara. A lot of actors took to social media and slammed Radha Ravi over the disgusting remarks. Vignesh Shivan, Samantha Akkineni, Swara Bhasker and a few Tamil actors took to Twitter and slammed Radha Ravi over the same. Following the controversy, DMK suspended actor and party leader Radha Ravi citing "indiscipline". Also, Nadigar Sangam has warned Radha Ravi for his behaviour.
#Radharavi on stage#KolaiyuthirKaalam Trailer launch #Nayanthara#KolaiyuthirKaalam #KolaiyuthirKaalamTrailer @EtceteraEntert1 @DoneChannel1 @rajshriofficial @thisisysr pic.twitter.com/u21PLfkuFN

— Thiyagu PRO (@PROThiyagu) March 23, 2019
After all the warning that has been made against the actor, the actress herself came up with a press release which consist of two pages. In the press release she made it clear that she will continue to act as whatever the role she wish to. "Irrespective of all negative remarks and aspersions cast upon me, I shall continue to take up the multifaceted roles of Sita, ghost, Goddess, friend, wife, lover, so on and so forth with the sole intention of providing maximum entertainment to my fans", said Nayanthara.
[wp_ad_camp_1]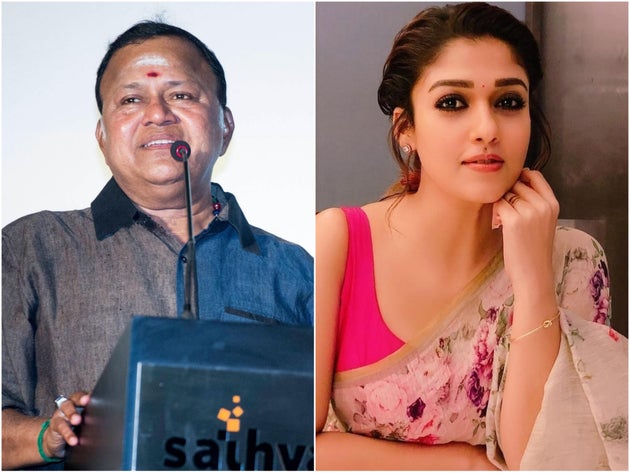 The actress ended her statement by urging the South Indian Artistes' Association(SIAA)/Nadigar Sangam to set up an internal committee to address the grievances of women actors and technicians in film fraternity by following Vishakha Guidelines.
[wp_ad_camp_1]
Now in this recent video which was released Radha ravi says that he took reference of Kalimuthu from DMK. "I did not go to the promotion of Kolayuthi Kaalam, I went for the company's promotion. It is all in the way one see. If you love me as an actor, keep loving. If you hate me as an individual, then just ignore" says Radha Ravi in this interview.
In the Kolayutir Kaalam Trailer launch, Radha ravi said "Nayanthara is a star now and she's hailed as Lady Superstar. Some even compared her to Puratchi Thalaivar MGR and Nadigar Thilagam Sivaji Ganesan. They're immortals and it is disheartening to see people include Nayanthara in the list. I agree that Nayanthara is a good actress and she is sustaining in the industry for several years. There have been several reports about her, yet she stands tall. Tamil Nadu people remember anything only for four days, then they forget. Now, she is a known face. She can act as a ghost and as Goddess Sita as well. Back in those days, if filmmakers have a Goddess character in the film, they'd go for veteran actress KR Vijaya. But now, anybody can play the role. Paatha udane kumbudravangalayum podalam, paatha udane koopadravangalyum podalam (We can cast those who are respected and those who sleep around)."