Rachitha Trying To Put All The Blame On Dhana??
Written by Dhiwaharan Published on Nov 14, 2022 | 17:14 PM IST | 72
Follow Us
Comments: 0
On Sunday episode, Ulaganayagan Kamal Haasan condemned Dhanalakshmi for breaching the rules of Bigg Boss and trying to claim the victory. He also warned contestants such as Rachitha, Amudha Vanan and Queency for being Dhana's accomplices. The Bigg Boss host removed Dhanalakshmi's right to go nomination free for the upcoming week and gave it to Vikraman who played the game in a fair manner.
#Rachita #Queency #Amudhavanan tries to put full blame on #Dhana but #KamalHassan says you guys are not even realising it's wrong and still smiling. #Kamal sir on 🔥🔥🔥. #Dhanalakshmi pic.twitter.com/cWvDaC0l39

— siva (@winsiva1994) November 13, 2022
While streaming the "awareness video" on how Dhanalakshmi planned to hide the money to win the game, she was laughing out loud with other contestants. "If I leave this out by laughing with you all, I won't be considered as a good human being" said Kamal Haasan before making the announcement on how he is going to punish Dhanalakshmi.
On seeing Rachitha Mahalakshmi clapping for Vikraman who went nomination free for his fair game, Kamal Haasan said "you are clapping now but should have told her that it is a violation breach" and warned her along with Amudha Vanan and Queency.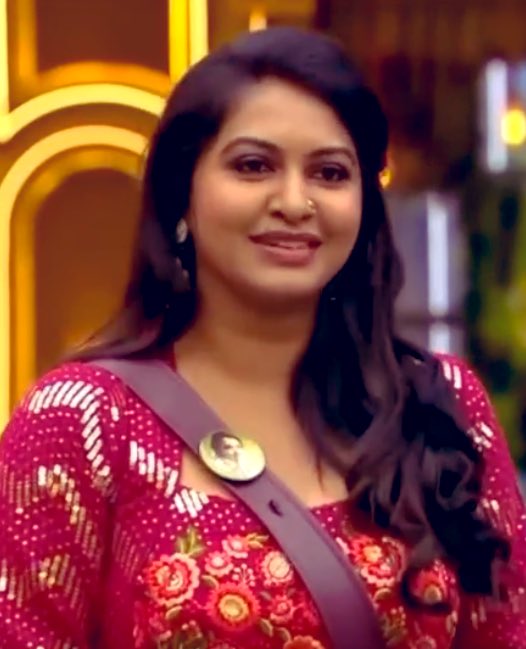 Dhanalakshmi was heard crying her heart out after seeing such reaction from the host. Rachitha said to Dhana that she was not in a state to listen at that time which is why they couldn't suggest her anything. Queency also made similar points to Dhanalakshmi, youngest contestant of the house.
In the meantime, hashtag "Rachitha" is trending in the micro blogging social media site for various reasons. While few are tweeting the hashtag for the conflict she had with Azeem, many users could be seen criticizing the Television actress for trying to put the blame on Dhanalakshmi and for playing safe game even after spending 40 plus days inside the house.
It's amlost everyone's mistake. I feel #queency and #rachitha is safe here. Dhana is right! #dhanalakshmi #BiggBossTamil6 #BiggBossTamil6 pic.twitter.com/ryFkAzP7Y9

— firefly_soul (@M_Sophiaa_) November 13, 2022
"I feel #Rachitha is the undeserving candidate who is just riding on her serial success. She has not taken a stand yet" a social media user who watch Bigg Boss said whereas another one wrote "Pinch the baby & rock the cradle #Rachitha"
Check out some of the reactions that surfaced under the hashtag "Rachitha" :
Pinch the baby & rock the cradle #Rachitha #BiggBoss6Tamil #BiggBossTamil #BiggBossTamil6 pic.twitter.com/ryfkBBziWS

— Nimshad (@fairtweep) November 14, 2022
I feel #Rachitha is the undeserving candidate who is just riding on her serial success. She has not taken a stand yet. #BiggBossTamil #BiggBoss6Tamil

— Undergrad Hero (@UndergradH) November 13, 2022
"Kootathoda Govinda" moment! 👏🏽 #Kamal sir said #Rachitha sirikradhu puridhal illaimaiyai kaatugiradhunu! I differ,she understands really well,jus covering up with her usual pretentious smile! #Busuvanan & #Queency no comments simbly waste!#BiggBossTamil6 #biggbosstamil #Dhana pic.twitter.com/vpzgP1IXez

— Madhu (@Madziedee) November 13, 2022
#Rachitha is a doll who speaks only on the weekends to grab #Kamal sir attention….🚶‍♀️#BiggBossTamil6 pic.twitter.com/Dh7PSeVsRy

— Dr.Ilavarasi (@Ilavarisirk) November 13, 2022
v
Omgggg… This #Rachitha & #Queency trying hard to prove they are innocent. Nanga sonna ne kekra nilamaila illa, bayama irunche.. Poor girl #Dhana much better than them. Very dangerous girls.. yebba 😳#BiggBossTamil #BiggBossTamil6

— karthika Sathish (@ammkarthi) November 13, 2022
#BiggBoss6Tamil #BiggBossTamil6 #Rachita seriously ? U r blaming #Dhana now ? Come on you ain't kid to go along with her decision. You played dirty hiding things inside clothes ? #Queency #Rachitha most dangerous !

— Nancie (@Nancie13253017) November 13, 2022
More than #Dhanalakshmi's rule breaking activity, the biggest reveal in the clip are the opportunists and genuinely caring person.#Queency and #Rachitha are opportunists, #Aysha is caring one.

It's not late DL, understand and change her for good and play well.#BiggBossTamil6

— Voiceless Tweeple (@voicelesstweepl) November 13, 2022
#Rachitha and #Queency are the most selfish ppl on that house. They could not even go comfort #Dhanalakshmi. #BiggBossTamil6

— bbtamil 007 (@Bbtamil007) November 13, 2022