Latest tweet of Kannada Super star Puneeth Rajkumar which was posted hours before his demise goes viral among the users of the micro blogging social media site with reactions paying last respect to the "Appu" actor. His tweet was about sending his wishes to the sequel of Bhajarangi which has his elder brother Shivaraj kumar in the lead role with actress Bhavana playing his pair. The tweet was uploaded exactly at 7 : 33 of Friday morning, hours before himself collapsing in Gym due to fatal cardiac arrest.
[wp_ad_camp_1]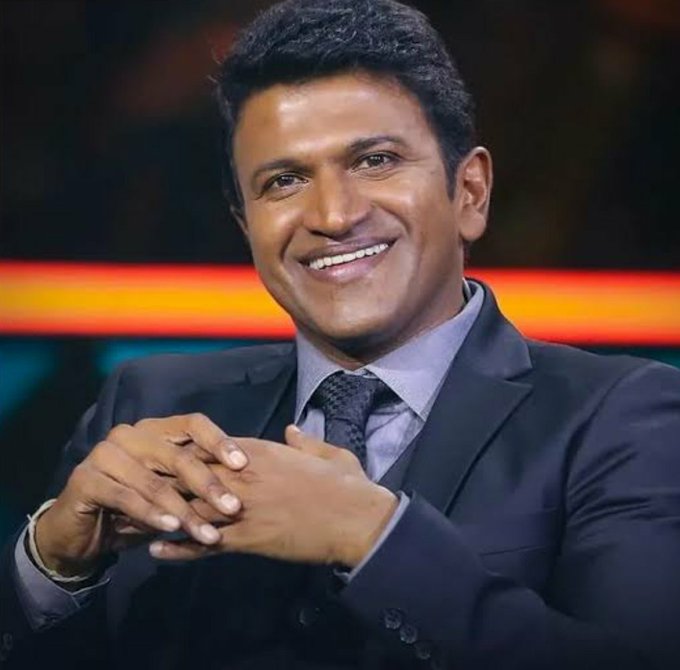 After a brief moment of confusion, it has been officially announced that the actor passed away due to fatal cardiac arrest on Friday, the 29th of October. Reports suggests that the actor was working out in his Gym when he suffered the sudden attack and was rushed to a hospital immediately. The actor was admitted to Vikram hospital and was monitored by the doctors in the intensive care unit, moments before the devastating news about his demise shattered the entire country. With Punith's peers and closed one reaching the hospital premises, fans broke down emotionally and has been wishing for the news to be a false one.
Shiva Rajkumar, elder brother of Puneeth and his family members were seen entering the hospital while actors Yash, Darshan and many others reached the place soon after. Karnataka Chief minister Basavaraj Bommai reached the hospital, says reports. Now, his last tweet which was uploaded on 7 : 33 AM is trending with emotional reactions from fans. "Best wishes for the entire team of #Bhajarangi2" his tweet read.
Best wishes for the entire team of #Bhajarangi2. @NimmaShivanna @NimmaAHarsha @JayannaFilms

— Puneeth Rajkumar (@PuneethRajkumar) October 29, 2021
[wp_ad_camp_1]
Check out some of the reactions his tweet received below :
Unga movies na paathathu illa sir aana nenga ippo illainu sollum pothu romba kastamma iruku 😭 Rip sir 😣 pic.twitter.com/0x5ekCMCqr

— Mersal Saravanan (@MersalSaravanan) October 29, 2021
Just seven hours ago… life is so unpredictable.

— Bharath Ramaraj (@Fancricket12) October 29, 2021
October 29, 2021
This is so so so sad… He was tweeting jus 7 hours ago and now he is no more. Devastated #puneetrajkumar #Sandalwood . Such a humble being… Gone too soon. Will miss you Sir😢😢😢 https://t.co/vVoADhhdLK

— Umesh(Raj) (@Umesh034) October 29, 2021
Life is too cruel! Just some hrs back, he tweeted wishing for the release of his elder brother's new film today

An extremely extremely sad day for the entire Rajkumar family & all their fans, followers! Strength to them.

Seeing all the tweets from the film industry about APPU💔 https://t.co/wIOjbSEPAO

— Kaushik LM (@LMKMovieManiac) October 29, 2021
His last tweet
And he is no more…..
Life is unpredictable#RIPPunneethRajkumar https://t.co/vVRrVtQ0It

— Chanikya🌊 (@chanikyach_99) October 29, 2021
Never expected this would be your last tweet… Your demise is a huge loss to the Indian film industry. You will stay with us forever by your movies. #RIPPuneethRajkumarSir #MissYouAppu https://t.co/BnxI7yw6lL

— Delhi Soori ✪ (@DelhiSoori) October 29, 2021
[wp_ad_camp_1]
Get well soon 💔#APPUGetWellSoon 🙏 https://t.co/Bxk0Nd8H15 pic.twitter.com/X8CEKfZyzy

— VENKY💥PSPK💥💥KGF💥🍾🔙 (@venky_babu5) October 29, 2021
Just 7hrs Ago

This is cruel💔💔

Can't accept this 😔😔

Great loss to Kannada industry#Puneeth sir neenga ivalo sikiram poiruka kudaathu 😔😔 https://t.co/JfKJqrAhsf

— Jinadhattan (@JinadhattanDM) October 29, 2021
Life is so uncertain
Miss u sir 😪
Cant even imagine indian Cinema industry Without u @PuneethRajkumar
Condolence to His family https://t.co/bflBT1XxuR

— Eeresh Ssmb fan (@Urstruly_Eeresh) October 29, 2021
Posts on morning, now no more 💔 Life is Unpredictable #OmShanti
Even though he is fit, cardiac arrested at 46. https://t.co/kR9CDSQXUt

— Jothish K Ramalingam (@jothish_ram) October 29, 2021
The actor's last Instagram post reads "Decades ago. A story was born. A tribute to our people, our land, celebrated our forests and inspired a new generation. It's time now, for the legend to return" with an underwater photograph which seems to be an announcement about one of his upcoming projects. Check out the post which was uploaded on Thursday :
Last seen in "Yuvarthnaa", Puneeth recently wrapped up with shoot for "James" with director Chethan Kumar. He was supposed to join hands with director Pawan kumar for "Dvitva" but the uncertainty of life changed things completely. From Telugu Super star Mahesh Babu to Tamil nadu chief ministe MK Stalin, many notable personalities from the entire country paid their last respect to Puneeth through their tweet. Let us pray for the soul of Puneeth Rajkumar to rest in peace !!