PUBG Madan's Instagram Account Took Over By TN Police !! Check Out The Posts
By Dhiwaharan
Instagram account of PUBG Madan aka "Toxic" Madan is being controlled by the Police officials of Tamil nadu. They have been uploading posts creating awareness about the game and warned students who are following them to concentrate on studies instead of involving in playing a banned game. The account of Madan had 2 lakh plus followers with 300 plus posts. It is notable that his youtube channel got already blocked and Cyber crime send a message to its followers saying "Stop playing PUBG & Concentrate on school Subjects – Study well."
[wp_ad_camp_1]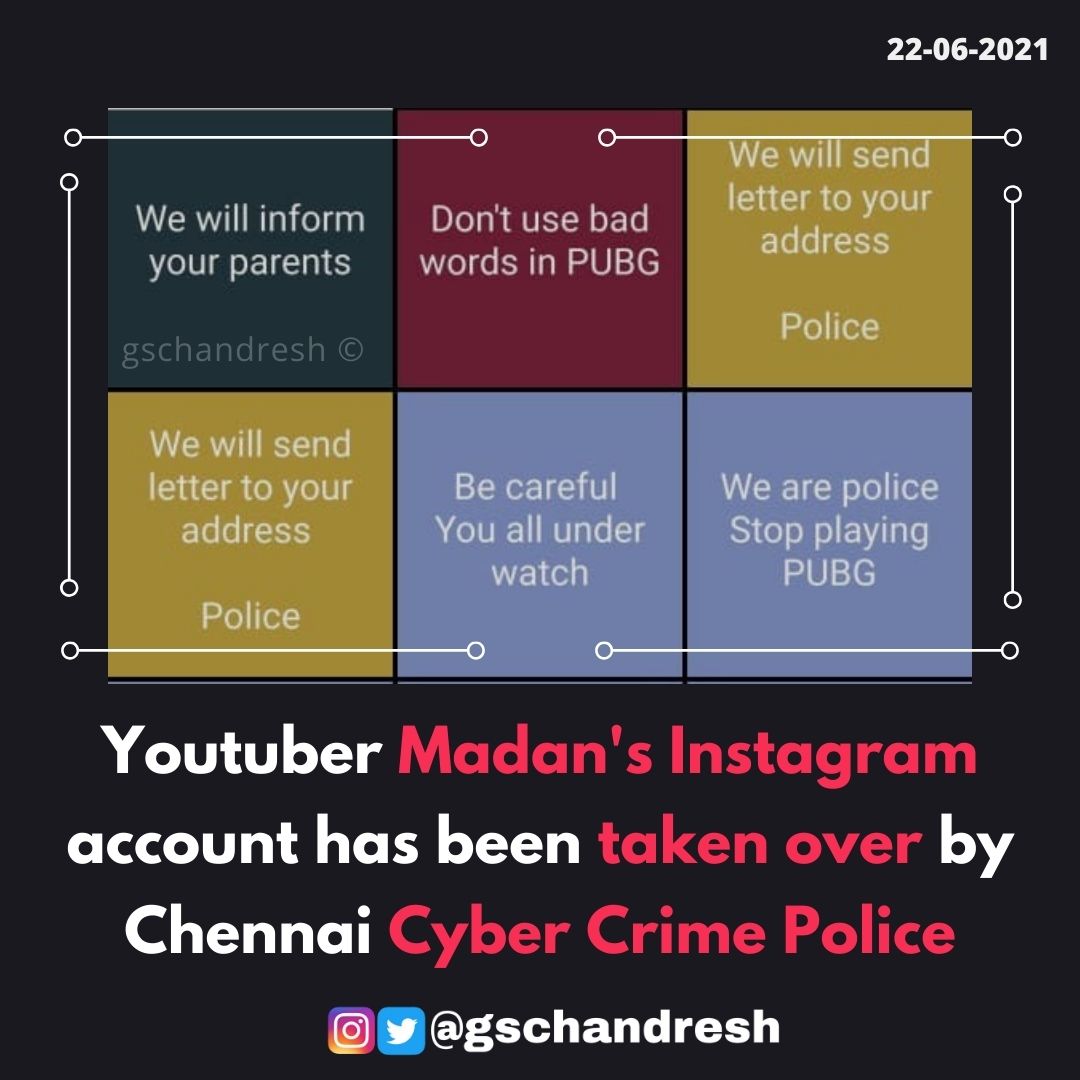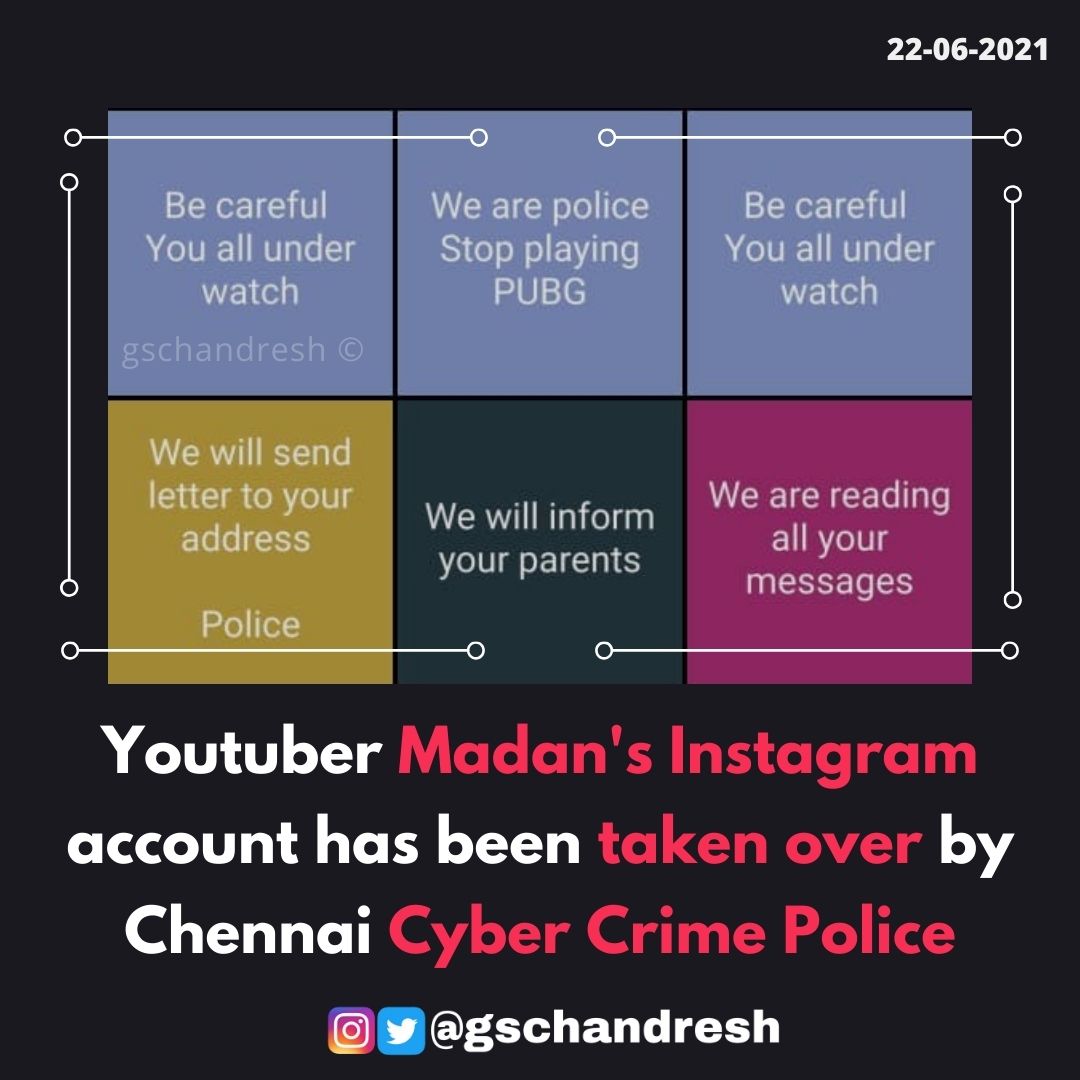 Madan Manickam who is popularly known as "Toxic" Madan or Madan OP, got arrested by a special team of police at Dharmapuri at the wee hours of Friday. He was accused of degrading women through his youtube videos by using obscene language. It is notable that Krithika, wife of Madan who helped him in uploading videos got arrested and is currently lodged in Puzhal jail.
"Madan, after completing Diploma in Civil Engineering, came to Chennai from his native Salem and started a hotel at Kallikuppam in Ambathur. After facing a huge loss in it, Madan left the place due to the debts he had to pay to his friends and neighbours. It has been reported Madan had Rs. 2 lakh of debt to pay and absconded the place. He who is interested in playing PUBG game, started uploading the videos of his game in Instagram and Youtube. " said a top official from the Police department according to Vikatan.
[wp_ad_camp_1]
"Both of them decided to make a business out the followers he enjoyed for his social media platforms. "Madan 18 plus" channel was created after they decided to make a business out of Madan's PUBG followers. When Madan used obscene language in his videos, Krithika condemned him initially and started supporting him after knowing about the income of the channel." he reportedly said.
"Their lifestyle changed after getting crores of donations from the subscribers of their channels, according to Vikatan. Madan used the bank account of Krithika and currently her account contains Rs. 4 crore of money" the official said. It is reported that most of the revenue they generated came from the donors comparing to the youtube income. He reportedly cheated his subscribers saying that he is going to help the poor and needy.
Now, after arresting him, Chennai Police had took control over his social media accounts. Check out the screen shot of his youtube channel :
Check out the posts uploaded by Police in Madan's ID below :
[wp_ad_camp_1]
Police found that Madan provided money to the people who lauded him during live streaming. Madan is playing PUBG game for the past two years and the Police has been investigating on how he managed to earn 4 crores of money in bank with two houses and two luxurious cars, jewels etc. Now, a video of Madan fans extending their supportive hand to their rival is doing rounds in social media platforms.
Recently, video of Madan's fans raising voice against the arrest of him did rounds in social media platforms. They said that Madan's motivational speeches encouraged them while facing depressions in their life. A youth said that he wants Madan to make his come back and play PUBG game again. "Every one of us had done something wrong in our life. I see Madan anna's mistake as one such. I want Police officials to issue a warning and send him back" the youth said, video of which has created shocking waves in the Internet. Watch Video : "We Want Him Back" – Madan Fans After His Arrest