Producer Suresh Kamatchi On Simbu & Blue Sattai !! WATCH !!
CM / Updated: 2019-11-15
18:08 IST
By Dhiwaharan
Suresh Kamatchi's recent stint as filmmaker received immense support from critics. Known as producer of unreleased film "Maanaadu" among Tamil film audience, Suresh Kamatchi surprised them with his directorial debut "Miga Miga Avasaram" which talks about the struggles faced by Women police officers in Tamilnadu.
[wp_ad_camp_1]
Not many days ago, a tweet from producer Suresh Kamatchi said that "Maanadu" is going to go on floors. The film which was earlier announced as that it was officially dropped due to Simbu's non-cooperation, raised eyebrows of the fans on the recent announcement.
விரைவில் str in மாநாடு படபிடிப்பு தேதி அறிவிக்கப்படும். pic.twitter.com/Zl6t5YOXvH

— sureshkamatchi (@sureshkamatchi) November 5, 2019
However, in a recent interview Suresh again complained about the lack of communication between him and Silambarasan since the day of announcement. Meanwhile Suresh Kamatchi also announced that he is going to produce a movie directed by popular reviewer "Blue Sattai Maaran".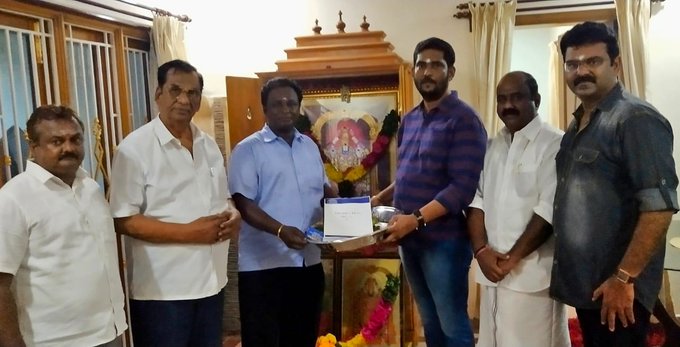 "I heard his story and I liked it which is the reason behind me producing his film. I don't need care whom he hates and who hates him. No matter if I like him or not and he doesn't need to like me as well. The story he narrated to me was good and accepted to produce it. Initially I doubted if he could pull of something like filmmaking but he proved me wrong by showing me what he shot. He filmed exactly what he narrated to me. In that way I feel my decision was right about Blue Satta Maaran as a director." said Suresh in the interview.
[wp_ad_camp_1]
Watch the video below :
Source : Indiaglitz
Talking about the film of Blue Satta Maaran, Suresh Kamatchi said that it is based on a true story. "It is a natural story which talks about the issue that takes place in today's circumstance. He narrated the story to me in December 2018 and took nearly 10 months for pre production." said Suresh.
"Blue Sattai" Maaran is one of the prominent movie reviewers of Kollywood films. He is very well known for his rural slang, funny phrases, short stories and real life incidents in his movie reviews. For his unique style of movie reviewing, the man who always wears blue shirt has a separate set of fan following and his youtube channel Tamil talkies enjoys more than 9 lakh subscribers.
Suresh in the interview further talked about Simbu's behaviour in "Maanadu" issue in the same interview. The producer/filmmaker said that Simbu is not interested in politics and he intends in living his life in a spiritual way.
[wp_ad_camp_1]
"It all depends on Simbu's co-operation. The truth is couldn't able to communicate with his since that days. I have seen many memes made with the pictures that got released on that day. For a better clarity, I suggest media to conduct an interview with Simbu" said Suresh Kamatchi in another youtube channel's interaction.
Comment your views on Suresh Kamatchi's interview !!