Articles
Priya Bhavani Shankar's Replies To The Comments That Criticized Her Tribute Post For Ki Ra Wins Internet
On Monday, renowned writer and Sakithya Academy winner Ki Rajanarayanan who is popularly known as "Ki Ra", died at the age of 98 in Pudhucherry due to age related illness. He published his first short story "Maayaman" during 1958 which became a best seller among the readers. He gained widespread acclaim after publishing "Karisal Bhoomi" which depicted the people and culture of hot and dry land of Southern Tamil nadu.
[wp_ad_camp_1]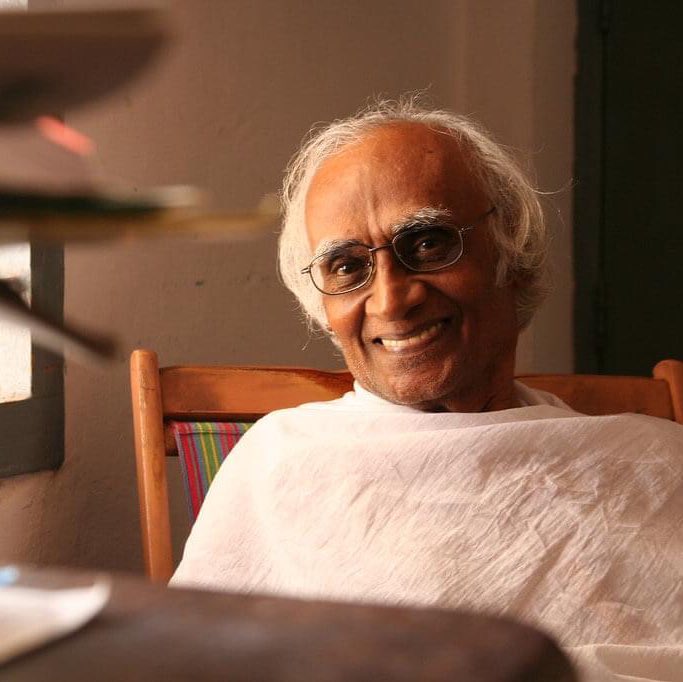 In the year 1991, Ki Ra who is known as the pioneer of "Karisal literature", won Sakitya Akademi Award for his nover "Goppalapurathu Makkal". In his expansive literary career, Kira has published 30 books and his short story "Kidai" was converted into a feature film Tamil cinema named "Orutthi" in the year 2003. It was screened at the International film festival of India.
Many influential personalities from various industries including Tamil nadu chief minister MK Stalin, leader of opposition Edappadi K Pazhaniswamy paid tribute to the legendary writer. Mk Stalin announced that Ki Ra will be cremated with state honours. A statue, on behalf of Tamil nadu government, is going to be mounted at Kovipatti, said MK Stalin in his tweet. He also promised to renovate the school he studied and assured that his books and pictures will be placed in it.
தமிழ் இலக்கியத்திற்குச் செழுமை சேர்த்த கரிசல்காட்டு எழுத்தாளர் கி.ராஜநாராயணன் அவர்களுக்கு கோவில்பட்டியில் தமிழக அரசு சார்பில் சிலை அமைக்கப்படும்.

மேலும், அவர் படித்த இடைசெவல் ஊராட்சி ஒன்றிய நடுநிலைப்பள்ளி புதுப்பிக்கப்பட்டு அங்கு அவருடைய புகைப்படங்கள் – படைப்புகள் வைக்கப்படும். pic.twitter.com/oIksxm2sU0

— M.K.Stalin (@mkstalin) May 18, 2021
Along with politicians, people from cinema industry also paid tribute to the ace writer by sharing social media posts remembering him. Tamil actress Priya Bhavani Shankar who is known for acting in films such as "Meyaadha maan", "Mafia", came up with a write up sharing about the childhood experience of herself with the books written by Ki Ra to pay last respects to the writer.
Here's her post :
[wp_ad_camp_1]
In a way of mocking the actress's post, a follower dropped a comment saying that people won't recognize others while they are alive and added that the dialogues used to praise one after his/her demise are intolerable. Replying to him, Priya, sarcastically said that she will start paying final tributes to people who are alive from tomorrow.
Here's the screen shot :
[wp_ad_camp_1]
In twitter, a user pointed out the spelling error Priya Bhavani Shankar made. Replying to him, Priya said that it is her mistake to type the name of Ki. Rajanarayanan incorrectly while writing it Tamil. "I think it is my visual impairment, will check it" Priya said and corrected her caption in Instagram.
ராஐ யா?? ஜ க்கும் ஐ க்கும் டைப் பண்றப்ப எப்டி வித்யாசம் தெரியாம போவும்? English keyboard தான தமிழ்ல ட்ரான்ஸ்லேட் பண்ணுது? அப்றம் எப்டி தப்பாவுது? நிறைய பேர் இந்த தப்ப பண்றாங்க https://t.co/52i7InFoic

— தோழர் ஆதி™ 😎🔥 (@RjAadhi2point0) May 18, 2021
Thanks for pointing out.. மன்னிக்கவும் **எழுத்துப்பிழை கி.ராஜநாராயணன்
I don't use eng to tamil phonetic keypad. தமிழ் keypad தான். பார்வை கோளாறு நினைக்கிறேன். Check பண்ணிடறேன்🙏🏼😊 https://t.co/wyTd0hEp2S

— Priya BhavaniShankar (@priya_Bshankar) May 18, 2021