Famous Heroine Became Emotional After Watching The Recent "Neeya Naana" Show !!
Gopinath
Neeya Naana
Priya Bhavani Shankar
7 months ago
By Dhiwaharan
Along with the thousands of online users who heaped praise on Gopinath, host of most famous debate show "Neeya Naana", actress Priya Bhavani Shankar came up with a post in her official social media handles after watching the recent episode in which he honoured a father for his affection and love towards his daughter with a gift. The incident took place after the man's wife humiliated him based on his illiteracy.
In the recent "Neeya Naana" episode, the debate took place between "Women who earn more than their husbands" versus the "Husbands who earn lesser than their wife". The television's social media handles uploaded a particular segment from the show as a promo and it went viral among the online users.
In the 3 minute long clip, a wife could be seen complaining about her husband for getting offended over her signing her daughter's progress report without showing it to him. "I will sign the report card after seeing it for a glance and he will keep looking at it for an hour. He didn't even know the spelling of "social science" and I have to read it to him" the wife could be seen saying. "To avoid explaining it to him, I would sign the report card" she adds.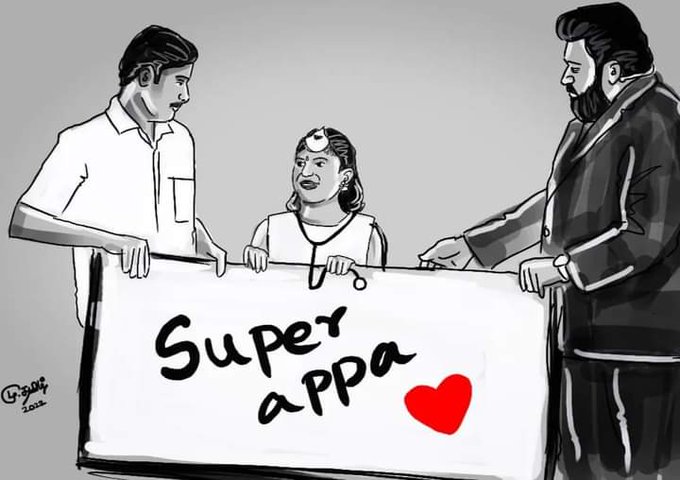 Gopinath asked the husband why he keeps looking at the progress card for a long time and he replied "I never used to get marks more than 10. Seeing my daughter getting marks such as 75, 81, it makes me feel good. I get happy seeing my daughter doing what I can't do, I feel so happy"
Hands down 🙌🏻Gopinath is a gem of a host #neeyanaana One of the best moments of neeya naana💗 @Gobinath_C pic.twitter.com/hHCkNrOxiB

— Dr.Munchausen (@cricmedic) September 11, 2022
"My daughter wants to become a Doctor. I want to make her a Doctor as per her wish" he further says. Gopinath asked the wife whether she never thought about why he looks at the report card for a long time and the wife replies saying "He will be reading ABCD for one hour" and laughs. Even after Gopinath said that he sees him as an "epic" father, the woman replies "He is still in the 90s, not living in the present that's the problem"
In a way of replying to her, Gopinath decided to provide the Gift he used to give during the end of the show to the father, saying "He is one of the best fathers I have ever seen" and invited his daughter to present it to him. After giving him the gift, the daughter says "My father didn't lose, He is doing everything for me" with the people in the hall applauding for the father and daughter duo.
Watch the video below :
அப்பா.. ❤️

நீயா நானா – இன்று மதியம் 12:30 மணிக்கு நம்ம விஜய் டிவில.. #NeeyaNaana #VIjayTelevision pic.twitter.com/NdqaDMyxlt

— Vijay Television (@vijaytelevision) September 11, 2022
The video became viral as soon as it surfaced in the internet. Thousands of fans who shared the video, appreciated the father for his love and affection towards his daughter. Actress Priya Bhavani Shankar, after watching the episode, came up with a tweet saying "It's a mental disease to humiliate someone and laugh at them. Your look and speech was so satisfying Gopi anna" the actress wrote in her tweet.
View this post on Instagram
"There are thousands of norms for the term "success" here. But a father can never lose. Congratulations for recognizing his victory" she added
Check out her tweet below :
ஒருத்தர இகழ்ந்து அதை நகைச்சுவைன்னு நினைச்சு சிரிக்கறது ஒரு விதமான மனநோய். உங்க பார்வையும் பேச்சும் திருப்தியா இருந்துச்சு கோபி அண்ணா😊வெற்றிக்கு இங்க ஆயிரம் இலக்கணம் வச்சிருக்காங்க. ஆனா ஒரு அப்பா என்னைக்குமே தோற்கமுடியாது! அவரது வெற்றிய அங்கீகரிச்சதுக்கு வாழ்த்துகள்! @Gobinath_C pic.twitter.com/RUaSsQuViN

— Priya BhavaniShankar (@priya_Bshankar) September 11, 2022