"Prince" Of SK Getting Massively Trolled After Release!!
Fans
Prince
Review
Sivakarthikeyan
5 months ago
By Dhiwaharan
The most expected "Prince" of emerging star Sivakarthikeyan became a victim of massive trolls and criticism after release. Movie reviewer Prashanth gave 60 marks for the film out of 100 saying that it is a bad dream for the team whereas many other online users who watched the film could be seen expressing their displeasure by uploading memes and trolls against the film.
#Prince is all yours now 👍🙏 Director @anudeepfilm 's style of humour wil make you happy in this festive season ❤️ Enjoy this light hearted, simple yet fun film in cinemas with ur friends and family 👍😊#PrinceFromToday 👍#PrinceDiwali 💥 pic.twitter.com/mriJdjDx3r

— Sivakarthikeyan (@Siva_Kartikeyan) October 20, 2022
Directed by Anudeep of "Jathi Rathnalu" fame, "Prince" has an ensemble cast that includes foreign actress Maria Riaboshakpa, Sathyaraj, Premgi, Prankster Rahul and others. The film's plot revolves around a teacher trying to make his colleague who is an English teacher in the same school he is working, to fall in love with her. Music of the film was composed by Thaman.
As soon as the film got released, majority number of reviews that surfaced for it were negative. In the public opinion videos released by YouTube channels, many cans could be seen saying that the film could be watched only one time that too for Sivakarthikeyan.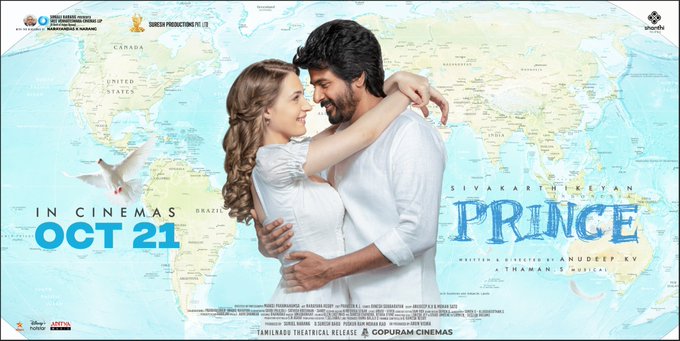 "Becoming next Vijay and Ajith is not a big deal. One shouldn't take his fans for granted" a Twitter user said after watching the film whereas many others compared it with the actor's earlier box office dud "Mr.Local"
Check out some of the reactions that surfaced regarding the film below :
Sk ரசிகர்கள்.. 😂😂😂 pic.twitter.com/Np1h9ZIDbQ

— மித்ரன் 🍁 (@sultan_Twitz) October 21, 2022
Mr. லோக்கல விட கொடூரமா அடிவாங்கும் போல பிரின்ஸ்

— 🌟🌟Dr.Crow🌟🌟 (@krishnaskyblue) October 21, 2022
அடுத்த விஜய், அடுத்த அஜித் என போட்டி போடுவதை விடவும்…
100 கோடி வசூல், 100 கோடி வியாபாரம் செய்வதை விடவும்..

தன்னை நம்பி வரும் ரசிகர்கள் முட்டாள் என நினைத்து படம் எடுக்காமல் இருப்பதே முக்கியம்…

— Karthik Ravivarma (@Karthikravivarm) October 21, 2022
ponnunga bro than bro sirichu… sirichu….emathuvangaa

no pasangalum pannuvanga ~ pic.twitter.com/p34AX4gcyP

— カーシック (@weirder__) October 21, 2022
தெலுங்கு டைரக்டர் கூட காமெடி படம் எடுத்த SK க்கே இந்த நிலமைனா !
4 டூயட் வச்சி பேமிலி ட்ராமா பன்னிட்டு இருக்க நம்ம விஜய் அண்ணா கதி… pic.twitter.com/PgcbnRJV54

— ͏͏ ͏ (@Shakthiboy__) October 21, 2022
#Prince :
நானவது சைக்கிள்ல பெல் இல்லாம வரேன்…

பின்னாடி #வாரிசு னு ஒருத்தன் சைக்கிளே இல்லாம வரான் .. pic.twitter.com/eiHn6bFreB

— மதுர பாய் 👶 (@maduraiboy0007) October 21, 2022
#Prince – 60/100 . A bad dream for the team . Nothing more to add ! https://t.co/C2kk9XtArc

— Prashanth Rangaswamy (@itisprashanth) October 21, 2022
Family ஆடியன்ஸ் Girls எல்லாரும் சிகா மூவிய கிழிச்சு இப்போதான் பாக்குறேன் 1st டைம் 🤐🙄

எல்லாரும் சொல்றது மிஸ்டர் லோக்கல் கூட பரவா இல்லனு 🤐🤦

90% நெகட்டிவ் ரிவியூ தான் 🙄👎 என்ன ஆச்சு நம்ம சிகாவுக்கு 😏#PrinceFromToday #PrinceFDFS #Prince pic.twitter.com/1bBreqpPqW

— AJI  ⱽᵃʳⁱˢᵘ (@thalapathy_ajk1) October 21, 2022
எவன் படம் ரிலீஸ் ஆனாலும் அடி பீஸ்ட் க்கு தான் 😂 pic.twitter.com/QaFZF92wpo

— Arun (@Arunn_Afc) October 21, 2022
#Prince public review 😷pic.twitter.com/E2ZFwQjOSS

— நிதன் சிற்றரசு (@srinileaks) October 21, 2022
பிரின்ஸ் படம் FDFS முடிந்து தியேட்டர்களுக்கு வெளியே…#PrinceFDFS #PrinceDiwali pic.twitter.com/uQ1nTmbFSj

— Fᵢₗₘ Fₒₒd & Fᵤₙ (@FilmFoodTravel) October 21, 2022
Rytu.. Result Vanthirichu!! pic.twitter.com/8yAWNxpQeo

— Christopher Kanagaraj (@Chrissuccess) October 21, 2022
#Prince – Cringe 🙏🏻🙏🏻🙏🏻 pic.twitter.com/eee3dyc7kD

— MOVIE HERALD (@movieherald) October 21, 2022
#Prince Review 👍🏼pic.twitter.com/y4D0G14x2i

— Madurai Cinemas (@MaduraiCinemas) October 21, 2022
பிரின்ஸ் 🤐 Family Audience ஏ இப்படி கிழிச்சு எடுக்குறாங்க 🙄

மிஸ்டர் லோக்கல் பார்ட் 2 ஆ 🤔 அவ்வளவு மரண மொக்க படமா 😐#PrinceFromToday #PrinceFDFS #Prince pic.twitter.com/4Slmk4Vm6O

— AJI  ⱽᵃʳⁱˢᵘ (@thalapathy_ajk1) October 21, 2022