Ponnambalam Ruthlessly Trolling Aishwarya By Doing Her Dubsmashes !! Its Just Hilarious !!
CM / Updated: 2018-08-30
16:05 IST
By Dhiwaharan
Kamal Haasan was set on bringing all the housemates, who have misbehaved in the house, to the task on Saturday's episode. The host asked the audience who they wanted to roast first and considering what happened in the house last week, everyone wanted Mahat to face the consequences of his actions. Mahat had misbehaved with Daniel and Mumtaz and even called Mumtaz names.
[wp_ad_camp_1]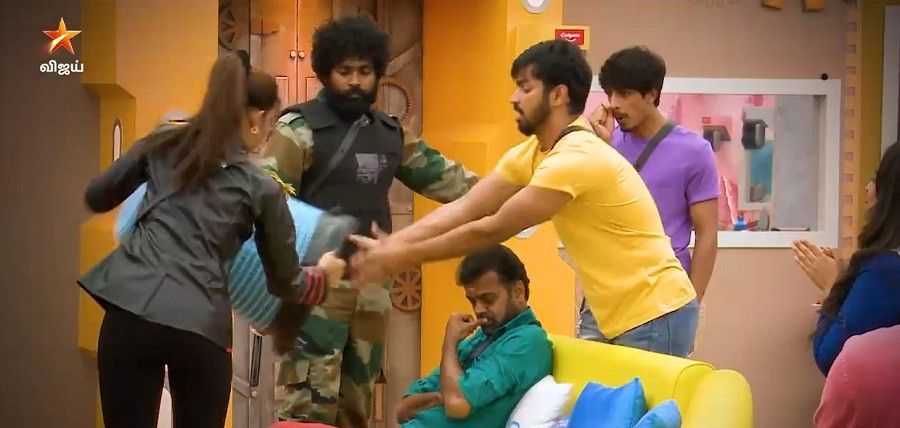 There was a task where Aishwarya was the dictator of the house and had all the powers to create new rules. During the task, a few clips were shown to Aishwarya, her adviser Janani and security Daniel where the inmates were seen commenting about her. In the clips, Balaji, Riythvika, Shariq, and Ponnambalam were talking ill about Aishwarya. After watching the clips, Aishwarya seemed to have gotten offended and got really furious and said a lot of things that did not come across well to the viewers. She decided to punish Bhalajie and the other inmates who spoke ill about her. Post this, Aishwarya had asked everyone to gather in the garden area but Bhalajie did not follow her instructions and that made Aishwarya even more furious. Aishwarya then ordered Shariq to throw garbage on Bhalajie to which Bhalajie reacted and told Big Boss that if anything wrong happens then he is not sure how he will react to it. Since Shariq did not follow Aishwarya's orders, she went on to throw garbage on Bhalajie herself. Reacting to all this, Mumtaz broke down completely. The task was ended once Ponnambalam got hold of Aishwarya's neck and threw her into the swimming pool where BIGG BOSS announced the show was ended there.
The audiences got really angry at Aishwarya's behaviour and have targetted Kamal Haasan and Vijay Television, asking them to evict  Aishwarya. Some netizens even claimed that Aishwarya had used some racial slurs.
[wp_ad_camp_1]
Once Ponnambalam left the house, he came out and met the audience. Ponnambalam's behaviour in the house was not acceptable, especially towards women. He often used swear words and attacked Aishwarya physically during a task. Kamal played these videis and asked Ponnambalam to explain each of them. While he could give a valid reason for why he swore so frequently, he did do a rehearsal of sorts with a woman from the audience to show that he did not hurt Aishwarya.
The lady who was held by Ponnambalam in choke-hold told others that she was not hurt even though the hold was tight. Ponnambalam explained that he was a talented stuntman and he held himself responsible even before he had decided to that. So the audience were convinced. Before the episode concluded, Ponnambalam said that he thought of Aishwarya and Yaashika as his daughters and they had also bid him an emotional goodbye from the show.
[wp_ad_camp_1]
Now outside Bigg Boss we can see the activities of evicted contestants through their social media activities. Mahat's video of meeting Simbu and Ramya NSK got released and Viashnavi's dubsmash videos. Ponnambalam one of the evicted contestant also made videos of Aishwarya's Bigg Boss moments which are hilarious to the core.
Check out the video here :
What do you think on this hilarious dubsmashes , comment below !!