"Please Leave My Daughter Alone" Ganguly Requests !!
CM / Updated: 2019-12-19
13:13 IST
By Dhiwaharan
Sourav Ganguly's daughter Sana Ganguly is in news again. Earlier her reply to her father's Instagram post went viral and she managed grab the headlines in several news portals for her mischievous reply. (Also Read : Online Banter Of Sourav Ganguly With His Daughter Wins The Internet !!) Now an Instagram story of the youngster against the BJP government regarding the Citizen Amendment Bill went viral and it made her father to react on it.
[wp_ad_camp_1]
"Every fascist regime needs communities and groups it can demonize in order to thrive. It starts with one group or two. But it never ends there. A movement built on hate can only sustain itself by continually creating fear and strife. Those of us today who feel secure because we are not Muslims or Christians are living in a fool's paradise.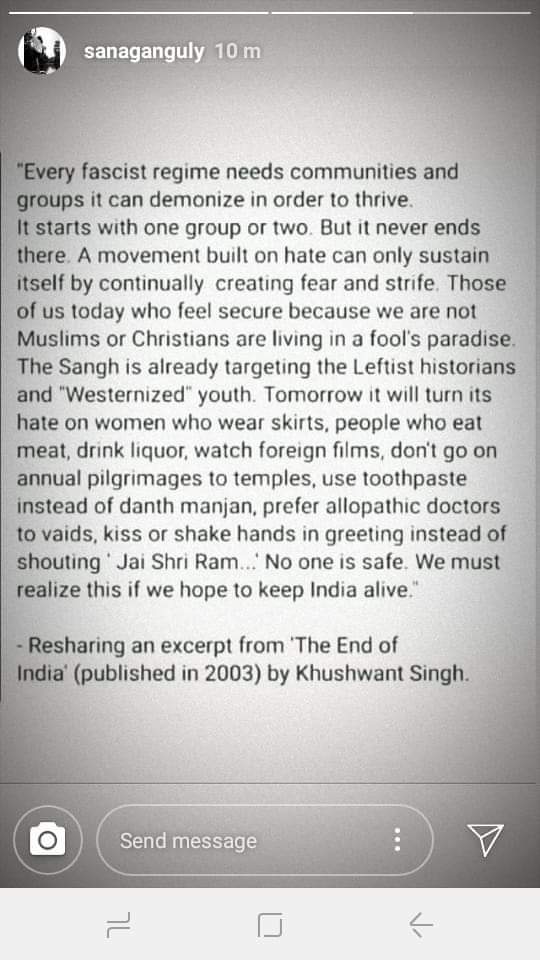 The Sangh is already targeting the Leftist historians and "Westernized" youth. Tomorrow it will turn its hate on women who wear skirts, people who eat meat, drink liquor, watch foreign films, don't go on annual pilgrimages to temples, use toothpaste instead of danth manjan, prefer allopathic doctors to vaids, kiss or shake hands in greeting instead of shouting 'Jai Shri Ram'. No one is safe. We must realize this if we hope to keep India alive." read the story shared by Sana in her Instagram.
BCCI President @SGanguly99's daughter Sana Ganguly just won my heart by this post. Incredible maturity from an 18 year old. pic.twitter.com/wQN5eyfY6G

— Aparna (@chhuti_is) December 17, 2019
[wp_ad_camp_1]
Though this post of the 18 years old impressed many, her father and the president of BCCI decided to issue a clarification on her post. In his tweet he said that his daughter is too young to know anything about politics. "Please keep Sana out of all this issues .. this post is not true .. she is too young a girl to know about anything in politics" read his tweet.
Check out his tweet here :
Please keep Sana out of all this issues .. this post is not true .. she is too young a girl to know about anything in politics

— Sourav Ganguly (@SGanguly99) December 18, 2019
However many followers of Ganguly told him that nothing wrong in what Sana posted and requested him to encourage his daughter. Check out some of their replies here :
Sir, you should be proud of her for saying the right thing. "Young girls" have as much a right to be political as old people.

— Shehla Rashid (@Shehla_Rashid) December 18, 2019
She is 18+ dada
She is educated
She can take her own decisions.
She is well read.
Please allow her the freedom you allowed to your players as a captain..
Will always be your biggest fan as a cricketer and captain..
Love you..

— Saurabh Shrivastava (@SaurabhShri05) December 18, 2019
Question : What's better than Dada's cover drive ?

Answer : Sana's understanding of "Idea of India" & her courage to speak truth to power !!

— Soul of India (@iamtssh) December 18, 2019
[wp_ad_camp_1]
Sourav Ganguly, the former captain of Indian cricket team led the team during the world cup of 2003 where he managed to take the team till the finals. Unfortunately, the team lost to Australia and missed to win the cup for the second time. The left handed batting allrounder is known for his aggressive attitude in field. Though it has been so many years since his retirement, the fan base he earned still remains the same.